U.S. Women's Open
For Ally Ewing, excitement trumped exhaustion on Day 1 at the U.S. Women's Open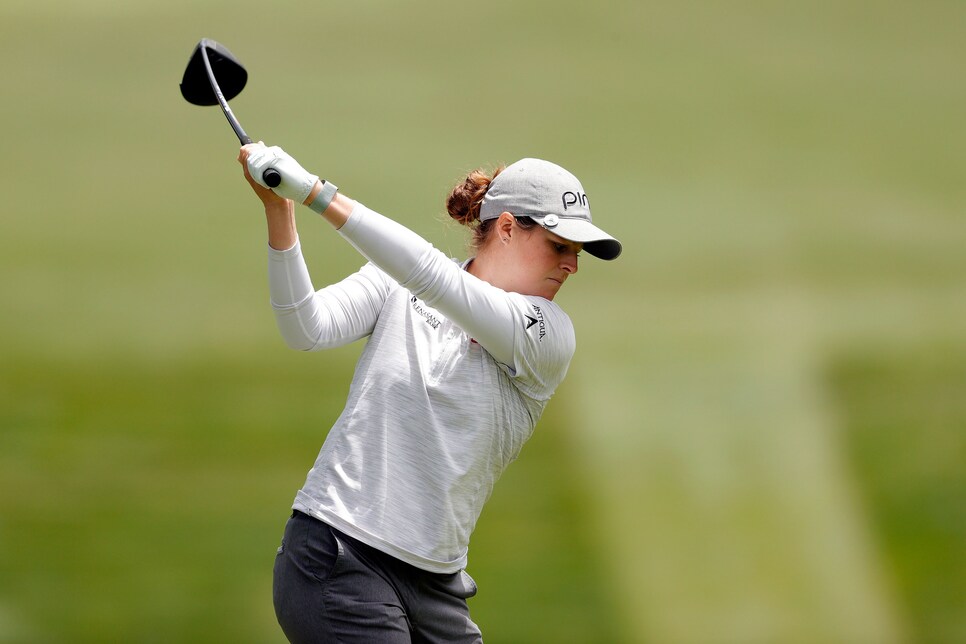 Ally Ewing hits her tee shot on the sixth hole during the first round of the 76th U.S. Women's Open.
Ezra Shaw
SAN FRANCISCO — It was a storybook victory for Ally Ewing at the Bank of Hope LPGA Match Play in Las Vegas on Sunday. The same day she and her husband Charlie celebrated their first wedding anniversary Ewing won her second career LPGA title. Afterward, they were picked up in a Rolls Royce and taken to the Bellagio, where Faith Hill's "This Kiss" played as the couple was in a boat watching the fountains. They enjoyed dinner at the Prime Steakhouse at the premiere table. Then they went back to the hotel around midnight and were picked up at 7 the next morning for a private jet flight to San Francisco.
"Obviously, with the win and that kind of treatment, you have to experience all of it," Ewing said.
Then the fairytale ended, and another chapter began. Up arriving at Olympic Club, Ewing had to make up for lost time in preparation for this week's U.S. Women's Open. She had just played 122 holes over five days of matches at Shadow Creek and had limited energy as Thursday's first round loomed.
"My preparation on the golf course is the least I've ever done heading into a U.S. Women's Open," Ewing said.
Despite that, Ewing posted an even-par 71 on Day 1 at tricky Olympic Club.
So how did she manage that? Ewing arrived Monday and walked the back nine, a decision she felt in retrospect wasn't an optimal use of her energy. Ewing then slept 11 hours, the longest she can remember, before playing eight holes Tuesday afternoon. She played the remaining 10 on Wednesday afternoon. Thursday was her first morning round of the week at Olympic. Ewing usually aims to play 27 to 36 holes before U.S. Women's Opens. That formula worked in her last two starts, finishing T-10 in 2019 and T-20 in 2020.
Her caddie, Dan Chapman, benefitted from using a carry bag during their practice rounds. He's also has experience looping at Olympic Club, where he carried bags just shy of 50 times in the mid-1990s.
"[I've got] memories of certain greens where you just really stay below the hole," Chapman said, "[but] there's a lot more shaved collection zones than I remember. Which adds to what I just said. We really just, [our] primary [goal] is to stay below the hole."
At the start of the day Thursday, Ewing knew her gas tank still wasn't entirely full. "If I can be 75 percent every day out here, I'm fully expecting by the end of this week to be at 0 percent again," Ewing said. "That's what a U.S. Open caliber golf course will do to you."
Ewing believes the confidence gained from her victory is helping combat her exhaustion. "My strategy remains pretty intact no matter what the golf course it is," Ewing said. "Certainly a U.S. Women's Open you have to be ready mentally and physically. I'll just keep plugging."
She plugged along through a 5½-hour round by embracing the major championship atmosphere.
"This is where the competitive juices start getting flowing," Ewing said. "When I got out on the golf course, I'm excited to compete at a U.S. Women's Open. You turn off the whole mental, I'm tired [mindet]. You go into competitive mode."
Ewing avoided any major mistakes Thursday by accepting the bad breaks with the good. She focused on getting a par putt in her hands. That approach led to a key up and down on the par-4 sixth. The much-discussed rough snagged her iron on her second shot after finding the rough off the tee. It kept the ball barely head high off the ground, ending up 50 yards out. The determination through the exhaustion has her in the conversation to win the first major of her career.
"My golf game is in a good place to contend here, I think," Ewing said. "You put the tired aside, you put the other hurdles aside, and you say we're teeing it up Thursday at a U.S. Open, let's go out there and give it everything we have."