News
U.S. routs Europe as Arnold Palmer Cup prepares for new format with expanded squads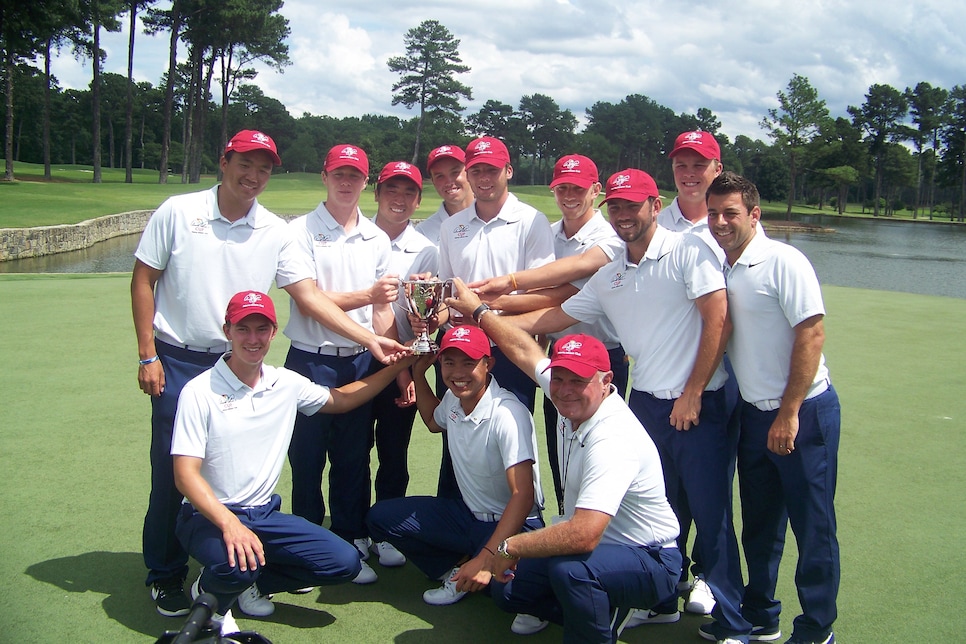 With a 19½-11½ victory over Europe on Sunday at Atlanta Athletic Club, the United States squad claimed the Arnold Palmer Cup and will be the defending champions when the annual match enters a new era in 2018.
The Americans claimed a lop-sided win in the last edition of the event in which the two sides will consist of only men's college golfers. Starting next year, the competition will pit the U.S. versus and International squad, with each side having 12 men and 12 women on the roster. The matches will be held at Evian Resort Golf Club in France.
Led by Texas men's coach John Fields, the 10-man American side pulled away from its rivals during Saturday's singles session, winning 9½ of the 10 available points to take a 14½-5½ lead. On Sunday, the two sides split the 10 singles matches to give the U.S. the cup and a 11-9-1 overall edge in the annual competition.
University of Texas junior Doug Ghim went 4-0 in his matches, while USC's Sean Crocker earned three points and three other golfers (Illinois' Nick Hardy, Oregon's Norman Xiong and Stanford's Maverick McNealy) went 2-1-1.
McNealy and Europe's David Wicks earned the Michael Carter Award, given to the participants on each team who best represent the ideals of sportsmanship, integrity and upholding the game.
Collin Morikawa, a junior at the University of California, was selected by players on both squads as the winner of the special exemption into the PGA Tour's 2018 Arnold Palmer Invitational. His selection was based on players choosing the golfer who best represents Palmer's values.
"It was an incredible and memorable experience that I'll never forget," said Morikawa, who finished the matches with a 2-2 record. "Representing the USA is always an honor, and to come out with the win on home soil is always a good feeling. It's also an honor that my team voted me to represent Mr. Palmer and be a participant in the Arnold Palmer Invitational. I look forward to the opportunity and couldn't be more excited about it."