The Loop
U.S. Open primer: Sunday morning delay edition
FARMINGDALE, N.Y. -- Plenty of questions on this peculiar U.S. Open Sunday. We'll start with you in the back.
Why aren't they playing golf right now?
Despite aspirations of resuming play at 7:30 this morning and trying to crank out 36 holes by nightfall, Bethpage Black got hit with three-quarters of an inch of rain Saturday night, pushing back resumption of the third round until noon. Sixteen of the 60 remaining players had yet to tee off. That means there's no conceivable way the tournament can conclude by tonight, assuring we'll be here at least until Monday. It would be the Open's first regulation Monday finish since 1983.
__But I thought golfers can play in the rain. Man, these guys are soft.
Actually, it's the golf course that's soft. Don't forget that Bethpage got absolutely pelted with rain on Thursday, and it was a minor miracle superintendent Craig Currier and his staff got the golf course ready by Friday. Although the TV shots of puddles on the greens were the most alarming, it's actually the low-lying areas -- especially the 18th fairway -- that needed more time to dry out.
Where the delay helps, said the USGA's Mike Davis, is that the golf course can still withstand light rain today.
"Believe it or not the course can keep handling this as long as we don't get downpours," Davis, the head of rules and competition, said. "Because the water is seeping down. It is a sandy soil. Believe me that's the great part. If we were at some U.S. Open venues right now and this were happening, I can't even begin to think what we'd be doing. But if we get more rain, we can get through it."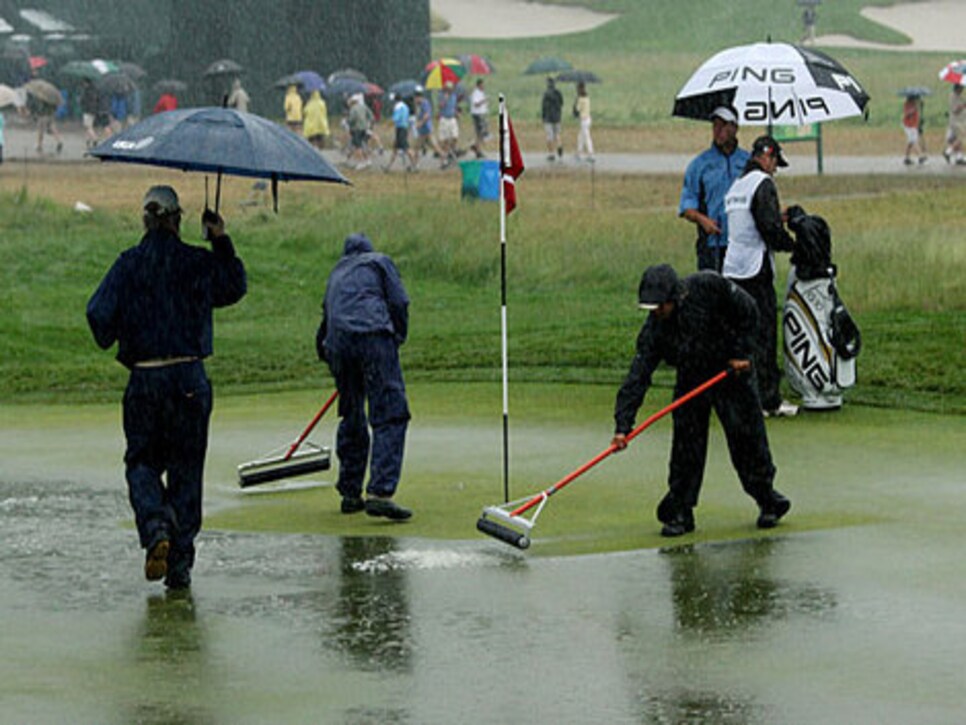 Is it possible we're here beyond Monday?
Possible, sure. But hopefully not. If all goes smoothly, the USGA hopes to complete the third round, re-pair, then send players off 1 and 10 for the start of the fourth round this evening at 5:30. That would leave until Monday midday to complete the fourth round, and if there's an 18-hole playoff, it would start that afternoon. But here's the catch: the forecast for today and tomorrow still has rain in it, so anything significant could halt play again, pushing everything back even more.
If a playoff can't start before 3:30 or 4, Davis said, it would start Tuesday morning instead to spare a situation where players were only returning for a few holes the next morning.
"That's not the competitive situation we really want," Davis said.
__Is this good for anybody?
Well, if you're U.S. Open merchandisers trying to unload as many $75 Bethpage Black fanny packs as possible, keeping your tent open for another day isn't so bad. And this is especially welcome news for Thursday's ticketholders who got to see just three hours of golf the first day, but whose tickets will now be honored -- after much hand-wringing -- on Monday.
Who is this Ricky Barnes that's leading and what's with his hat?
As Jim Moriarty wrote yesterday, Barnes took a circuitous route to the PGA Tour after winning the 2002 U.S. Amateur. At that point, he was a can't-miss prospect who made even more noise when he briefly contended in the following spring's Masters.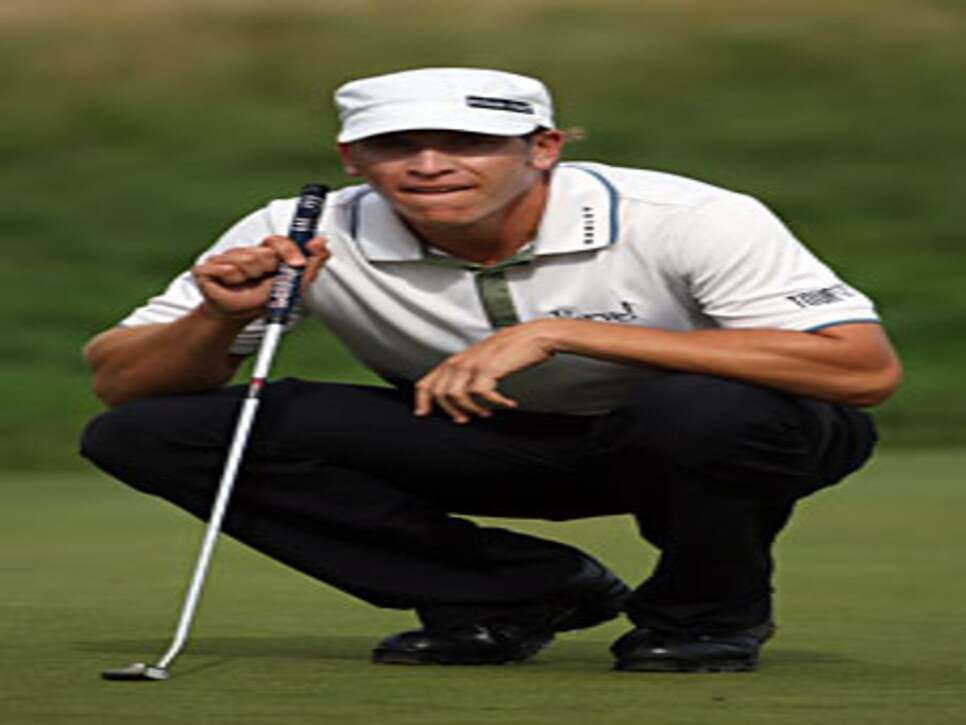 As for his hat, Barnes has no known allegiances to Fidel Castro.
Put aside the small matter that it has rained for 11 straight weeks, and this Open actually has some compelling storylines. Mike Weir is two shots off the lead and has a chance to win one for the little guy. Phil Mickelson is within seven shots. And then there's David Duval, who once couldn't keep his ball on the property and is now in a tie for fourth place.
By the time this Open wraps up Thursday, it could go down as a classic.
I__s Tiger Woods out of it?__
He's 11 shots back, so of course he is. Or maybe not. Actually, we have no clue. As Thomas Bonk pointed out, Woods ended up on the half of the draw that got absolutely hosed -- playing in the muck for much of the first two rounds while Barnes and others enjoyed relative calm -- so that has a lot to do with his deficit. One wonders what kind of ground he can make up now that everyone is playing pretty much the same golf course.
Making up 11 shots is a lot to ask. But then, so is winning the U.S. Open on one leg.
-- *Sam Weinman and Ryan Herrington