The Loop
In Olympic, Davis finds the beauty in the beast
SAN FRANCISCO -- Even before the final round is played Sunday, a winner has emerged in this U.S. Open. The Olympic Club has made a strong case this week that it belongs in the group right behind Oakmont as one of the most difficult -- and best -- golf courses in the United States.
Playing as sort of a cross between Pinehurst No. 2 and the Old Course at St. Andrews, with balls bouncing willy-nilly and chasing into runoff areas or into deep, gnarly rough, this gem in view of the Pacific Ocean has been masterfully maneuvered by USGA executive director Mike Davis to provide a challenging but fair test where par is pure.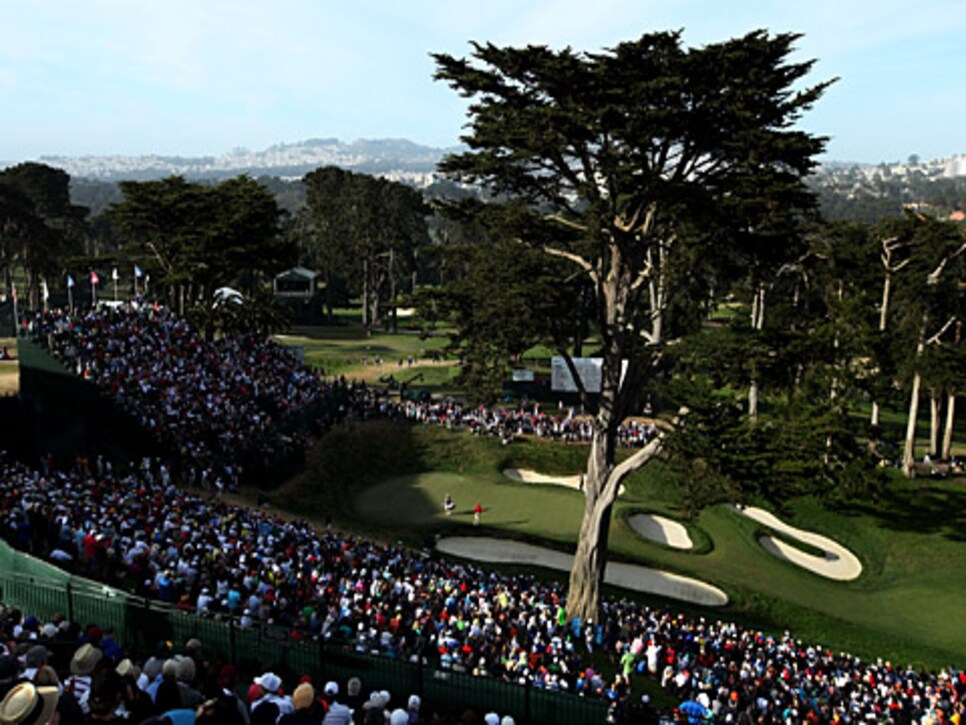 A view of the 18th green from the gallery at Olympic Club. Photo by: David Cannon/Getty Images
After 54 holes, only Graeme McDowell and Jim Furyk among the 156 players who began the week were under par -- and just barely at one under. And imagine if there had been any significant wind? The first six holes at Olympic Club -- probably the most challenging opening half-dozen holes on any golf course on the planet -- played a combined 951 strokes over par through the first three rounds.
Back in 1999, John Philp, the mad man of Carnoustie, responded to complaints from players about the course's difficulty by saying: "Hogan would have figured it out."
And that is what Olympic Club offers -- it can be figured out, if you are playing really well. When players at the 1999 Open Championship complained early in the week that scores were too high, Philp responded by saying: "Par is an arbitrary number. If it takes 290 to win, shoot 290." And that is exactly what the winning score was at Carnoustie
Davies has sort of been John Philp with a warm and fuzzy side since taking over course setup duties for the USGA in 2005. He has yet to whiff, although he has frequently taken conditions to the very edge, making it extremely difficult to get the ball close to the hole. Players constantly fear that one day he will lose control of a golf course, and that fear is part of the mind game Davis plays with them.
"Today I felt the course played probably the fairest of the last couple of days," Ernie Els, a two-time U.S. Open winner, said after a 68 got him to two-over par, three behind McDowell and Furyk. "I felt it was a bit more moisture in there and the flag positions were fine; and if you played proper golf today you could shoot under par."
That is exactly the point. There is a reward at Olympic Club if a player has the patience to avoid taking risks at the wrong time. "Today it was playable," Els said. " Tomorrow if it's really firm, you won't see a score under par. The course is really difficult. So we'll see." One of those who couldn't handle Olympic Club on Saturday was Tiger Woods, who pretty much played his way out of contention with a 75.
Davis, meanwhile, continued to show his imagination and whimsy in the course setup. The third hole, a par 3, played at 256 yards Saturday while No. 7, a par 4, measured 268 yards. The par-3 15th was only 107 and was followed by the par-5 16th,which at 671 yards is the longest hole in U.S. Open history.
Water was applied to all greens overnight and more was added Saturday morning in an attempt to get to the same firmness as the first two rounds. The greens settled into a speed in the mid-12s on the Stimpmeter.
"I really played the golf course the way it's supposed to be played or meant to be played," said Martin Kaymer, who made six birdies on his way to a 69 that got him to four over par. "[I hit] cuts into certain holes and then high draws into some greens." That's what Olympic Club is all about -- if it is to be had, you have to hit the right shots.
There have been some complaints, especially about the closely mowed run-off areas on No. 17 and the fact No. 16, when it was tipped out at 671 yards for the third round, had only 37 percent of the field hitting the green in regulation -- unheard of for a par-5 hole. Still, the overwhelming sentiment is that the setup has so far been fair.
"If you're hitting the ball well, you can give yourself a few chances and I've been hitting the ball well," Lee Westwood said after a 67 got him to two-over par. "I played a pretty soft golf course last week and after the first hole missing it short side and getting a big bounce right, it was a bit of an eye-opener. So I snapped into U.S. Open mode quickly that, 'Oh, yeah, short siding yourself is not good at the U.S. Open.' I realized that very fast."
That is part if the challenge of the U.S. Open: Can you adjust to the changing conditions? So far, Davis has been able to find the genius in the Olympic Club. And from the looks of the leader board -- five former U.S. Open champions among the top 14 after 54 holes -- both Davis and the Olympic Club have provided a true major championship test.