The Loop
U.S. Open odds: Our 7 favorite prop bets for Erin Hills (Including whether Phil Mickelson will play)
When it comes to prop bets, the U.S. Open doesn't quite match what's offered during the Masters. Still, there are plenty of wagers available if you're looking to make things (a little more) interesting. Here are our seven favorite U.S. Open prop bets, courtesy of Bovada, Top Bet and BookMaker.
There will be a wire-to-wire winner (5/1)
Do we think this will actually happen? No, but it's still a fun bet. Why? Because instead of being miserable on Thursday after all your individual player bets go bust, you'll still be alive. You'll just turn your rooting interest to whomever has the lead after the first round. By Friday, you'll have lost this bet too, but at least you get a couple days of entertainment out of it.
There won't be a hole-in-one (Even odds)
Speaking of bets that will keep you involved throughout the tournament, it seems crazy that Erin Hills producing zero aces for the week is an underdog (Yes is -130). Plus, it's the U.S. Open. This is the one tournament of the year where it's OK to root for higher scores.
There will be an albatross (12/1)
Forget what we just said and root for golf's rarest feat. These odds seem a little low, but if it's going to happen at any U.S. Open, Erin Hills would be the place. This will be the first U.S. Open venue featuring four par 5s in 25 years and two of Erin Hills' par 4s (2 and 15) are expected to be drivable for at least one round each.
Phil Mickelson will play in the U.S. Open (10/1)
I didn't think there was any shot for Phil to make his first-round tee time after attending his daughter's high school graduation in Calif., but look at this updated weather forecast for Thursday: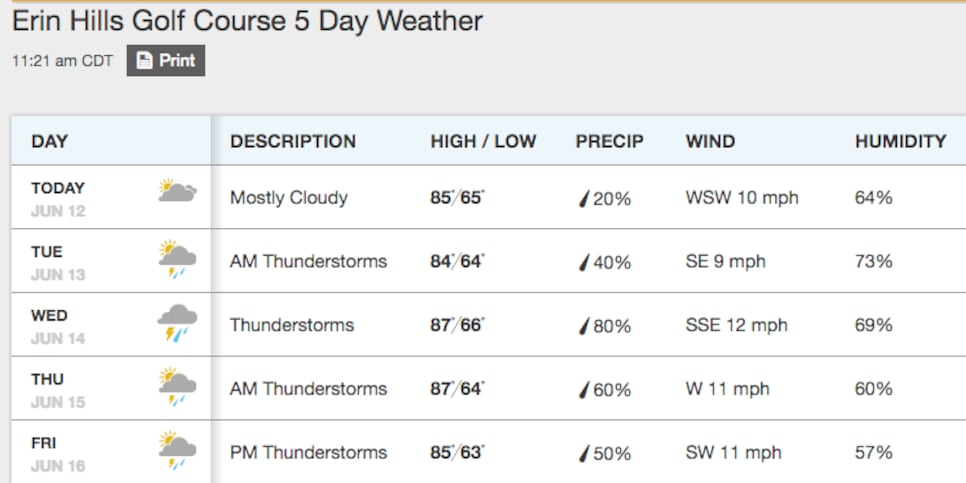 So you're saying there's a chance. . .
Dustin Johnson will finish in the top 10 (-170)
Yes, you're risking $170 for every $100 you wager, but c'mon, it's Dustin Johnson. At the U.S. Open.
Sergio Garcia will be the top Spaniard (+125)
We're big fans of Jon Rahm (+120), but for this to be basically a straight up bet (Rafael Cabrera Bello is also in the bet at +330) is preposterous. Last time we checked, only one of these guys recently won the Masters and has three top-five finishes in the U.S. Open.
Justin Thomas, Brooks Koepka and Thomas Pieters vs. the field (12/1)
I might like this bet even more if it was over who would win a locker room brawl. Koepka and Pieters are beasts and JT seems like he'd be pretty scrappy based on being arguably the longest pound-for-pound hitter on the PGA Tour. But golf-wise, this seems like more than a fair price for getting a trio of players all poised to break through in a major.
Sergio Garcia, Justin Rose and Henrik Stenson vs. the field (8/1)
Wait, this one is even better! Definitely for golf, though. Not the locker room brawl.