News
Winning on the PGA Tour, let alone a major championship, means blocking out distractions and staying focused. It's a challenge few completely master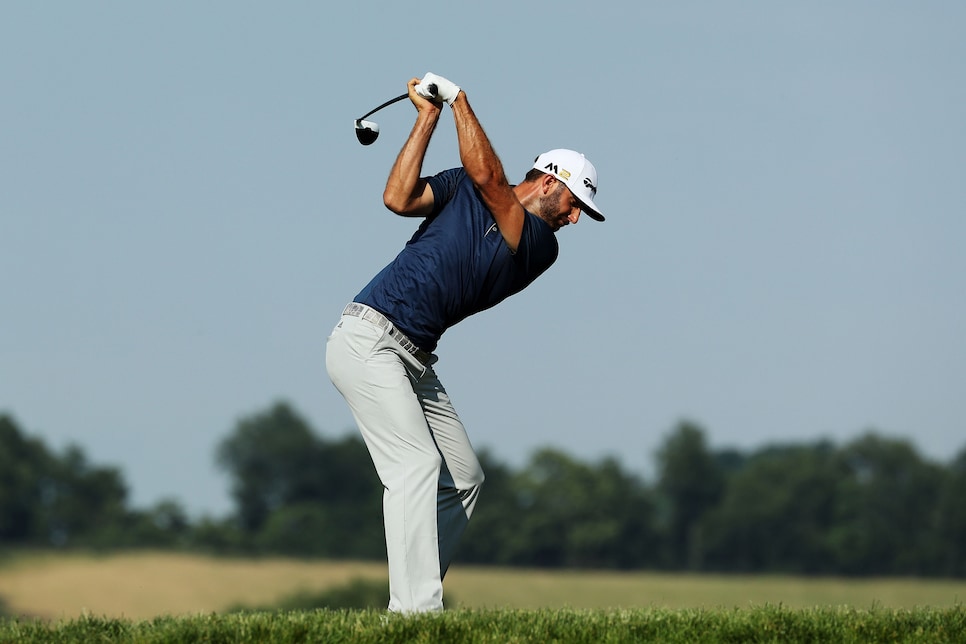 A major championship is stressful enough, but try soldiering on in the final round while in contention and you have little idea of your actual score. You try to put it out of your mind, concentrate on the golf course and the shots at hand, but you struggle. You grow frustrated. You let it affect your score. And a chance to win disappears under an avalanche of strokes and simmering anger.
Dustin Johnson never let that happen to him during the closing stretch of last year's U.S. Open at Oakmont Country Club, and one of his fellow players was duly impressed. Jim Furyk, who ended up tied for second three strokes behind Johnson, knew how much more difficult Dustin's task had become when he was informed on the 12th tee during Sunday's final round that he might incur a one-stroke penalty for an infraction that occurred seven holes earlier, namely, causing his ball to move on the fifth green. The USGA was widely criticized for its handling of the situation, keeping Johnson in the dark as he tried to win his first major championship.
As it turns out, Furyk, a former U.S. Open champion, could relate, having encountered a similar challenge during the 2010 PGA Championship at Whistling Straits. On the par-3 third hole during the final round, Furyk faced a lengthy putt for birdie that stopped three feet short of the hole. As he leaned on his putter to mark his ball, he noticed a round quarter-sized magnet on the shaft of the club. Turns out it came off his putter cover. He didn't know how it had gotten there or how long it had been there. He informed the walking official, who relayed the information to Chris Wilson, co-chairman of the PGA Rules Committee.
To Furyk, who began the final round tied for seventh and five shots behind Nick Watney, it was a pebble in his shoe that became a boulder around his neck. He stewed. No one on the rules staff was communicating with him. It wasn't until the 11th hole that he found out there would be no penalty. But the damage had been done, and he had done it to himself. A final-round 77 with an inward 42 dropped him to T-24.
"In hindsight, it was no one's fault that the incident came up," Furyk recalled. "I wish they would have told me what was going on, even if they weren't sure what the ruling would be. Give me information. Basically, I learned later that I was going to be disqualified or there was going to be no penalty. But I let the situation eat at me. The longer it went, the more upset I got. I was plenty old enough and plenty experienced enough that I should have handled it much better than I did. It was disappointing, and I learned from that.
"You look at what Dustin went through, I could totally understand what his emotions might have been," Furyk added. "But the way he went about it from there, he couldn't have handled it any better. It was impressive."
Indeed, Johnson's remarkable display of insouciance and stoicism at Oakmont has been heralded, rightly, as almost a textbook response to adversity on the golf course. It was an awkward scenario, and yet Johnson, who wears nonchalance as a personal fashion statement, shook off the uncertainties with resolute determination. "I knew I was swinging well," he explained later, "and I just kept thinking, 'It's just me and the course. I'm playing against the course. I can't control what anyone else does.' "
Johnson made it sound so easy. But as Furyk attests above, that's far from the case.
Warding off distractions, be they external or internal, are a part of sports and competition. Golf, however, is a different mental test in that it is a sport of action, not reaction, and the gestating periods between strokes leaves the mind and emotions vulnerable. Concentration becomes a casualty, followed by the ability to execute.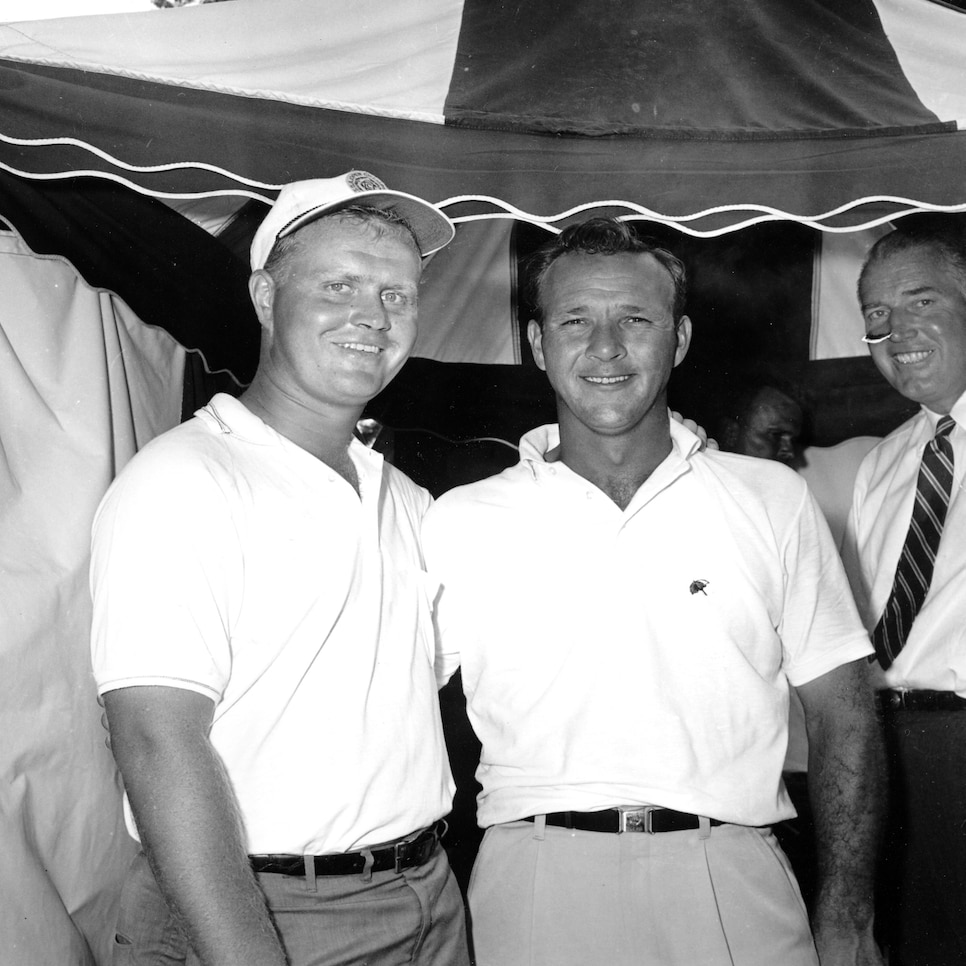 The player who mastered the mental challenge most effectively was the man who owns the most major championships. Jack Nicklaus early on displayed an uncanny ability to focus, to the point of obliviousness, something Arnold Palmer noticed during their epic playoff in the 1962 U.S. Open at Oakmont. While Palmer's loyal fans cheered wildly for their Pennsylvania hero, some crossed the line and shouted such insults as "Whale Boy" and "Ohio Fats" at the chunky 22-year-old Buckeye product. Later, Palmer marveled at how Nicklaus "wrapped himself in a cocoon of concentration."
"I think you have to learn," the Golden Bear told Golf World at his Memorial Tournament two weeks ago. "Was it a hard part for me to learn? No. I always found that I could not be one to get too excited because if I did, I couldn't get my mind back to what I was doing, so I had to contain what I was doing. I learned to do that. I forced myself to do that."
Reminded of his challenge to remain focused at Oakmont 55 years ago amid Arnie's rabid Army, he shrugged. "I never heard them," he said.
"I tell all the young kids that come to me and ask me about the game," Nicklaus continued, "and I say, 'You've got to understand who you are, what you are and what you can do and what your limits are.' If you understand that and play within yourself, then you've got a pretty good chance of playing well. If you get out of your own comfort zone and do things that you shouldn't do and know that it's not right for you, you're going to probably pay for it. That's what I had to do. I had to learn how to get in my own little comfort zone and stay there."
His 1966 Masters and Open Championship wins were challenging in other regards. In the former, he successfully defended his title—reluctantly—just days after one of his best friends from his junior golf days, Bob Barton, died in a plane crash en route to Augusta, Ga. In the latter, his daughter, Nan, then just an infant, was recovering from pneumonia following a delicate operation in which a piece of a crayon she had inhaled was removed from her esophagus. She was out of danger when he completed the career Grand Slam that year at Muirfield, in Scotland.
Focusing when a loved one is ailing became too difficult for Jason Day this spring. The 29-year-old Aussie had to withdraw from the WGC-Dell Technologies Match Play Championship in the midst of his opening match because his mind simply wasn't on golf but rather on his ailing mother, Dening. He was told she had 12 months to live because of lung cancer. Day flew his mom to his home in Columbus, Ohio, and she underwent successful surgery on March 24, the Friday of the third round of match play.
"It's a little different when someone in your family is about to die," Day said of how he deals with distractions. "It was probably the toughest thing I've had to go through. They tell you not to worry, but you worry about it. I didn't want to be on the golf course."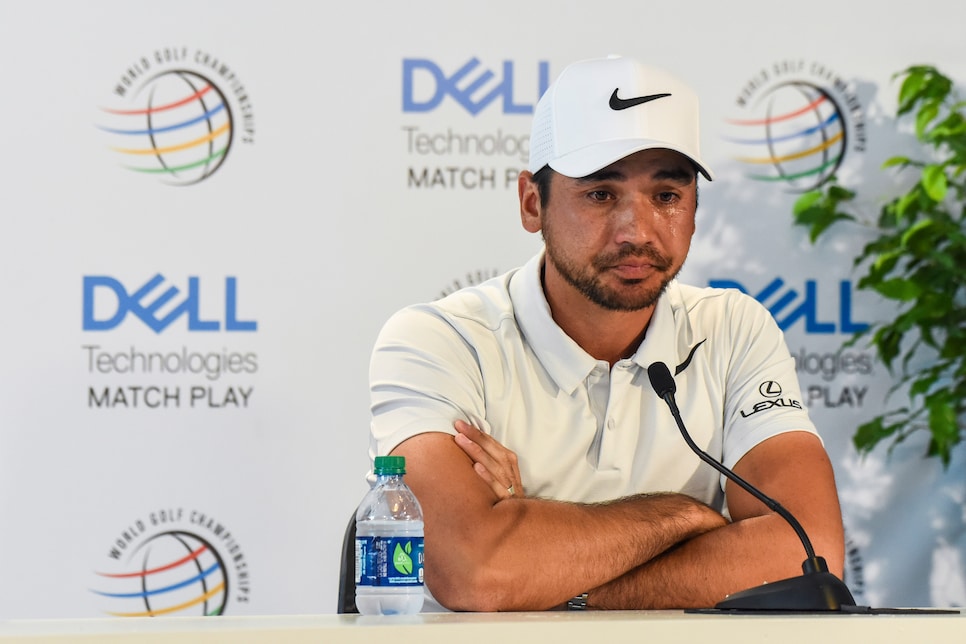 He quickly added that there is a host of reasons a player can find himself distracted and distant from the leaders. Illness for instance. During the 2015 U.S. Open, Day was struck with vertigo, and yet he shared the third-round lead before finishing T-9 at Chambers Bay. "That was a little different. And guys play through injury all the time. In that regard, you try to control what is going on with your body and work around it go get the job done.
"The biggest thing is you have to find a balance between personal stuff and playing competitive golf. And if you can do that, then that's when most of the stresses that you have are kind of low and you can go out and kind of focus on golf. But I can say, it's very difficult for me personally to have too many things going on in my life and try and play competitive golf. I can't do it."
If there is a kindred spirit of sorts to Johnson, it might be 2012 PGA champion Jason Dufner, who recently emerged from a crowd of contenders to win the Memorial. Dufner appeared as nervous and tense as a guy going to buy a gallon of milk while closing out an eventual three-stroke victory over Rickie Fowler and Anirban Lahiri.
"I just try to stay even keel. That's what works for me," said Dufner, 40, who won for the second time since going through a divorce, always one of the toughest personal distractions for any athlete. "Like being too high, too low takes a lot out of me. Being out here playing on the PGA Tour is hard for me. It's tough, physically, mentally, emotionally, all these things. And for me to just be chill and relaxed, that works best for me. It doesn't mean that I'm not trying or I don't want to play good, or I don't feel the sting of bad shot or emotions of good shots. The extra energy takes it out of me."
Some players carry a different burden—popularity. Trying to prevent being totally consumed by fans is a challenge in itself. "Most of it is great, but you also have the negative side to deal with, the guy wanting to chirp at you," said Rickie Fowler. "The thing to remember is you can't hide from any of it, good or bad, so just accept that it's there and make it part of the experience of trying to play good golf. I don't try to block it out. I just don't let it affect my train of thought."
"I always found that I could not be one to get too excited because if I did, I couldn't get my mind back to what I was doing, so I had to contain what I was doing. I learned to do that. I forced myself to do that." —Jack Nicklaus
Fowler said he relies on his process or routine leading up to the shot, an approach sport psychologists have extolled for years. There's a reason.
"If you can get that one minute, or maybe just 30 seconds," Fowler says, "sometimes it doesn't take very long, just to go through those same consistent steps, get into your routine, then you shouldn't have a problem focusing on the shot."
Adam Scott refers to a "switch" that allows him to ease in and out of concentration. After all, no one can maintain that veneer through 18 holes.
"I've had moments where, through no fault of my own, my concentration has been broken and strange thoughts have come into mind," said the 2013 Masters winner. "It's a test of your mental strength being able to refocus, switching on and switching off. It's a part of that mental side of the game that I think you have to develop and get good at, just like every other aspect of the game."Steve Stricker, who is encountering his own challenges this year as the U.S. Presidents Cup captain while increasing his playing schedule, offered his own theory on handling the potential sources of interference, static and stress that any player can encounter. It's incredibly simple.
"Focus isn't a problem when you have confidence in what you're doing and you're playing well," he said knowingly.
The ultimate tale of concentration under extreme pressure belongs to Hubert Green, who 40 years ago won the 1977 U.S. Open at Southern Hills in Tulsa amid circumstances far more distracting than the troubles DJ encountered at Oakmont. You think not knowing your score is upsetting? Try telling your caddie walking down the 15th fairway that he needs to stay away from you because tournament officials have just informed you on the tee that someone has called in a threat on your life.
Leading by a stroke over 1975 champion Lou Graham, Green, seeking to win his first major title, was told on the 15th tee that a woman had phoned the tournament warning that Green would be shot on the green. He had three options: clear the course and continue playing without a gallery, stop and complete the round the following day or continue on. "I said, 'Let's play golf.' I didn't want to create a situation that might get someone else hurt," Green said by telephone. "Besides, I already was nervous trying to win. But I wasn't scared by the death threat. If someone wanted to shoot me, they had plenty of opportunities."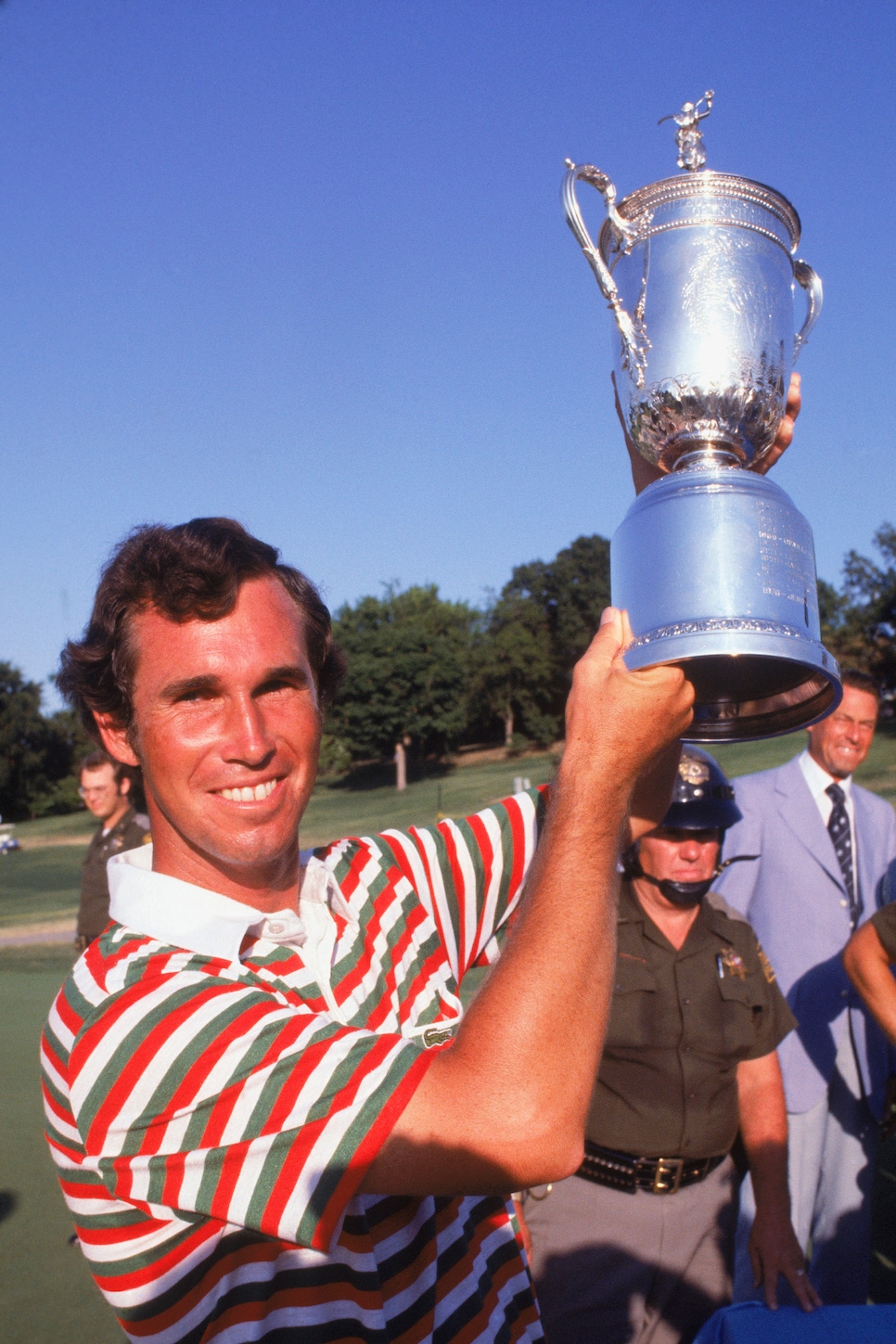 ++Nevertheless, a shaken Green snap-hooked his tee shot. Amazingly, he caught a break when a tree kept his ball from going out of bounds. He hacked his second shot onto the green, but left his 30-foot birdie try three feet short. He muttered to himself, saying "chicken," but not for leaving the putt short. He had let the situation distract him. "When I stood over the three-footer I heard a noise and thought that was it," he said. "I made the putt, and after that, I just got on with it."
Green, 70, who has been battling oral cancer for more than a decade and has trouble talking, did get on with it. He birdied the 16th with a four-footer and carried a two-stroke lead into 18. Another four-footer, this one for bogey, was good for a two-under 278 total and a one-stroke victory over Graham.   How did he block out the fear and apprehension he was feeling? "Very honestly, I didn't," he said. "I wanted to win the U.S. Open. There was nothing I could do except play. I knew I was playing well. So, I played."
And, obviously, lived to tell about it—as a U.S. Open champion. Focus on that.