Major Style
U.S. Open 2023: The best custom and major-inspired golf shoes at LACC
*All products featured on Golf Digest are independently selected by our editors. However, when you buy something through our retail links, we may earn an affiliate commission.*
Custom and limited-edition golf shoes have become a staple for majors. Golf shoe designers have stepped up to create new and unexpected designs for the pros to debut on golf's biggest stages. We expected players to come dressed to impress at this year's Los Angeles-hosted U.S. Open, but the shoe game just after the first round of the tournament has already exceeded our expectations. Jon Rahm has a custom pair of shoes similar to those he wore to win the Masters, Phil Mickelson showed up with a pair of Nikes that belong on a fashion runway and FootJoy created a pair for its athletes that pays homage to Johnny Miller's U.S. Open win 50 years ago.
Rickie Fowler, Gary Woodland, Justin Suh/Puma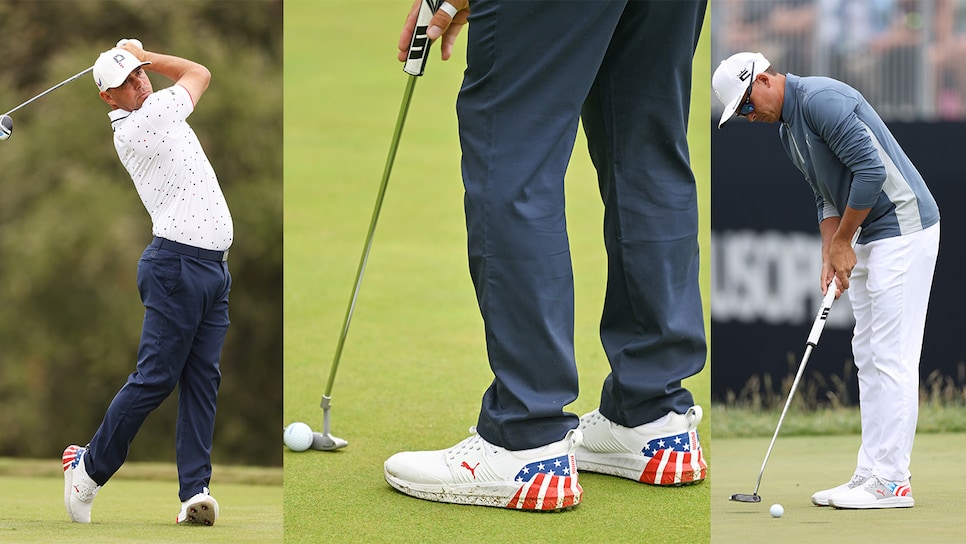 Puma athletes Rickie Fowler, Gary Woodland and Justin Suh each came to LACC with custom golf shoes designed to highlight their style and personalities. Fowler and Woodland wore the Americana version of the Puma Ignite Articulate golf shoe during the first round of the U.S. Open, but we're keeping our eye out for the other custom looks through the weekend.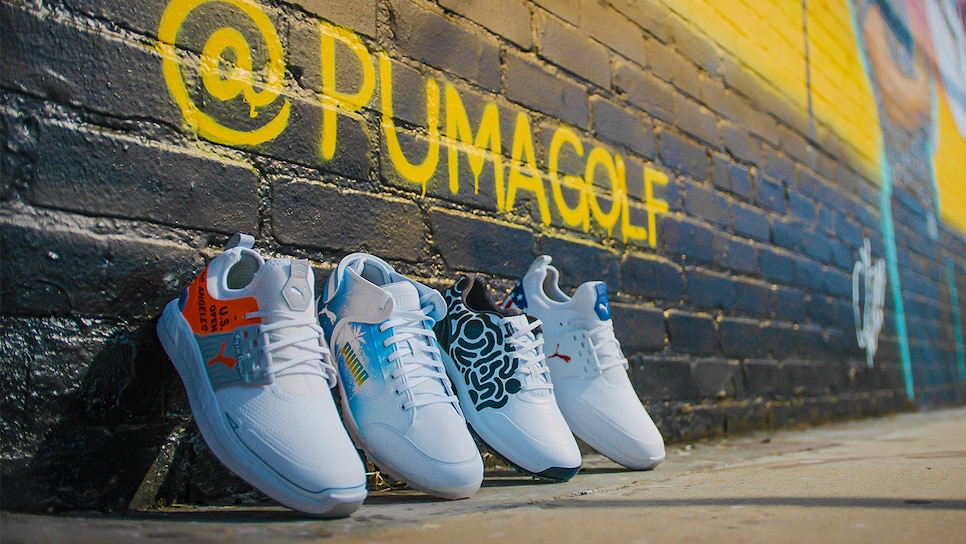 The brand also tapped local artist, Jonas Never, to create a mural inspired by the three Puma golfers at the U.S. Open with nods to L.A. graffiti and tattoo culture. The mural is on the side of a Roger Dunn store a few minutes from LACC.
Never afraid to mix things up accessory-wise, Phil Mickelson wore a low profile pair of Air Jordan 1 Retro Low golf shoes. The custom shoes are a golf version of the Fragment Design X Travis Scott Nikes, according to Hypegolf.
To celebrate 100 years in business and 50 years since Johnny Miller's iconic final-round 63 to win the U.S. Open at Oakmont, FootJoy released its Centennial Collection. The Collection includes a men's and women's golf shoe inspired by Miller's final-round look—a bold golf shoe with a navy detailing at the toe and heel caps and red leather across the saddle. It's a retro and patriotic look that we've already seen Keith Mitchell rock during the practice rounds and expect to see on more FootJoy-sponsored players through the weekend.
RELATED: Footjoy releases Centennial Collection to celebrate 100 years of making golf shoes
Jon Rahm/TravisMathew's Cuater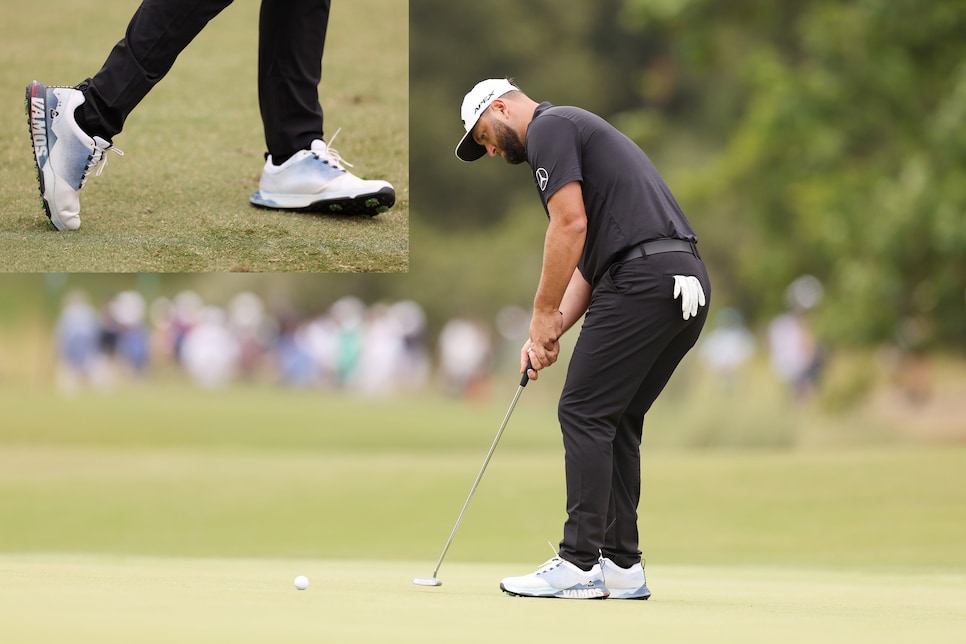 Despite the new design, the shoe is the same favorite Cuater model he's been wearing since late 2022, the Ringer. Rahm and Cuater's team went through extensive testing to find the best shoe for his swing and to reduce pain caused by foot issues stemming back to birth. It's a waterproof golf shoe with a spiked outsole, breathable mesh lining and responsible midsole—also part of our 2023 Best Men's Golf Shoe list.
Matt Fitzpatrick/Skechers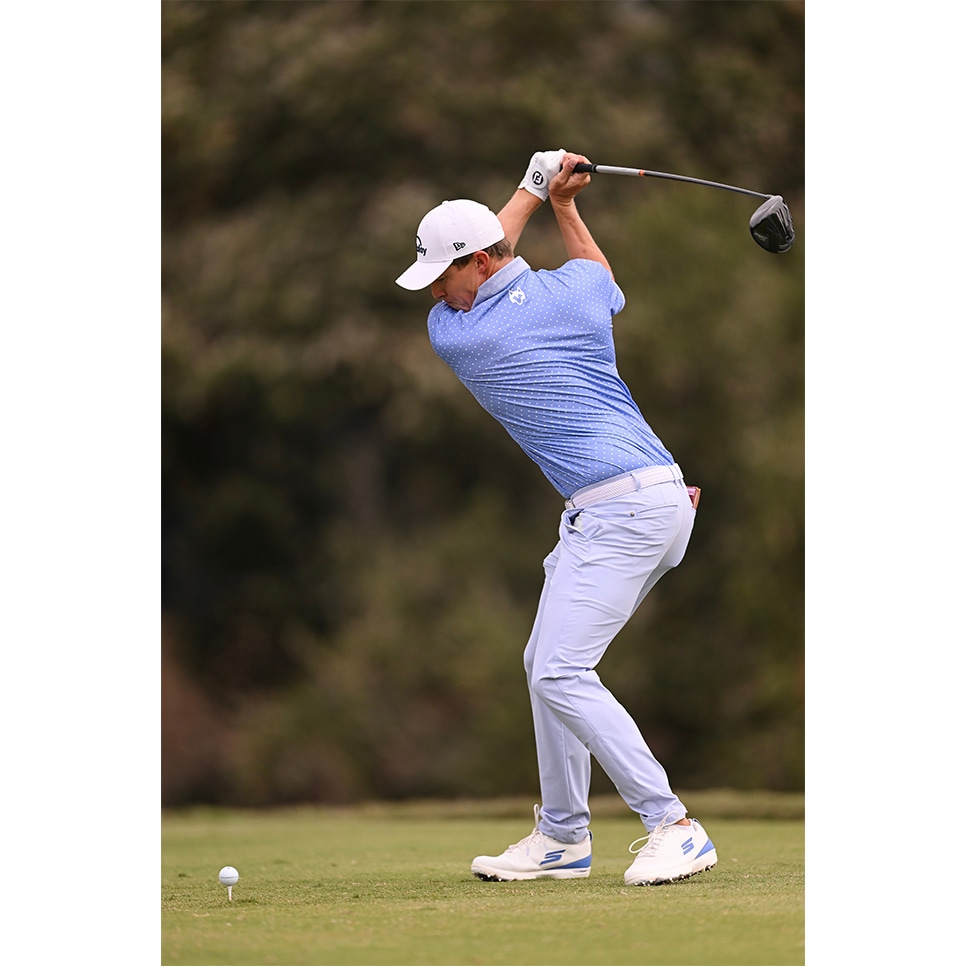 Skechers created two custom looks for ambassador Matt Fitzpatrick to wear at the U.S. Open. The No. 8-ranked golfer typically wears the Skechers Go Golf Pro Hyper 5 golf shoe, known for its ultra-cushioned and responsive midsole, roomy silhouette designed to mold to the foot and lightweight arch support.
The two customized Go Golf Pro 5 Hypers were designed with Fitzpatrick's love of professional soccer in mind by adding a metallic chroming processed outsole inspired by soccer cleats. The first with a bold red and yellow chrome, balanced by a simple white and navy upper. For a quieter look, still pulling elements from metallic cleats, the second style features a pale blue outsole highlighted by a light blue heel overlay and Skechers logo on the side of the waterproof upper.