The Loop
U.S. Open at Chambers Bay: 'Luck was all but everything and skill was close to nought'
Stories of interest you might have missed…
John Huggan of the Scotsman looks back at the U.S. Open at Chambers Bay and finds it lacking: "This column is all for making golf more interesting and fun by encouraging the ground game' that is so often absent from the PGA and European Tours. But there is a fine line between fun and farce. And last week [USGA Executive Director Mike] Davis travelled too far down the right road. The combination of goofy greens, firm turf and sometimes-daft pin positions at times diminished the championship to a point where luck was all but everything and skill was close to nought. Too much of a good thing too often threatened to spoil the spectacle."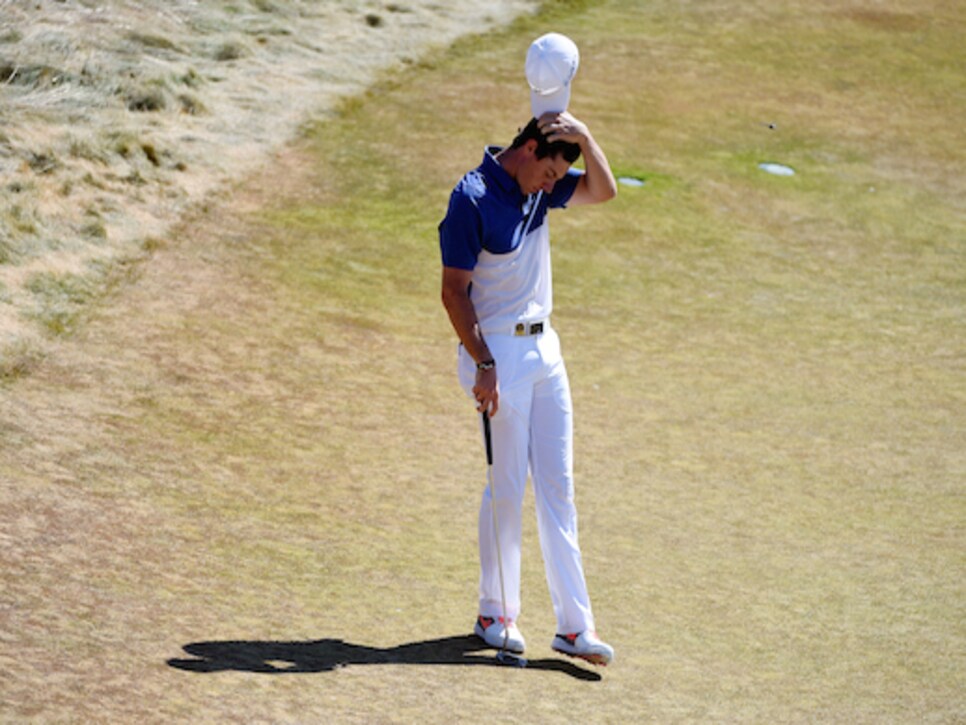 Rory McIlroy in familar Chambers Bay pose (Getty Images)
Golf courses are often final resting places, John Paul Newport writes in the Wall Street Journal. "The spreading of ashes, or wildcat scattering' as it's known in the cremation industry, is of questionable legality when done on private property without permission. But that stops hardly anyone."
Paul Casey lost to Bubba Watson in a playoff at the Travelers Championship on Sunday but found solace in his perspective. "My little boy is right behind you, 20 yards away, sucking his finger," he said in this story by Chip Malafronte in the Register Citizen. "I look at him, and it makes everything pale in comparison. I'm disappointed in myself, but I've got a great life and a great family. And I'm about to go home."
Sacramento is the capital of California, but finishes behind Los Angeles, San Diego and San Francisco as a sports town. That said, the U.S. Senior Open was a huge hit, and Sacramento Bee columnist Ailene Voisin makes the case for more. "So, what about doing this again in the near future?…USGA officials were delighted and, without offering details, [tournament chairman Dan] Spector said he has received inquiries from the PGA Tour."