SAN DIEGO — It is a testament to Rory McIlroy that he's viewed as "relatable" because, in truth, there's little relatability between him and us. Yes, he is approachable and considerate and thoughtful and charismatic. He is also one of the best in the world at what he does and swims in fame and fortune because of it, and that is an existence that can only be understood by those living on the same plane. McIlroy is relatable in one regard, however: The man does not have a poker face. Or should we say, poker feet.
Unlike Dustin Johnson—who is undisturbed by his surroundings, beholden to an inner command only known to him—you can tell how McIlroy is doing by his walk. When things are going bad, his steps are heavy and slow. When they are going good, he struts with his chest puffed out and head held high. And when it is going really good, he bounces like a kid on Halloween trying to hit as many houses as possible.
Which is to say this: McIlroy swaggered around Torrey Pines Saturday as if each hole was handing out full-sized candy bars.
McIlroy turned in a third-round 67, asserting himself as a very real contender at the 121st U.S. Open.
"Yeah, it's definitely the best that I've played this week," McIlroy said. "I felt like I played well on Thursday, and 70 felt like the worst I could have shot."
McIlroy's gait towards the first tee was reserved Saturday morning, which is to be expected. He started the round outside the top 20, six strokes back of the leaders. That didn't mean he was out of the hunt; this is the U.S. Open, where chaos reigns, and he is a former U.S. Open champ. Conversely, since that breakthrough at Congressional in 2011, McIlroy has not contended at the USGA's marquee championship, at least not truly. His next best finish was a T-8 last year, but he was 12 shots back of winner Bryson DeChambeau. An opening tee shot into a bunker did not offer a rebuttal.
However, from a less-than-favorable lie, McIlroy put his approach to 15 feet. The birdie didn't fall, but no matter; as he made his way to the second tee, McIlroy's stride, if ever so slightly, grew stronger. Conviction does not guarantee success at the U.S. Open, but it is a prerequisite, and it was clear in that moment that McIlroy was feeling himself.
A look at this front nine will not convey that; he birdied the second after nearly jarring his second shot from 65 yards out, but followed with seven pars. A one-under 34 is a damn fine score at this tournament, and while it does not signal something special it kept the chance of something special alive.
"I hit a lot of fairways starting out, hit a lot of greens, gave myself a lot of birdie chances," McIlroy said. "Didn't actually make that many, but I just stayed really patient knowing that, if you're not making bogeys out there, you're not losing ground."
That spirit changed with a birdie at the par-4 10th to get to red figures. The fans were starting to awaken to McIlroy's move, so they were deflated when he missed a makable birdie try on the par-3 11th. But McIlroy revived them on the 12th, holing out a chip from 30 yards, and for the first time all week there was a current of energy running through this major championship.
What happened at the 13th was just as electric. McIlroy, 3-wood in hand from 270 yards out, hit the flagstick, his ball ricocheting some 50 feet right of the pin. This time it was the crowd that revived McIlroy, cheering him on despite the bad break. He thanked them with a lag and no-nonsense clean-up for birdie to move to three under and, in that second, it sure felt like this championship was McIlroy's for the taking.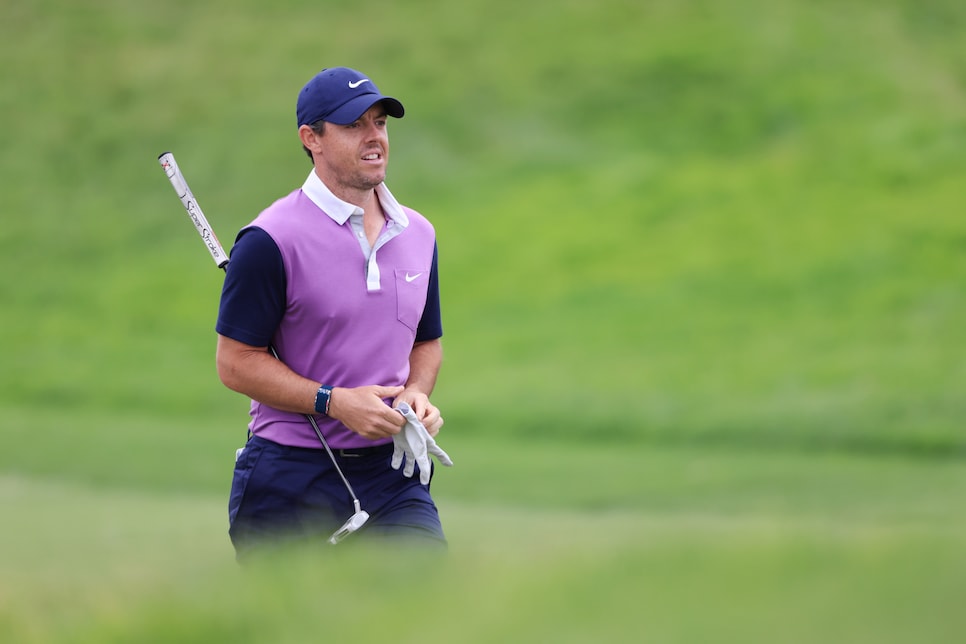 However, that is not how golf works. That is definitely not how the U.S. Open works on Saturday afternoon. Because after a par on the 14th, McIlroy snapped his drive down a canyon at the 15th, and when his ball went down it appeared to bring up all the demons he has fought at majors over the last seven years.
Only McIlroy, taking a penalty drop, was able to scoot his third under some trees to 50 yards short of the flag, and made a marvelous up-and-down for one of those "good bogeys" that are a cliché at this event but a cliché because it's true.
"Yeah, huge, huge to keep momentum," McIlroy said of the 15th. "As I said, this is the only tournament in the world where you fist pump a bogey."
He added pars at the 16th (from another up-and-down, this time from the sand) and 17th. At the par-5 18th, he was left with just 200 yards and change to the flag. His second shot was long, which is the right miss with the flag tucked just over Devlin's Billabong, with a two-putt moving him back to three under and ensuring he will be part of the Sunday conversation.
Being a part of the conversation has been foreign to McIlroy as of late, and not just at this championship. His major slump is well known, yet McIlroy himself was briefly stumped on the last time he was in the mix come Sunday.
"I mean, I'm trying to think of the last time where I really felt like I had a chance," McIlroy said about his major shortcomings. "Carnoustie in '18 felt like I maybe had half a chance, going into the final day at Pebble in 2019. But apart from that, there's been some good finishes but never felt like I was in the thick of things."
He'll be offered such a shot on Sunday. What is on his plate—a chance at a fifth major, a number only 15 male golfers have accomplished; a chance to reinsert himself as the best player in the world; a chance to silence all the doubts and whispers and criticisms that have followed him since Valhalla—is, well, unrelatable.
But to get the chance to prove that you're as good as you once were and still can be, to others and yourself … no matter your walk of life, that is a song we can all dance to. McIlroy will get such a chance Sunday. Walking off the property Saturday night—chest out, head held high—it's clear what he thinks about his chances.
"I've done the first part of that job," McIlroy said. "Now it's up to me tomorrow to go out and try to play a similar round of golf, and yeah, that's it."
MORE U.S. OPEN 2021 STORIES FROM GOLF DIGEST: