News
U.S. Open 2020: Rory McIlroy says something would have to go "seriously wrong" to get goofy golf at Winged Foot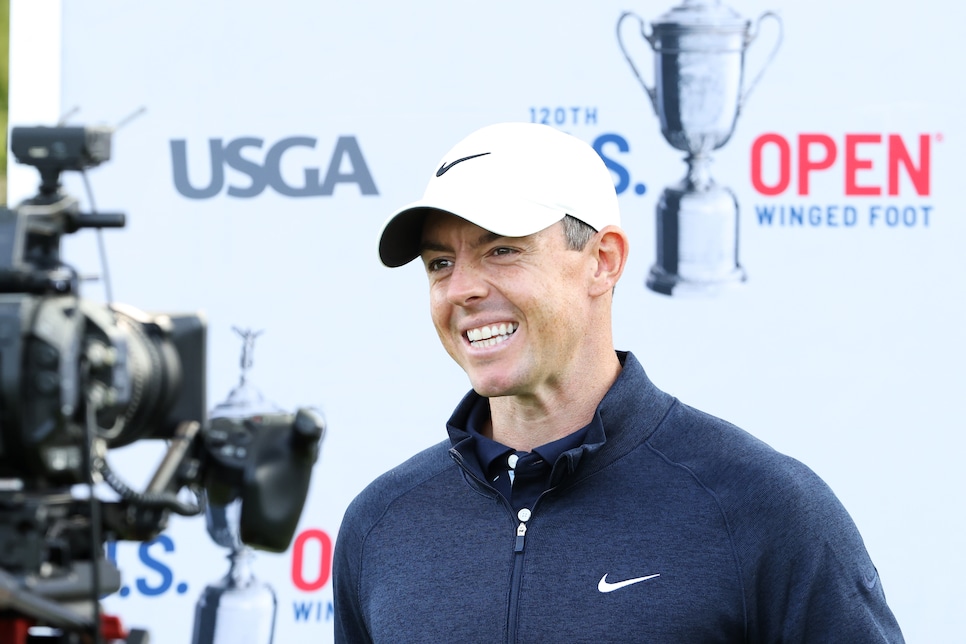 MAMARONECK, N.Y. —After a series of hiccups at the U.S. Open, lowlighted in 2018 when the USGA repeated past sins at Shinnecock during the tournament's third round, the 2019 championship proved a detente between players and the governing body. John Bodenhamer grabbed the setup reins from USGA CEO Mike Davis and delivered on his promise of not artificially tricking up Pebble Beach. If the players had any qualms with the setup, they didn't share them; quite the opposite, delivering glowing praise for the test they faced.
Conversely, though reputations can be ruined in one round, it takes more than one tournament to repair them. Which is why there is a nervous undertone at Winged Foot, the USGA hoping to build off last year's success while guarding against further miscues. And make no mistake, the players are watching, evidenced by this remark from Rory McIlroy.
Speaking to the media on Tuesday at Winged Foot, the 2011 U.S. Open champ was asked about the line between a challenging course versus an over-the-top setup, and McIlroy was blunt in his assessment.
"I've only played 18 holes here, but there would have to be—something would have to go seriously wrong to get into the realms of goofy golf," McIlroy said.
To illustrate his point, McIlroy used Oakmont, saying that, while it is a "wonderful course," its design and conditioning put the Pennsylvania course inherently teetering on being unplayable. A dilemma, McIlroy asserts, that's not an issue at Winged Foot.
"If you just go a little further [at Oakmont], then that can start to get a little goofy, where here it doesn't seem like that can happen," McIlroy said. "Certainly if you get it way too firm and you get some crosswinds and stuff, it can get pretty dicey, but from what I've seen yesterday and today, I expect that not to happen."
McIlroy was not the only one to express those sentiments. Earlier in the day Justin Thomas said the only time the course could be unfair this week is due to a poor setup.
"This place, right now you go play, you put the pins where they should be, the greens are very soft, the fairways aren't that firm, it's beautiful weather," Thomas said. "Yeah, there's going to be a lot of high scores, but there will be some good scores, there will be some under-par scores, but if they got firm, they got fast, they got windy, they put pins where they shouldn't be, then, yeah, it would be stupid. So it really just all depends on how the golf course is stet up."
Only two players have finished a U.S. Open at Winged Foot under par … one if you count Greg Norman's playoff 75 in the 1984 championship. And as history has also shown, players have no qualms taking the USGA to task when need be. Hopefully this week does not turn into a confluence of the two matters.