News
U.S. Open 2018: Dustin Johnson stands alone for second straight day at Shinnecock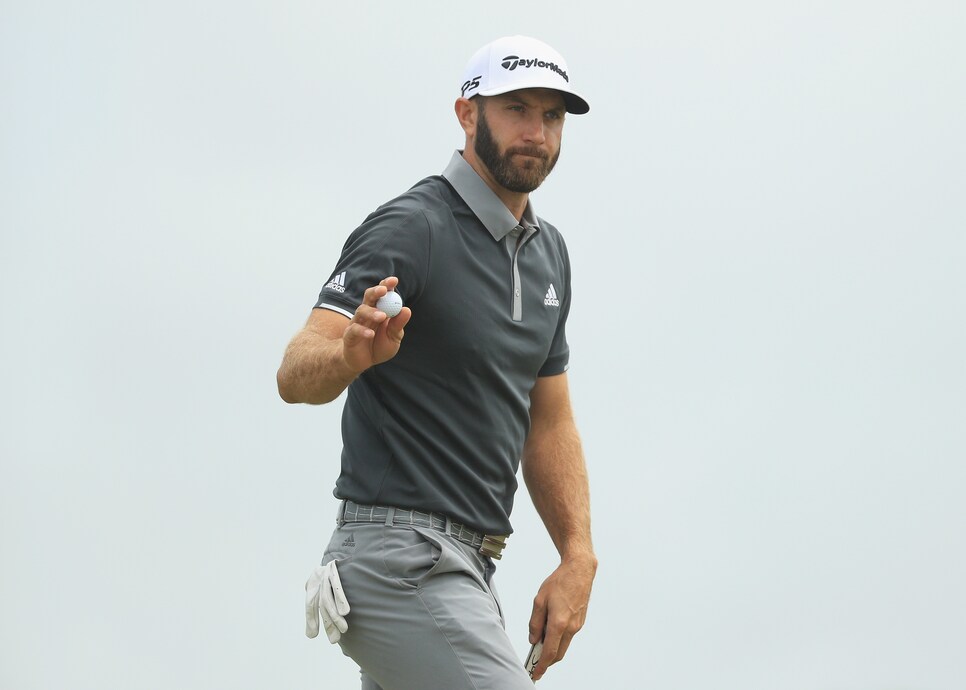 SOUTHAMPTON, N.Y. — The afternoon wave tried to catch Dustin Johnson, who carded a three-under 67 on Friday morning at Shinnecock Hills in the wet, windy conditions to put himself at four-under 136. Ian Poulter got close, as did Justin Rose, but ultimately, no one could close the gap, giving the world No. 1 a four-shot edge heading into the weekend at the U.S. Open.
Although that lead is still small, especially at Shinnecock, where disaster lurks at every corner, Johnson has at times appeared unbeatable thanks to a short game that's bailed him out on numerous occasions over the first 36 holes. He's hit just 21 of 36 greens in regulation so far, but ranks first in the field in scrambling and has made just four bogeys this week.
"I felt like today was another really solid round, played really well," said Johnson, who leads the field in birdies with eight. "A couple times where I hit a couple of bad iron shots, but every time I felt like I was able to save par, at least give myself a really good look at par. My only bogey I made today on number one, I still had a decent look at par, 10-, 12-footer or something for par.
That par putt at No. 1, his 10th, felt like the only time he flinched all day. From there he cruised to the house, playing his final eight holes in two under, highlighted by a 45-foot bomb for birdie at the par-3 seventh. The pure roll produced a fist pump and a huge smile from a normally subdued Johnson.
"Yeah, that was a good one," he said. "I knew coming off the putter, I'm trying to make it, but I was more focused on just making sure I had good speed. You know, hit a really nice putt, and it went right in there.
"About halfway there it was on a really good line if it would just get to the hole, which I guess it dropped right in the front door."
It was one of just 27 putts on Friday for Johnson, and one of 53 over his first two rounds, which ranks him second in the field.
Johnson is not without his pursuers, the first two being Scott Piercy and Charley Hoffman, who are tied for second at even par 140. Hoffman paired a Friday 69 with his Thursday 71, while Piercy did the opposite. Piercy will play alongside Johnson on Saturday.
Hoffman will be paired with Tommy Fleetwood, who carded a four-under 66 to match Brooks Koepka for the low round of the day. They are among a group tied for fourth at one-over 141 that includes Justin Rose and Henrik Stenson.
The final member of that group in the clubhouse was Poulter, who scared Johnson's lead with birdies at the fourth, fifth and seventh holes (his 13th, 14th and 16th) to reach three under overall. But he made a mess of the par-4 eighth, hitting his approach shot from the center of the fairway into a green side bunker and then blading his third shot over the green. It got worse from there, as the Englishman proceeded to chunk his fourth about five yards into thick fescue. He eventually walked away with a crushing triple-bogey-7, and a bogey at his final hole gave him a two-over 72.
"I think I got lucky with the lie I had, to be honest with you," said Poulter of his bladed chip. "I was expecting it [his approach] to plug. I know there's quite a bit of sand in that trap over there. I saw that in practice. So I got lucky with the lie.
"No problem -- you know, really a poor bunker shot should have been 20 feet. A really poor bunker shot. A really, really poor bunker shot to about 30 yards is really poor. So, obviously, I was trying to hit the perfect bunker shot. I was trying to nip it clean. I was trying to land it, you know, half a yard over the crest to get it to check out. A good bunker shot, I felt like I could hit it to about four or five feet.
"I didn't commit to the shot I wanted to play, and that's the only disappointing thing, really, about the mistake I made."
Rickie Fowler, who hit 13 of 14 fairways, could still only manage a one-under 69 with four birdies and three bogeys. He's tied for ninth at two-over 142 with Russell Henley.