News
U.S. Open 2017: One man's crazy, but statistically driven, pick to win at Erin Hills (We mentioned crazy, right?)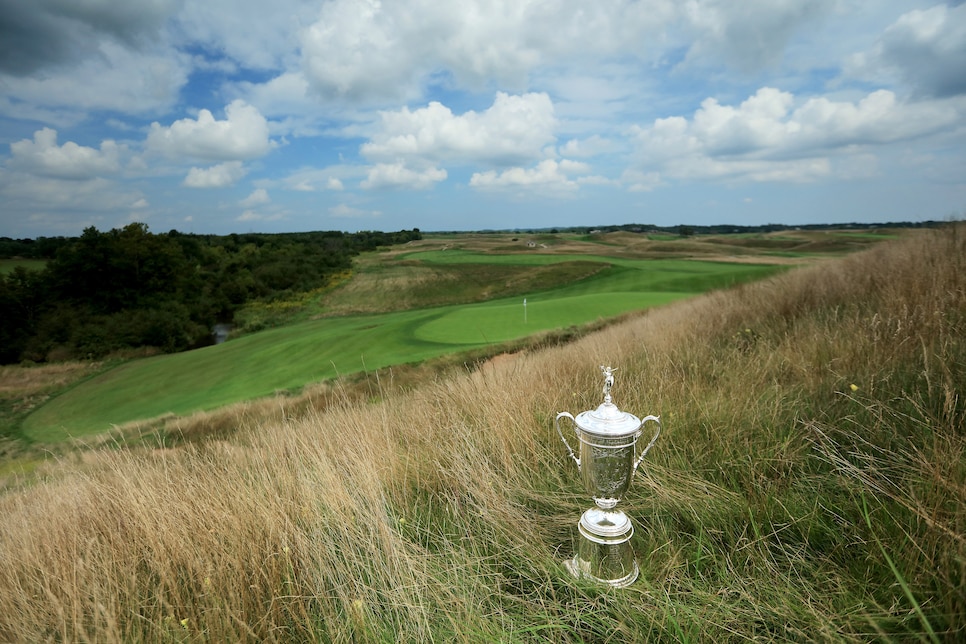 Before I tell you who's going to win this week at Erin Hills—because my statistically foolproof predictions have always been right—a word about our current state of affairs:
As I watched them cutting back the rough at a U.S. Open yesterday, I thought of other horrors previously unimagined yet somehow made real that now seem commonplace. Collarless golf shirts, for instance. Or tiny houses. The Bachelorette. Nacho. Flavored. Donuts.
We clearly find ourselves at a time and place where all that we believe in and hold as fundamental to our very existence as sentient, intellectual beings is now reduced to, well, garbage cans of grass clippings.
This is not the U.S. Open I know. This is not the "I finally brought this monster to its knees" U.S. Open. This is not the "You don't win the Open, it wins you" U.S. Open. This is not the "We're not trying to embarrass the best players in the world, we're trying to identify them" U.S. Open.
I'm not dismissing the fact that Erin Hills most likely would have been unplayable had the grass not been trimmed in spots. I'm lamenting the fact that it might actually be playable. Even Rory McIlroy, despite the coziness of all his guaranteed millions in endorsements, recognizes there is something upside down in the logic, suggesting that if the world's best players can't find a way to squeeze a tee shot into a 60-yard-wide landing zone, well, "you might as well pack your bags and go home." This isn't like putting an escalator on Mt. Everest, but it feels close.
Our real purpose today is to explain why the U.S. Open this year will not be won by all those obvious picks, including the hard-hitting McIlroy. With its epic 7,800-yard length and its wide fairways, the natural thinking is that it will naturally cater to bombers like defending champion Dustin Johnson or red-hot rookie Jon Rahm or Jason Day or even Brooks Koepka or any other 350-yard soon-to-be superhero you care to offer. It's so obvious a big hitter will win it's as plain as the four par 5s on the scorecard. The USGA hasn't deigned to offer a golf course with the four par 5s intact in a quarter century, routinely transmogrifying designated three-shot holes into "par 4s" only the kind of beasts that bench press engine blocks might enjoy. You know, like those muscleheaded Bachelorette Mensa candidates.
Still, let's not be confusing Erin Hills with the Bob Hope Classic. Even with its softened edges, I still think Erin Hills will show its teeth. Heck, when they played the U.S. Amateur here in 2011, 39 players shot 80 or higher. Even where the grass is cut short at Erin Hills can be a problem, like, well, bathroom privacy in one of those tiny houses.
So given this perplexing mix of four par 5s ripe with scoring opportunities, a cutback rough that we're still assured will be demanding and a history of potential disaster numbers out there on a golf course without any logical parallel on any professional tour, my usual major calculus/nonsense algorithm was especially unsettling, like say those nacho donuts.
But despite that I'm 0-forever in predicting major winners through my mad science, I pressed on. I calculated par-5 scoring average (obviously) and rough tendency (because I remain hopeful that this week's proceedings still might take on the pallor of a U.S. Open and not the conviviality of a John Deere Classic). Then, I added in each players' scoring potential (because with soggy-ish course conditions there will be low numbers) by counting the number of rounds in the 60s for each player in professional events since the Masters. Finally, because I think a proper understanding of the U.S. Open milieu still matters, I factored in each player's best finish in a U.S. Open.
As you might expect, the numbers spit out a name on nobody's list of pre-tournament favorites, particularly given the Godzilla-like ballfield that Erin Hills could be, assuming it won't be completely defanged. The winner must be someone or something like King Kong or Mothra, no?
But every time we find ourselves talking about a big golf course, someone not so big becomes a factor, someone tough, someone who just does the work of being a professional golfer, someone (it must be said) whose "scripting" isn't being presented to the media a week before any upcoming major championship. Think about Zach Johnson with his major victories at bomber favorites like Augusta National and the Old Course, maybe a Trevor Immelman at a supposedly Tiger-proofed Masters, or perhaps even a Lucas Glover at a big-shouldered (but very wet) Bethpage Black. Or maybe even a Tom Kite.
That's right. The last time the U.S. Open was played at a par 72 with four par 5s that big hitters could feast on, it was won by the short-hitting, methodical and, let's be fair, physically unremarkable (think high-school accounting teacher) Tom Kite.
But I like under-the-radar toughness. I like a guy who stood toe-to-toe with Tiger Woods at a Ryder Cup with the match on the line and came away with a half. I like a guy who's shot nine rounds in the 60s in the last three months. I like a guy with a par-5 scoring average of 4.58, ranked in the top 15 on the PGA Tour and only .01 worse than Jon Rahm, better than Jason Day. I like a guy with one of the lowest tendencies to hit tee shots into the rough.
I like Francesco Molinari to win the U.S. Open this week.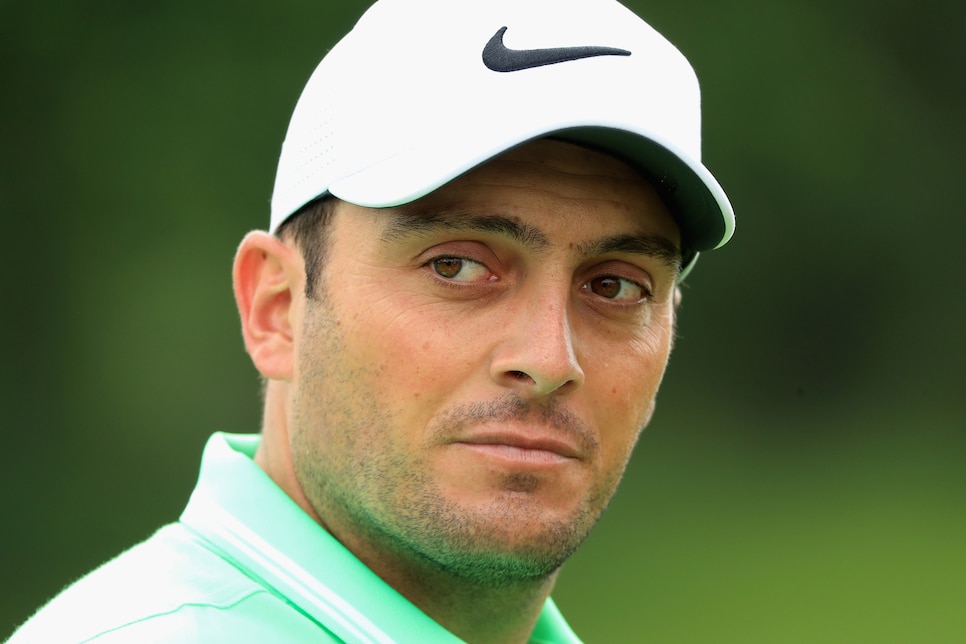 I don't mean to suggest in any way that Molinari is in the same Hall of Fame discussion as Tom Kite. But in this setting, when you look at all the variables, when you squint your eyes and look at the way he navigates his way around the golf course, is Molinari really that different from Tom Kite? Sure he is. Until, well, he isn't.   I think his shirt might even have a collar.