The Loop
U.S. Mid-Am champ Sammy Schmitz looks to fund his Masters preparation through public donations
As problems go, let's put this down as a good one to have:
You have just won the U.S. Mid-Amateur title (with an albatross in the final, no less). You have earned an exemption into the 2016 Masters, which means you can play and practice at Augusta National as often as you like this winter. But you are also a working stiff in the healthcare industry with two young daughters, who also happens to live in a part of the country where winter practice often involves a snow shovel.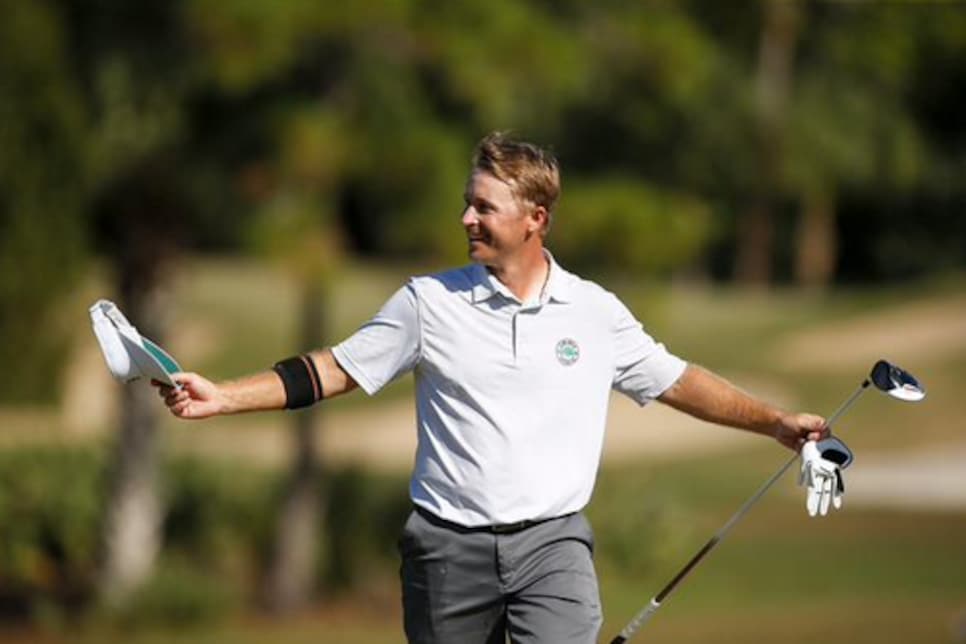 All of this describes the slight predicament that 35-year-old Sammy Schmitz of River Falls, Wis., finds himself in after winning the U.S. Mid-Am earlier this month at John's Island Club in Vero Beach, Fla. In an earlier era, perhaps Schmitz's family would pass the hat around town to help fund his Masters trips -- bake sales, raffles, that sort of thing. Instead, Schmitz's wife Natalie has started a GoFundMe page to help raise money for what will surely be the biggest tournament of his life.
The goal of $30,000 will go toward travel and lodging for Schmitz and his family not only for the tournament in April, but in the preceding months when Schmitz can take advantage of his access to the club.
"Being a father of two beautiful girls and having bills and daily expenses has made it very difficult to find the income to make his dream of playing in the Masters come true," Natalie Schmitz wrote on the site. "Being a nurse I can only pick up so many extra shifts to help support my husband, but I am determined to raised enough money, with your help, to send my most deserving husband to the Masters!"
In a follow-up phone call, Natalie Schmitz said the couple is following guidelines by the USGA to ensure the money only goes toward golf expenses. All donations will actually go toward their regional golf association, the Minnesota Golf Association, and the couple will then be reimbursed for any receipts they submit.
The site went live on Sunday and has already raised $2,745 in 16 hours.
"A lot of people have been reaching out. Even when haven't made a donation, they've been very helpful in sharing their knowledge," Natalie Schmitz said. "It's been a very humbling experience."