Amateurs
Rain forces the already nerve-racking U.S. Amateur stroke-play qualifying at Oakmont to go an extra day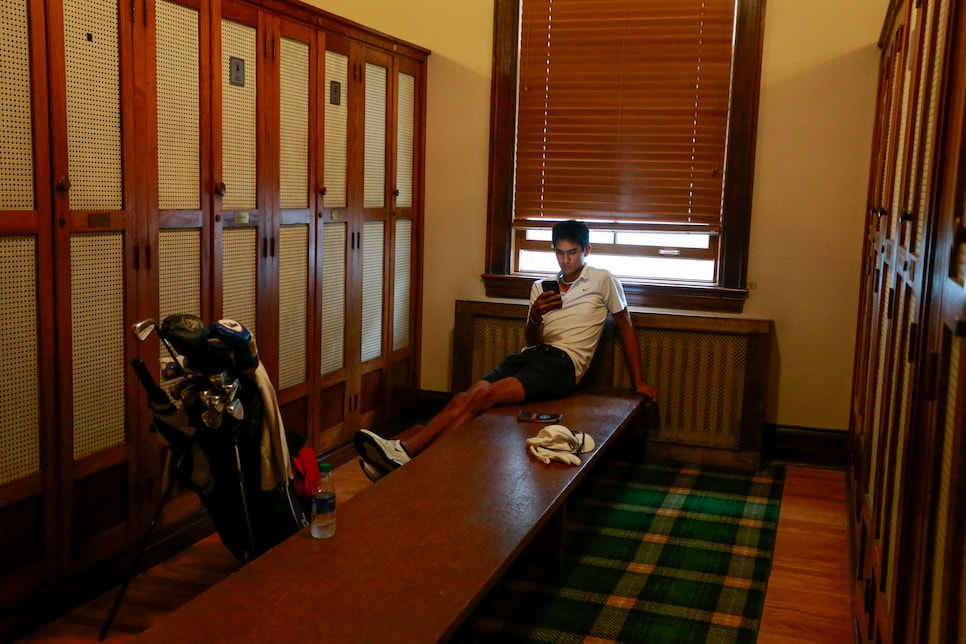 Ricky Castillo stretches out in the locker room in the middle of a rain delay during the second round of stroke play at the 2021 U.S. Amateur at Oakmont.
Justin Aller
OAKMONT, Pa. — The equation remains the same: 312 stroke-play golfers need to be whittled down to 64 match-play survivors. But it's going to take a little more time to do the whittling.
A storm blew through the Pittsburgh suburb on Tuesday afternoon, interrupting the second stroke-play round of the 121st U.S. Amateur. Play on historic Oakmont Country Club as well as nearby Longue Vue Club was halted for three hours and 50 minutes, keeping the entire afternoon wave on both courses from finishing before sunset.
When play was called for the day, Mark Goetz from nearby Greensburg, Pa., was atop the leader board at nine under par, three under on his round through 12 holes at Oakmont and bogey free through 30 holes. Two back was Jacob Bridgeman and Brian Ma, both also with holes still to play at Oakmont.
Competitors will resume their rounds at 7:30 a.m. on Wednesday, the last groups still with 14 holes to play. After the completion of stroke play, the first round of match play is scheduled to begin at Oakmont.
For those playing when the delay occurred, they actually might have caught a break as both courses played noticeably softer. Thirteen players still with golf to play at Oakmont are under par on their rounds. By comparison, the lowest score shot at Oakmont on Monday was a one-under 69 from Cole Sherwood and the overall stroke average was 77.16 (compared to 41 players breaking par at Longue Vue).
Exactly where the cut for match play will fall is unclear. Sixty-nine golfers are at two over or better heading into Wednesday. Thirty-six of them have holes left at Oakmont, which means that number is likely to go higher. The USGA's website currently projects that four under will be where the cut falls and what players need to shoot if they want to extend their stays further this week.
Among the golfers who can comfortably sleep on Tuesday knowing they'll be in match play is Devon Bling, the 2018 runner-up to Viktor Hovland at Pebble Beach. He knows from experience that getting into the final of 64 is all that matters, regardless of what seed you earn.
"I think anybody who makes match play can win the tournament," Bling said. "I was 41 seed when I went all the way in 2018. Making match play is the No. 1 thing, and then just luck of the draw from there on forward."
Bling paused before adding one more point: "And playing good golf."
William Holcomb IV, a semifinalist at Pinehurst in 2019 is also likely to be safely through to match play after shooting two-over 142 in his stroke-play rounds. Holcomb finished up his college career at Sam Houston State in the spring and is expected to turn professional this fall.
Preston Summerhays, the 2019 U.S. Junior champion, is also at two-over 142 with a 76 at Oakmont.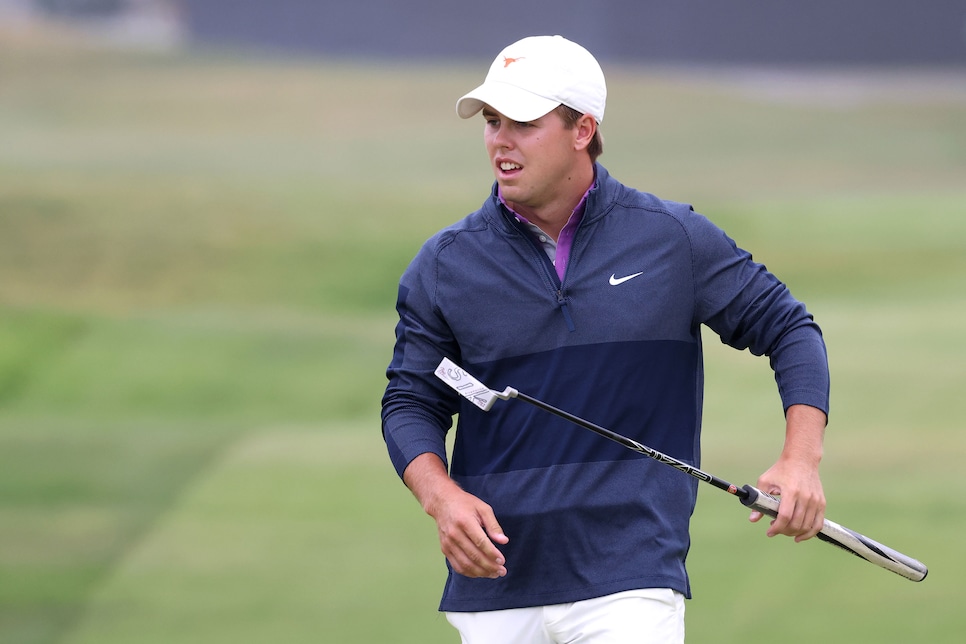 Texas' Pierceson Coody, the top senior in the 2021-22 PGA Tour U rankings, has to wait to see if his four-under stroke-play total is good enough to get him into match play.
Harry How
The player who might arguably have the most sweating to do Tuesday night into Wednesday morning is Pierceson Coody, a University of Texas senior-to-be and a member of the victorious U.S. Walker Cup team. Coody, ranked No. 1 in the first PGA Tour U rankings for the 2021-22 college season, shot a 75 at Oakmont on Monday but could "only" post a one-under 69 at Longue Vue, leaving himself at four over. That's tied for 84th heading into Wednesday, but again the USGA projection suggests he could get through.
Still on the course with holes to play and work to do are three other American Walker Cuppers in Cole Hammer (two over through 11 holes at Oakmont), Ricky Castillo (four over through 11 holes at Oakmont) and Stewart Hagestad (eight over through nine holes at Longue Vue).
Likely to miss match play is Walker Cupper William Mouw, who is done at six over par.