Dye Family history
At the 'Dye Original' golf course in Ohio, there are vivid and poignant memories at every turn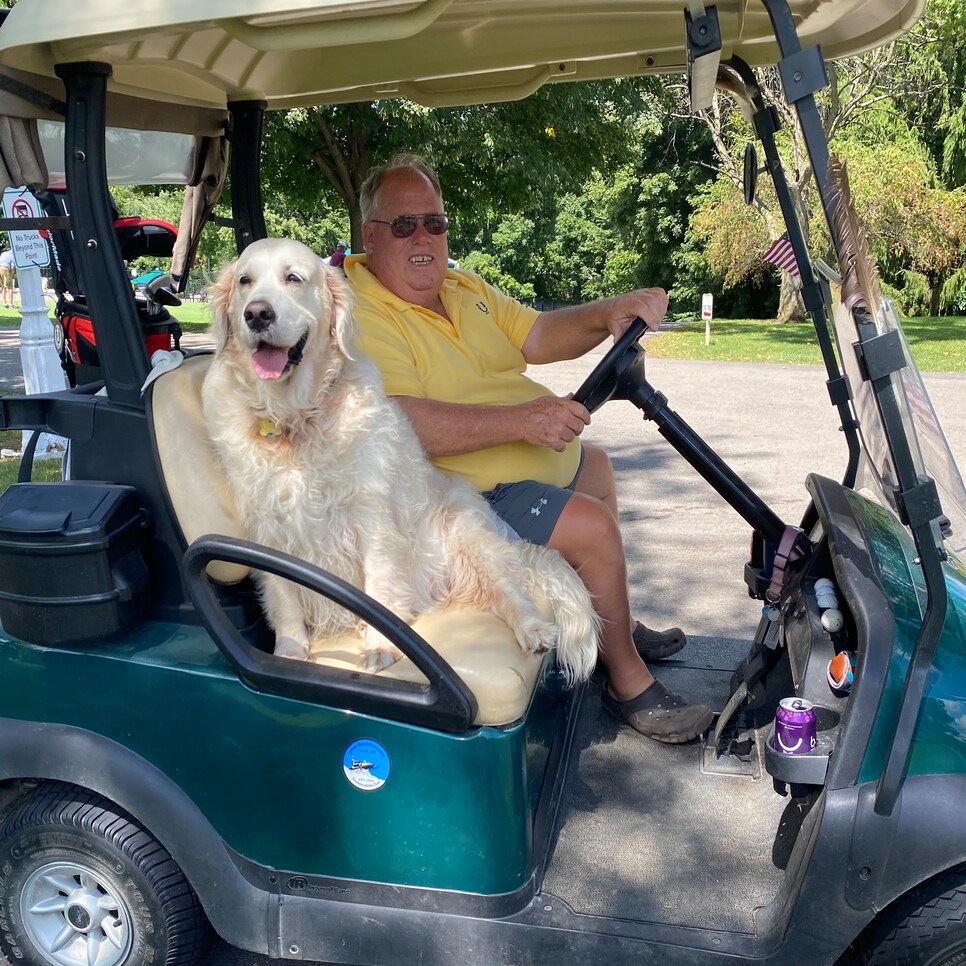 P.B. Dye often tools around the Urbana Country Club grounds with his dog Teeka. (Dave Shedloski photo)
URBANA, Ohio — P.B. Dye has a home in the Dominican Republic along the renowned Teeth of the Dog golf course that his late parents, Pete and Alice Dye, designed in the early 1970s. And yet he finds paradise on the outskirts of this modest-sized rural town about 50 miles west of Columbus.
"When I turn off the highway and drive up that gravel road to my house, the world just goes away," Dye says. "Nothing can touch me. I feel at peace. I don't know … it's hard to put into words."
That's quite the statement considering that P.B. puts words together in the same jumbled flourishes of inspiration to which his father was inclined. But it doesn't take syllabic expression to understand the contentment Dye finds settling down for much of the year with his wife Jean and their blonde retriever Teeka in the stone cabin adjacent to the second hole at Urbana Country Club. It's not inaccurate to say that Paul Burke Dye didn't put down roots here so much as he reunited with ones already nestled deep in the rolling farmlands.
It was his grandfather, Paul Francis Dye, who plotted a golf course on property belonging to the family of his future wife, Elizabeth Johnson. "Pinky" Dye, an insurance salesman like his father and part of the Democrat Party political machine in Champaign County, was an affable sort who had a natural gift for persuasion, which probably explains how he got permission in 1922—before the couple got married in early 1923—to break ground with teams of mules and carve out five holes on the Johnson farm. First, though, he consulted briefly with a knowledgeable Scotsman, Donald Ross, who at the time was busy designing Springfield Country Club, just to the south. Pinky and Elizabeth drove their Model T automobile around the property fashioning four more holes the following summer.
They had three children: Anne, Paul Francis, Jr., and Roy. The boys immersed themselves in the game—the elder of the two, nicknamed Pete, estimated that he played close to 1,000 rounds at UCC—and in the care and upkeep of the golf course. Both would become accomplished players and golf course architects. Of course, Pete, with Alice by his side, applied his craft with such novel imagination that he is considered arguably the most influential designer of the last half-century. Together they created such renowned courses as the Stadium Course at TPC Sawgrass, Crooked Stick, Whistling Straits, the Ocean Course at Kiawah Island and Harbour Town Golf Links.
This past Saturday, on what would have been his grandfather's 127th birthday, P.B. once again hosted the Dye Invitational golf tournament at Urbana. The event this year served the dual purpose of celebrating the 100th anniversary of the club and honoring his parents, whose passing he couldn't recognize in proper fashion the last few years because of the pandemic.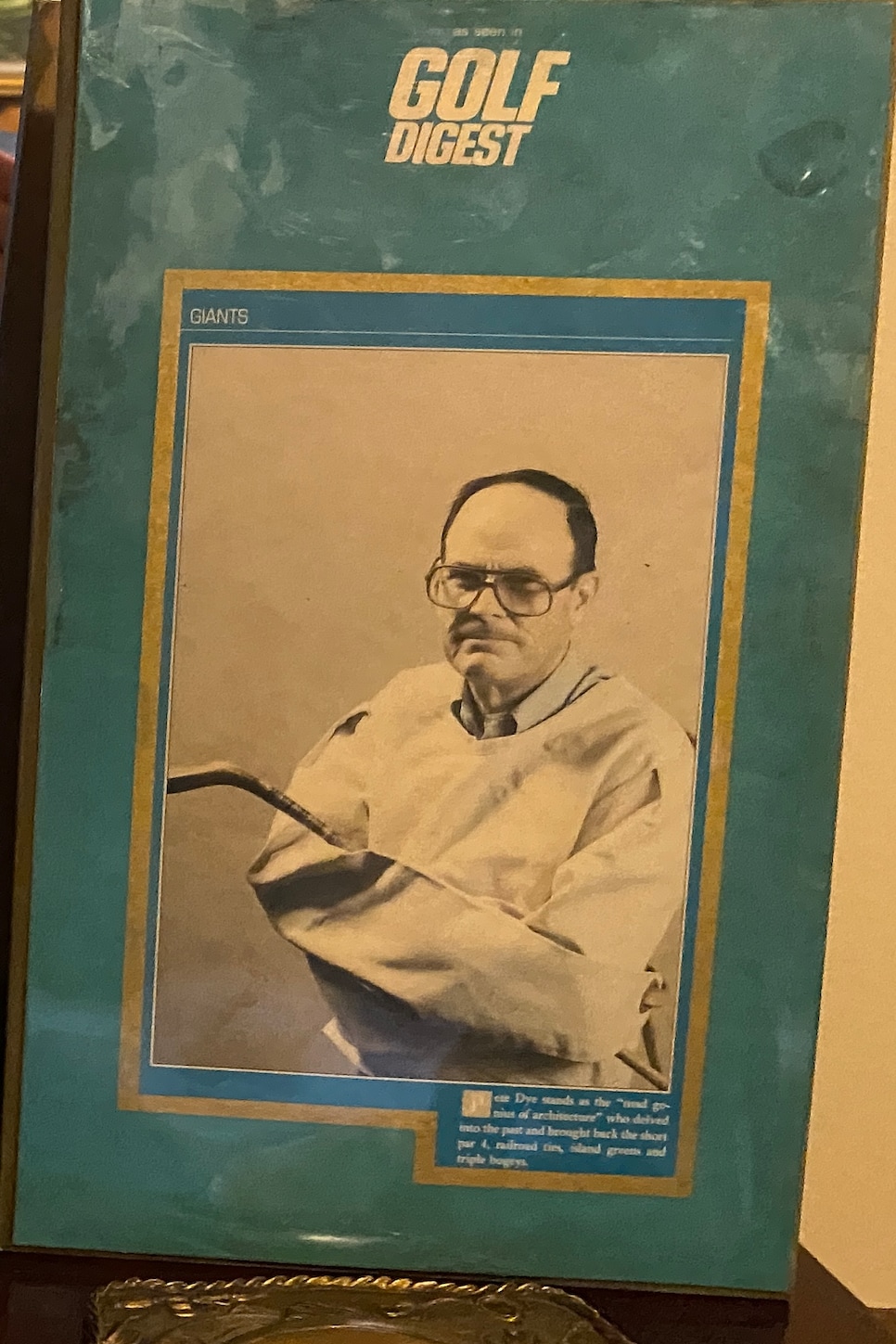 A Golf Digest placque honoring Pete Dye sits on a dresser in P.B. Dye's home. (Dave Shedloski photo)
Starting with Alice on Feb. 1, 2019, Dye lost his parents and his brother Perry in successive years. Pete, stricken with Alzheimer's, less than a year later, on Jan. 9, 2020. On July 9, 2021, as he was making preparations for his brother to join him in a few months at the Ryder Cup at Whistling Straits in Haven, Wis., P.B. received the shocking news that Perry died from complications from chemotherapy as he was battling cancer.
"The Dye gene has two main strands—golf and cancer," said P.B., 67, who is a cancer survivor of more than 35 years.
Pete and Alice threw their sons on bulldozers before they were 10 years old as the couple gained ever-increasing success as course designers, and while P.B., who was born in Indianapolis, remembers a peripatetic upbringing, the family still managed to find its way to Urbana several times a year.
"I haven't lived in Indiana since the third grade when we went to Delray Beach [in Florida], but we got to Urbana quite a bit. Dad always wanted to know what was going on in Urbana," said P.B., who like his brother followed in his parents' professional boot prints as a hands-on, dust-eating course designer.
He once said his career choice was a no-brainer, explaining, "I had exclusive rights to the best golf course architect that ever lived."
All told, the descendants of P.F. Dye have designed more than 200 golf courses.
P.B. remembers distinctly being on the job site in 1965 at The Golf Club in New Albany, Ohio, one of Pete's first designs after returning from a tour of Scotland following the 1963 British Amateur. Pete incorporated several ideas from that trip abroad, including what became one of his trademarks, the use of railroad ties. While honing the layout, Pete invited fellow Ohioan and reigning Masters champion Jack Nicklaus to take a look at his work, an occasion that initiated the Golden Bear's interest in design.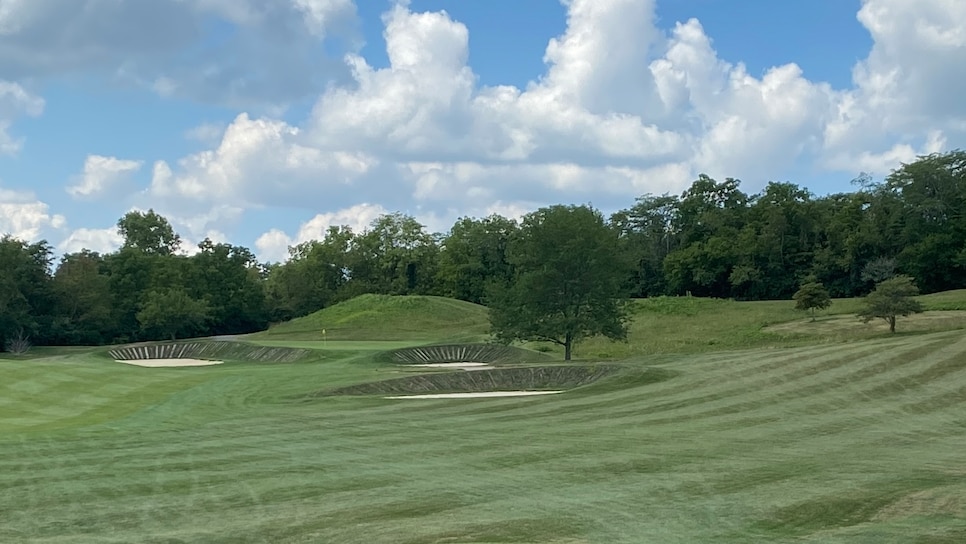 At the request of his grandmother, P.B. Dye added holes to Urbana CC in 1993, and they have some his parents most iconic features. (Dave Shedloski photo)
But that's not what P.B., who was 10 at the time, remembers best. "It took a lot longer than it should have [to build]," he said. "There was a bar about a mile away called the Gahanna Pub [now known as Flanagan's] and all the workers would go there and drink and fight and get arrested, and dad had to go bailing them out all the time."
In late 1991, Elizabeth Dye, then 94, asked her grandson for a favor. Urbana C.C. members, including Pete and Roy and Johnson descendants, pooled resources to acquire an adjacent piece of property, and she asked P.B. to design a second nine holes, saying, "get up to Urbana and finish your grandfather's work." He couldn't possibly say no. Completing most of the shaping himself with a tractor, P.B. carved out the additional holes the following summer, but Elizabeth died before the grand opening in 1993, which also was held on Pink Dye's birthday, Aug. 27.
It is believed to be the only golf course in the U.S. designed by grandfather and grandson, and a photo of the two, taken when P.B. was very young, hangs in the pro shop. Urbana C.C. bills itself, justifiably, as the "Dye Original." P.B. tried to match the style of the more hilly first nine, but he also added touches of his father's handiwork, including the short par-4 fifth with railroad ties flashed up encircling fairway bunkers.
More than 20 members of the Dye family, including Cynthia Dye McGarey, daughter of Roy and a course designer in her own right, attended last weekend's affairs, which kicked off on Friday night with a party that P.B. and Jean hosted at their home and attended by some 300 guests. Extra golf carts had to be brought in for the morning and afternoon shotgun starts on Saturday. A dinner Saturday night included a video message from three-time U.S. Open champion Hale Irwin, a friend of Pete and Alice going back decades.
"This was kind of a long time coming. P.B. wanted to have a tribute to his family, his parents, his grandfather," said Steve Stout, sports editor of the local newspaper, the Urbana Citizen, and a member of the club. "He really couldn't do the tribute he wanted to do before now. He wanted to have one in Indiana at Crooked Stick and COVID got in the way of that. This was his way of doing something to honor them and the legacy of his family."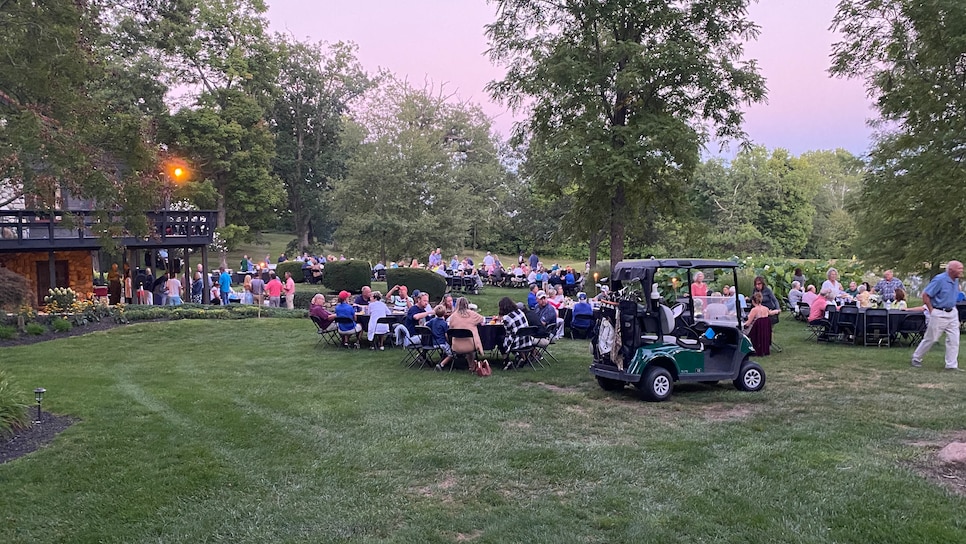 A large group gathered in August to celebrate the 100th anniversary of Urbana Country Club.
He honors his family further by his continuing dedication to the club. Members say P.B. has poured more than $1 million into Urbana C.C., paying out of his own pocket for renovation work on both nines as well as for the addition of a patio to the back of the clubhouse that is an exact replica of the one at Crooked Stick.
"There are things I just wanted to get done around here," he said simply, "because this is where it all started."
Most days Dye tools around the club grounds in a golf cart with Teeka riding shotgun. The longest-running member of the board of directors, P.B. calls himself nothing more than a "temporary caretaker" of the club, a mantel he never imagined he'd assume until he showed up in 1991 and discovered he didn't want to leave. Nevertheless, his presence has a permanence that will outlive him, a distinction he shares with his grandfather.
When his father died, P.B. had the responsibility of clearing out his parents' home in Delray Beach. He kept only one item, the flag his grandmother received when Pink, a veteran of World War I, died in 1973. The flag now hangs over the doorway leading to the new back patio.
He and Jean will head down to the Dominican in December, where, among other things, they devote time to their charitable foundation, the International Circle of Friends, whose primary mission is feeding orphan children in the island nation. They've made a home there. But there is only one place he chooses to really live.
"Mom and dad are gone. My brother shouldn't be gone, but he's gone," he said. "I've got a lot of extended family here. This place is my family. I guess that's reason enough to be here. But a lot of it is just where you end up."
Which likely means that's where you are supposed to be.