The Players Championship
Players 2021: Why Urban Meyer sneakily enjoyed Kevin Na's epic meltdown at the 17th hole on Thursday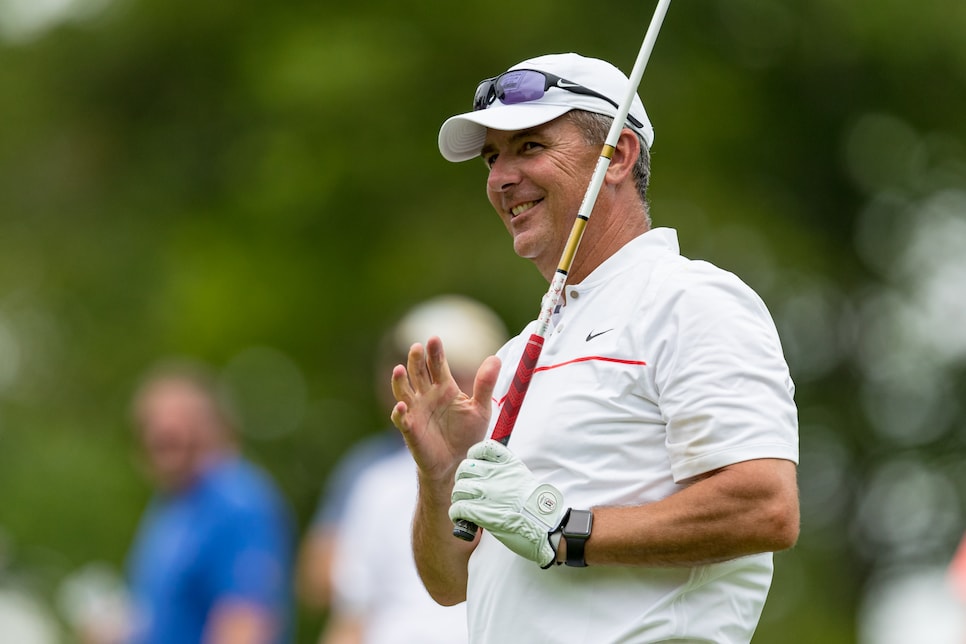 PONTE VEDRA BEACH — For fans, the carnage at the 17th hole is entertainment in its purest form. There is simply nothing like watching the world's best getting beat up by a 140-yard par-3, one that has a knack for making them look like another weekend hacker.
Despite his stature in the sports world, new Jacksonville Jaguars head coach Urban Meyer is one of us this week - a fan, or, more specifically, a fan who hacks it around on the golf course like us. Meyer, who plays to a 9 handicap, flipped on the coverage during a workout on Thursday, just in time for the meltdown heard 'round the world.
"I watched my friend Kevin Na throw a few in the water on the island hole," said Meyer, who met with the media at TPC Sawgrass on Friday. "So it's a really hard course."
Meyer couldn't hold back a smile when rehashing Na's disastrous 8, an obvious sign the two are tight. If that sounds like a strange friendship, it made a lot more sense when Meyer explained how he knows Na soon after.
"Just from the Memorial Tournament. I know a lot of these golfers because I live right at No. 7 on Muirfield."
Meyer was born and raised in Ohio, and eventuallty spent seven seasons as head coach of the Ohio State Buckeyes. It wasn't until he got that job that he became a member at Muirfield Village, however. Not long after assuming the HC position, he received a call from a fellow Ohio legend.
"When I first got hired at Ohio State, within a day I got a phone call and he [Jack Nicklaus] asked me to be part of Muirfield [Village]. We played golf every year for like seven, eight years, and he's just awesome. Him and Barbara are incredible."
Prior to being hired by the Jaguars, Meyer spent the last two seasons in the FOX studio breaking down college football. He also played a TON of golf.
"I played 75 to 80 rounds last year," he said. "In the previous 30 years I don't think I've played 75, 80 rounds. I love golf."
Those days are over now. On St. Patrick's Day next week, the NFL's free agency period begins, then the NFL Draft will follow in late April. Meyer is already losing sleep over it, literally.
"I'm waking up in the middle of the night staring at the ceiling trying to put this -- all of us are trying to put this thing together," said Meyer, whose Jags have the No. 1 overall pick this year. "You just look at the history, which I have, in the last year, just looking through the history of the NFL, how many chances do you get to build a roster like we are. You have cap space, 11 draft picks. You can't screw it up, man."
Sounds a lot more stressful than a simple wedge shot into an island green, though his buddy Na might disagree.