Ls On Ls
The now 0-7 UNLV football team pulled off a stunningly bad feat in its latest loss to San Jose State
In the always up-tempo college football world, seven minutes is an eternity. For the now 0-7 UNLV Rebels, however, it wasn't enough time to go 91 yards and extend the game to overtime against San Jose State.
With the game tied 20-20 in the fourth quarter, San Jose State put together a four-play, 78-yard drive that ended in a 15-yard rushing touchdown by quarterback Nick Nash. It took two minutes and 13 seconds off the clock, leaving UNLV with over seven minutes, should the offense even need that much time, to go down and tie the game back up. Hell, seven minutes was enough time to trade punts and get the offense the ball back still with two or three minutes in the game.
Turns out there would be no punt-trading or field position battle. UNLV ended the game with the ball, as in they ran out of time and lost 27-20 despite having seven minutes to score. Here's the play-by-play of the Rebels' 19-play, 72-yard, seven-plus minute drive that ended with a San Jose State sack, causing the clock to run out and handing the Spartans a 27-20 win: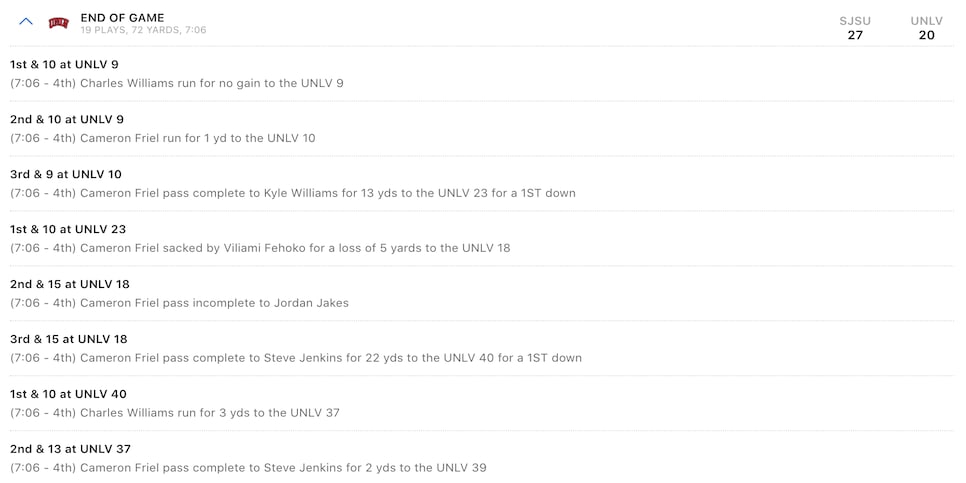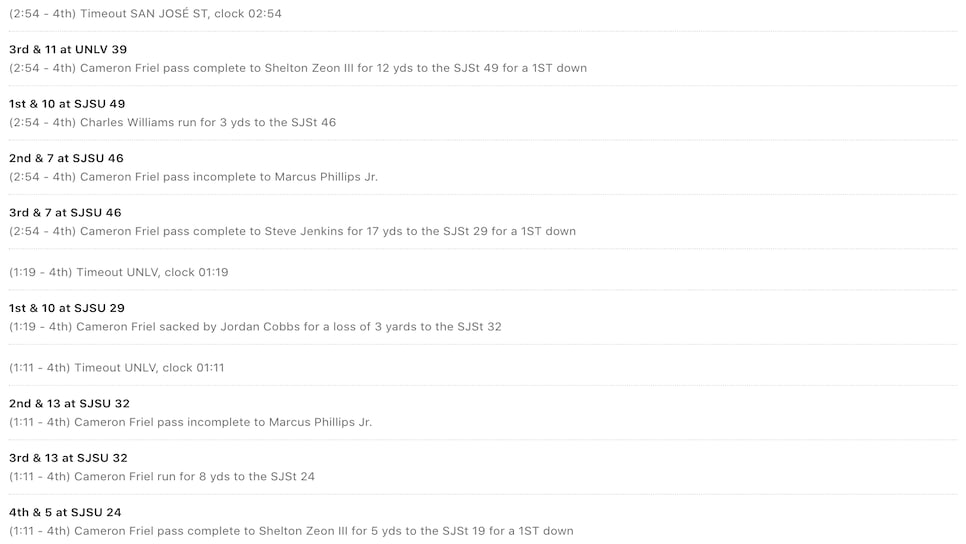 For those who didn't notice, yes, UNLV had all three timeouts going into this drive, meaning they had almost half a quarter and three TOs to go 91 yards and score and they simply ran out of time. Without even seeing how it all went down, it's still fair to conclude that this is some of the worst coaching/clock management you'll ever see on an organized football field. By the way, scroll back up to the 1st and 10 at the SJSU 19-yard line - that "incomplete pass" was actually a spike by Cameron Friel, and it was actually with 23 seconds left on the clock. A spike, with a timeout in hand. WILD!
Us either, Matt. The ending was particularly painful for any insane people who backed UNLV +6. Chances are, had the Rebels scored, they might go for the two-point conversion as an 0-6 team desperate for a win, thus locking up a cover. Oh well. Good teams win, great teams cover, and UNLV has covered more often than not this year, going 4-2-2 against the spread. Hopefully, that's what this analyst was referring to:
Somebody find me that Bill Parcells quote.