News
UL International Crown: Lexi Thompson and Cristie Kerr continue team play dominance, Korea takes early lead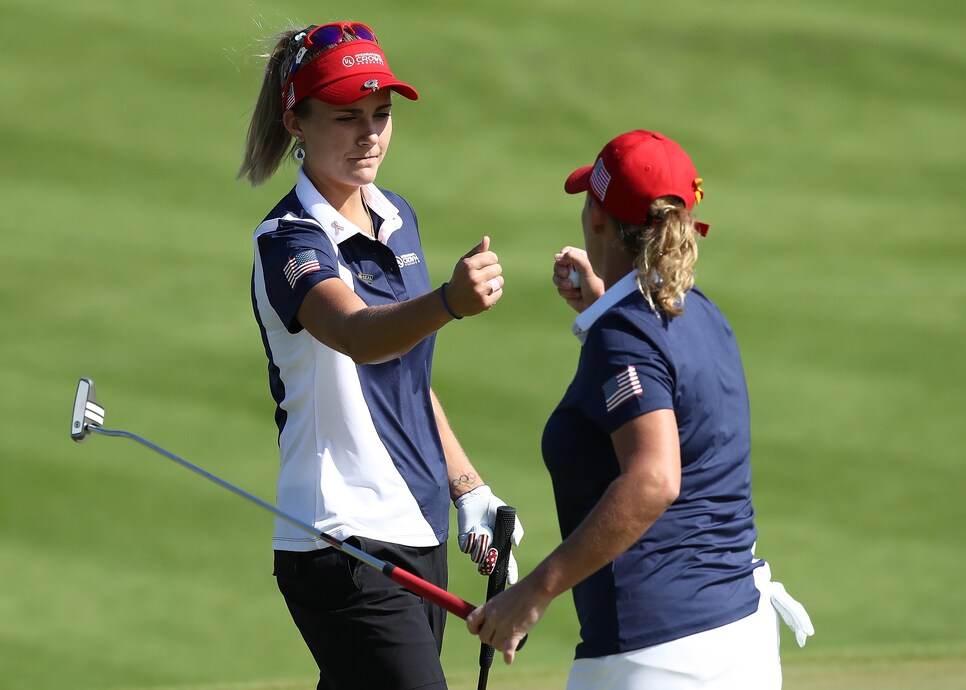 When partnering two players for team play, sometimes a pairing just works. That's the case for Lexi Thompson and Cristie Kerr. With their four-ball win against Pernilla Lindberg and Madelene Sagstrom of Sweden during the first match of the UL International Crown, the duo solidified themselves as the winningest pair in the history of the event, claiming a 5-1-0 mark. Add their 4-0-2 Solheim Cup record and you can see why they are a twosome, despite a 17-plus year difference in age, you just don't breakup.
"She is always there pumping me up," Thompson said. "If I hit a bad shot, she's like, Don't worry about it. Go get the next one. She's always there lifting me up when I need to and keeping positive thoughts in my mind. It's great to have this partner by your side."
The infusion of positivity looked to be just what Thompson needed after what's been a difficult year. The 23-year-old took a break from golf in the middle of the season, citing the need to give herself time to recover mentally. She calls her game a work in progress, and has been mostly optimistic in press conferences in the days leading up to the start of the biennial competition taking place for the first time in South Korea.
Despite the pair's impressive record of dominant play, there was cause for a little pause, with both Kerr and Thompson having missed the cut at the Evian Championship two weeks before play began this past week at Jack Nicklaus Golf Club in Incheon. Clearly, that didn't seem to matter. They never trailed in their opening match against Lindberg and Sagstrom.
"I think when one of us is out of a hole or in a bad position, the other one knows they have to step up," said Kerr, who said she's feeling a bit sick. "We've been able to do that. I think that's what makes a good team. Even if you don't have your best swing for the day or you haven't seen a putt go in, you figure out a way to get it done. I think that's important to remember here."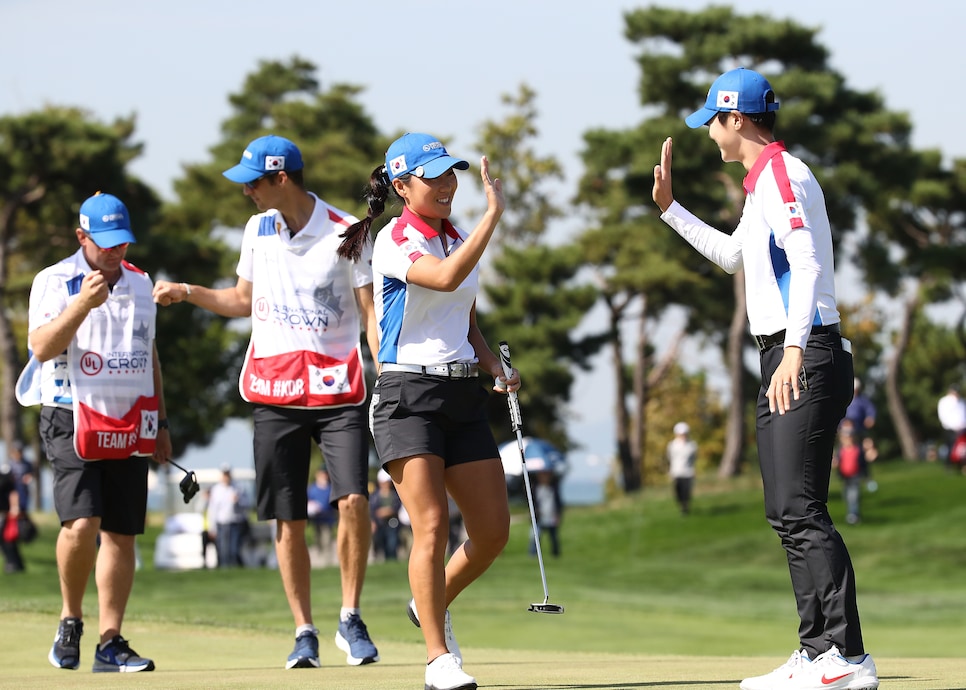 Just as Kerr and Thompson's match went all 18 holes, there were many other tight contests during the first day of play. Six of the 16 matches went to the home hole. The largest margin of victory came from England's Bronte Law and Jodi Ewart Shadoff in their 4-and-3 win over Australians Katherine Kirk and Su Oh.
South Korea, the clear favorites to win in front of the partisan home country crowds came out with an early lead, winning both of its matches to grab four points. England and Thailand are tied for second, each with three points.
The Americans had to settle for just the two points from Thompson and Kerr's W, as the pair of Jessica Korda and Michelle Wie fell to Sweden's Anna Nordqvist and Caroline Hedwall, 2 up.
"It's just that it's a different kind of pressure and stress," So Yeon Ryu said, comparing the pressure of this event to that of the LPGA majors. "Obviously for majors you're fighting against yourself and trying to win for yourself. That's a different pressure from having to play in an event like this where you're trying to win for your country and also for your teammates. So I would say that you have the pressure, it's just a different kind. I think that before we actually started the day today having to play in front of the home crowd representing our country was a little more daunting. Now that we finished the first round I think being here and having the fans out there really helped us today on the course."
Play will continue on Friday, but it will start a little earlier than planned. Per a press release from the LPGA, a typhoon is in the forecast, so the second matches will be played earlier in the day on Friday and the third matches of pool play will start at the completion of the second, rather than wait for Saturday morning.