European Tour
All Tyrrell Hatton needed was a nap to shake off his worst round in months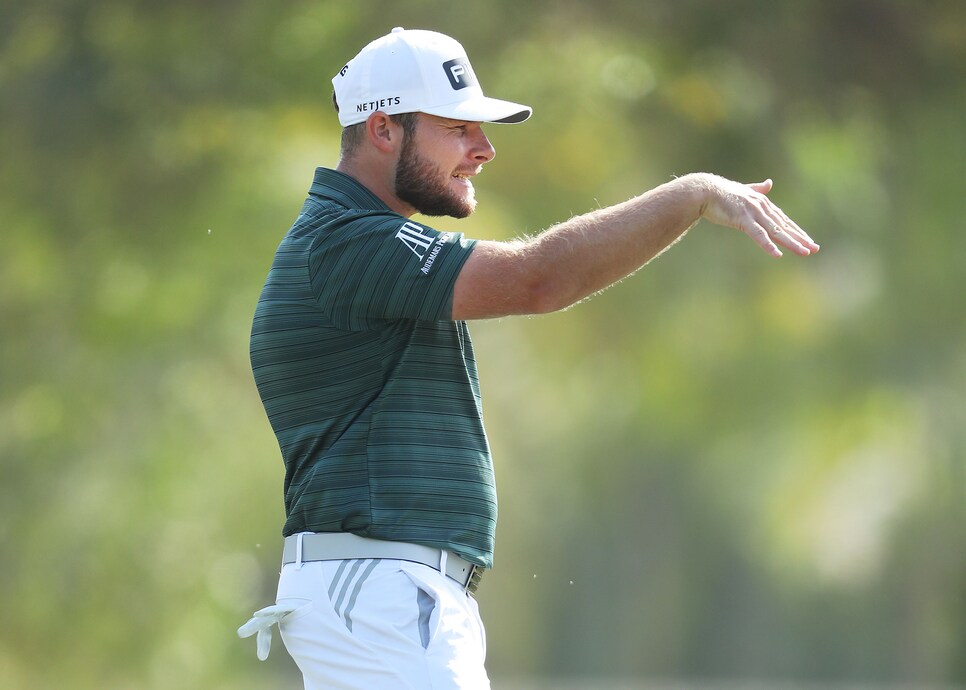 Tyrrell Hatton made up for a rough first round in Dubai, caused in part by the drain of post-victory obligations after his win last week in Abu Dhabi, with a second-round 64.
Warren Little
Before the start of his second round in the Omega Dubai Desert Classic, Tyrrell Hatton's aim was to shoot five under par. Which was fair enough, even if such a score doesn't sound overly ambitious for a man who has won four tournaments around the world in the last 15 months and is now ranked the fifth-best golfer on the planet. But after opening with a lethargic four-over-par 76 the so-called "Angry Golfer" described as "a bit frustrating," a 67 round the Majlis course at the Emirates Club was the number Hatton felt would be just enough to see him through to the weekend.
That early assessment turned out to be just about spot-on, the halfway cut eventually falling at even par. But Hatton didn't stop when he got to five under for the day. With a round featuring eight birdies and an eagle, the 29-year-old Englishman reduced the 7,624-yard lay-out to 64 blows. Perhaps just as remarkably, a pair of dropped shots, as well as a three-putt par on the par-5 10th (not unusual on greens best described as "patchy"), appeared on the card. There was also a chip-in and a holed bunker shot.
So not much didn't happen over the course of the 18 holes that saw Hatton move up a remarkable 92 places. Having started T-115 and with only eight players in the 132-strong field worse off, last week's winner in Abu Dhabi is now in a tie for 23rd spot and only six shots off the lead held by Belgium's Thomas Detry.
All of which was in almost direct contrast to the lackluster performance Hatton produced on Day 1. Although, in retrospect, it was perhaps not too surprising after the exertions of the previous week and a round of media obligations since. During a chat with Sky Sports reporter Tim Barter as the pair walked up the 10th fairway, Hatton revealed the extent of the fatigue he was feeling during that uncharacteristically sloppy first round.
"I was so tired," he said. "I had no momentum."
Indeed, after a 90-minute afternoon nap, Hatton slept for another 7½ hours overnight. Only then was he feeling close to normal. Not that anything about the round he later played was ordinary, even if he was no better than level par over the final five holes.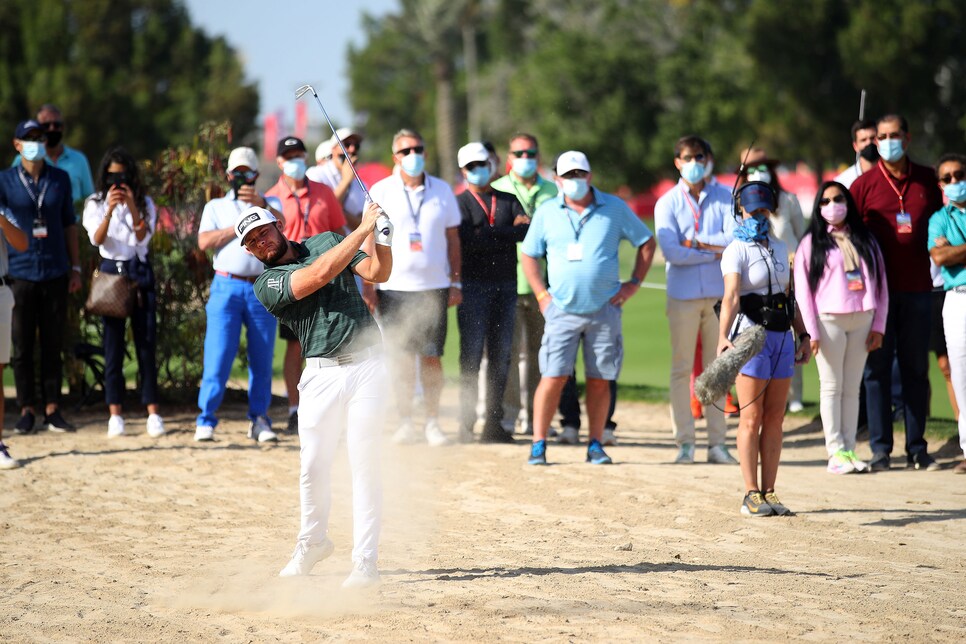 Hatton plays his second shot from the desert on the 10th hole during the second round in Dubai.
Warren Little
"Looking back, I'm pretty happy with that round of golf," was Hatton's initial verdict. "The goal was to try and make the cut. So I'm really happy to have achieved that. I actually got quite fortunate in places. The birdie on 13 [after a poor chip he holed from maybe 35 feet] was a big bonus. But, on the other hand, my tee shot off the 14th was pretty tough to take. It was badly plugged in the waste area. You don't expect that after hitting a 3-wood. And I'm a little disappointed I didn't birdie 17 or 18. But I can't really complain after a 64.
"I think it might even be a bit of an advantage going off a little earlier in the third round," he continued. "The greens will be a little smoother. Having said that, I holed a few putts today. But it is actually better putting from 15-20 feet than from five or six or closer. Further out, you can give the ball a bit of a roll so that it has some momentum. Now though, the aim is to push on and see where we go."
If the past few months and his most recent 18 holes are anything to go by, that can only mean one thing: up.