News & Tours
Tyler Strafaci lost 20 lbs. due to stomach bug at Walker Cup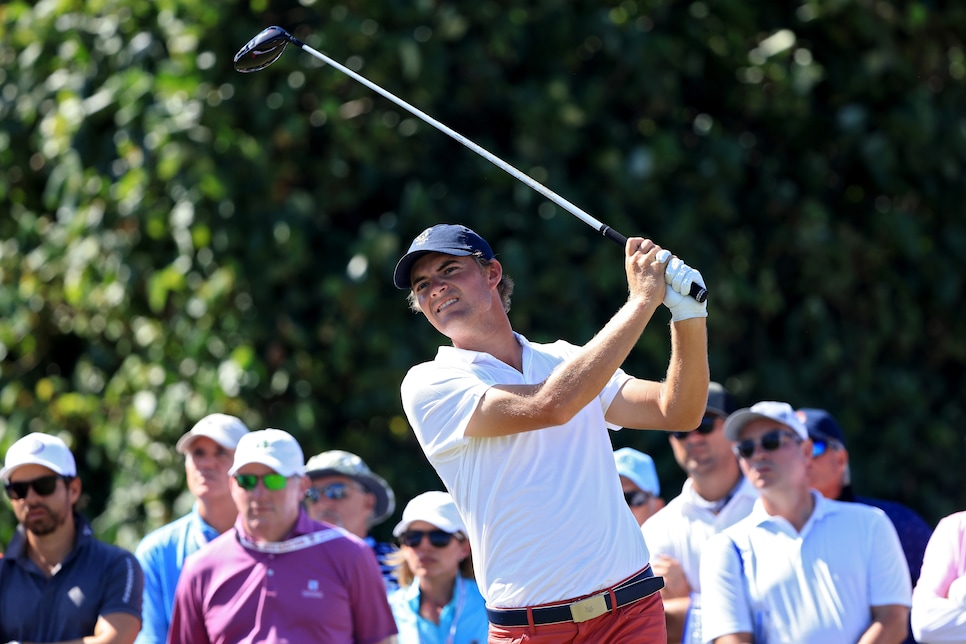 Tyler Strafaci looks like a different man this week. Part of that stems from the reigning U.S. Amateur champ making his professional debut this week at the AT&T Byron Nelson, a move that brings a certain glow and disposition to the aspiring tour player. But mostly it's, well, Strafaci looks like a different man this week.
That's because Strafaci lost a ridiculous amount of weight at last week's Walker Cup, the victim of a stomach bug that hit the American and Great Britain & Ireland teams at Seminole.
"Yeah, it was a struggle for three or four days," Strafaci said. "I spent a couple days in and out of a hospital. Lost 20 pounds, so I'm still kind of recovering from it.
"But I feel good. I'm starting to get my appetite back, keep food down, which is kind of—I know, you don't really think that would be an issue, but it was a tough few days for sure."
Strafaci, who left Georgia Tech last semester to prepare for his transition to the pros, was forced to withdraw prior to his Day 1 match last weekend and was taken to the hospital as a precautionary measure. He returned on Sunday to play in two matches, both of which he lost. The Americans still pulled out a 14-12 victory to retain the cup.
"It was so cool just kind of finishing the round and being able to hug all the teammates and commemorate such a great week with great players," he said. "Just the opportunity to represent your country and win the Walker Cup, that's the most important part of the week. I'm always going to be able to say I was on a winning Walker Cup team."
As for his weight loss, Strafaci said he had been working out in preparation for turning pro and was up to 175 lbs., but when he weighed himself in the locker room on Tuesday he was 160 lbs. "with shoes on."
"So it's going to be eating a lot on the course and just keeping a level head and getting through four rounds," Strafaci said.
Strafaci has made three starts this year on tour at the Masters, Genesis Invitational and Farmers Insurance Open, and has a busy few months ahead with scheduled appearances at the Charles Schwab Challenge, Memorial and U.S. Open. While nothing is guaranteed after Torrey Pines, Strafaci said he's ready for whatever awaits.
"It's one of those things that if I play well, hopefully get some more opportunities," Strafaci said. "If I don't, just kind of Monday qualify and try to get on that way.
"So it's all out in front of me if I play well, and it's a great opportunity."