The Loop
Two not-so-different teams, one title on the line
__WILLIAMSBURG, VA.—__Take only a casual glance at the showdown that's set-up for Saturday's final round of the 110th NCAA Championship and it would appear to be the proverbial David vs. Goliath matchup. Stanford, a standout athletic power with 106 overall national titles to its credit, has a two-stroke lead on Coastal Carolina, a small South Carolina university known primarily for its hard-to-pronounce mascot.
Truth be told, though, the two schools' men's golf programs are more alike than you think. Both are led by smart, energetic young coaches—Conrad Ray for the Cardinal, Allen Terrell for the Chanticleers—who have overseen the rise of their teams from humble circumstances to national contenders.
Sure Stanford has won seven NCAA golf titles, its last in 1994, and will forever be known as the school where Tiger Woods cut his college teeth. But until it won the Gopher Invitational last September, Stanford hadn't claimed a team title in seven years. By season's end, it had won six times and for part of the spring was ranked No. 1.
"We've had a lot of luck this year," said Ray after his squad posted a five-under 275 Friday to move to 12-under 828 overall. "Our guys have really bought into the idea that you can go to a tough school and still play good, solid golf. It doesn't have to be either/or. That's been the underlying current the whole season for us."
Coastal Carolina actually has more consecutive appearances at nationals (three) than Stanford, although to advance to Golden Horseshoe GC's Gold course this week the team had to survive an emotional 2½- hour, four-hole playoff to claim the final spot out of the East Regional.
The Chanticleers, five behind Stanford to start the day in third place, blistered the front nine Friday morning, shooting 11 under to vault into the lead. Sparking the team were 67s from Zack Byrd and Cameron Hooper and a 68 from Lindsay Renolds, while the team's top player, senior All-American Dustin Johnson, shot a even-par 70.
"We've got a team that's not scared of 60s and I think that showed today," said Terrell. "The first two rounds we just didn't quite have five guys turning to the next nine. Today, we had five guys right in it."
Joining Stanford and Coastal Carolina in the final threesome of teams will be another upset, the Charlotte 49ers, who enters the final round 10 strokes back of the Cardinal in a tie for third place.
"Golf is different," said 49ers coach Jamie Green. "You don't have to recruit an entire offensive line. You don't have to recruit a whole secondary. In golf, if you've got some hard working kids and they've got some talent, you can get competitive quick."
Also 10 shots back starting Saturday's play is Alabama (still another program on the rise) after the Crimson Tide shot a nine-under 271, the tournament-low round until later in the afternoon when Georgia shot a 11-under 269 to jump into fifth place at even-par 840. (For complete team standings, click here to link to Golfstat).
While a few schools have separated themselves from the field on the team side, the individual leader board is packed with 22 players within five shots of the six-under 204 lead held by Stanford's Rob Grube, Georgia Tech's Cameron Tringale and Clemson's Kyle Stanley.
After a bogey on the first hole, Grube, the leader after day 1, made five birdies in an eight-hole span to get to nine under for the tournament before hitting his worst shot of the day, a pulled 6-iron on the par-3 12th hole. The ball landed left of the green in thick rough, where Grube then proceeded to hit his chip over the green into the water in front of the green en route to a triple-bogey 6.
"I guessed it was going to come out soft and it came out hard," said Grube, who made pars on the rest of his holes for a one-under 69.
Tringale, playing off the 10th hole and starting at five under opened with a double bogey, but made birdies on Nos. 13 and 17 to turn in 35. Two birdies and a bogey on his back nine gave him a one-under 69.
The unexpected member of the leading trio was Stanley, a freshman who was even par on the day and one under for the tournament until he birdied five of his final six holes for a 65.
Like any good coaches, Ray and Terrell didn't want to get to far ahead of themselves regarding the impact of winning an NCAA title on their programs.
"We're just going to come out tomorrow and do what we've been going and stick to the game plan and see how it all shakes out," noted Ray. "If we can get off to a better start, than we have the past few days, that will help us."
"I don't want them thinking about writing any history books tonight, that's for sure," Terrell said, noting the team would also be watching Coastal Carolina's baseball team play its first NCAA playoff game on TV. "We're going to keep things as consistent as they can. Try to get their cell phones away from them so that their buddies and their cousins and their aunts aren't calling them and reminding them they have a chance to win. We're just enjoying the experience."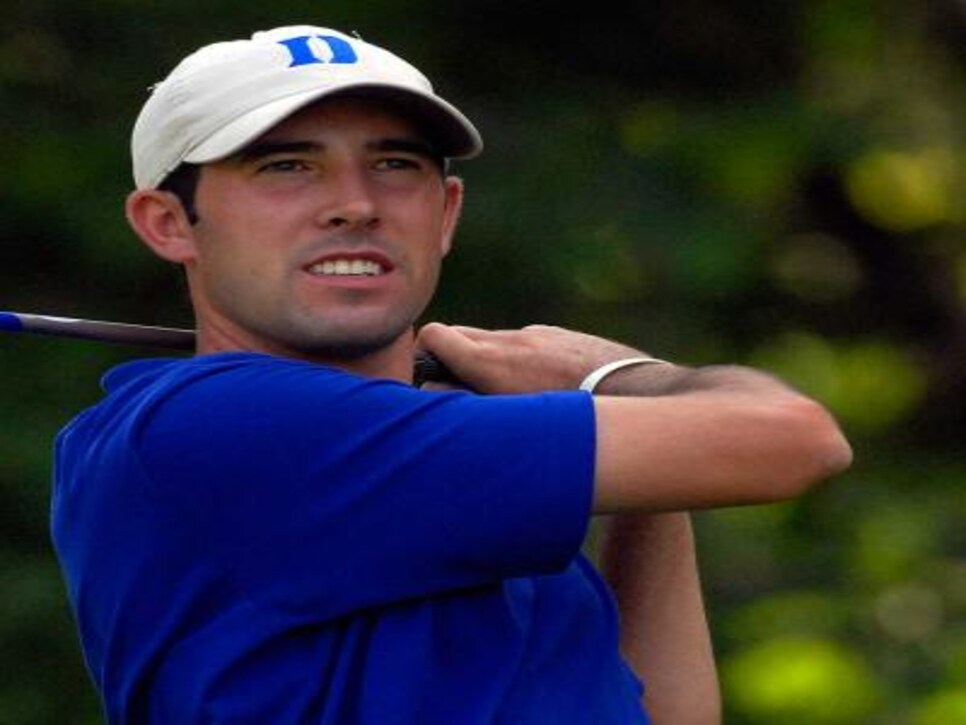 "I knew it was probably for 59," Schachner said of the first putt on the home hole. "I tried not to think about it. I felt pretty good over the ball. I thought it was going to go in."
Schachner lipped out for birdie on the first hole and then proceeded to make birdies on seven of the next eight holes to turn in 28. It was during a run of four-straight birdies on Nos. 11-14, however, that he realized something special was taking place.
On the par-5 15th, Schachner had his lone blemish of the day. After hitting a wedge over the green with his third shot, he chipped his fourth shot to three feet only to miss the par putt to fall back to 10 under on the round.
Just missing the green on the par-3 16th, Schachner had to chip over a pitch mark, getting the ball to two feet and settling for par. After a booming drive on the par-4 17th left him 90 yards in, he hit is wedge on the green but 25 feet away, and had to settle for another two-putt par.
Prior to the 60, Schachner's low round of the season was only a 69, although he did shoot a 63 at the East Regional two years ago as a freshman.
"He gets in a zone sometimes," said Duke interim coach Brad Sparling. "He forgets how low he is and keeps going.
"Yesterday before the round, he couldn't find the ball," Sparling continued. "He couldn't hit it solid, let alone tell if it was going straight. It was going left, right, chunking it. Chill dipping it. It's a great lesson for our guys. You've got to keep trying, keep grinding out there. You never know what's going to happen."
The round was somewhat bittersweet, however, as it comes nearly two months after the death of long-time Duke men's coach Rod Myers. Said Sparling: "He knows that coach is happy for him, looking down from above."