News
Tseng slowly falls into a tie at Kraft
RANCHO MIRAGE, Calif. -- Slow play is endemic in professional golf, and it took its toll with the best player in women's golf in the midst of her quest to win the Kraft Nabisco Championship on Saturday.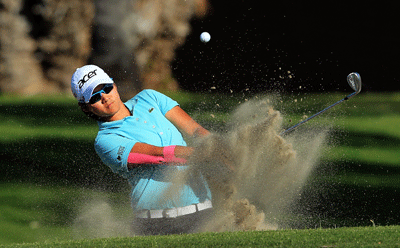 After Yani Tseng made a birdie at the 10th hole of the Dinah Shore Tournament Course, she and playing partner Haeji Kang were informed by a rules official that they were out of position. Indeed, they were a hole behind the twosome in front of them. Tseng, two-under par on her round and leading by one at the time, then bogeyed three of the next five holes. She finished with a one-under par 71 that tied her with Sweden's Karin Sjodin heading into Sunday's final round.
Tseng said that it might have been a factor in her reversal of fortune. "I think so," she said. "I always have that problem. I don't know why. I had that last week and the week in Phoenix, too. It was like I don't know if I play too slow or what. "I just feel like I wasn't comfortable with myself a little bit [on the back nine] and was just thinking too much and trying too hard." Strong winds with gusts estimated to reach 30 miles per hour contributed to slowing the pace, making club and shot selection increasingly difficult.