The Loop
Trip Report: Tucson Day 1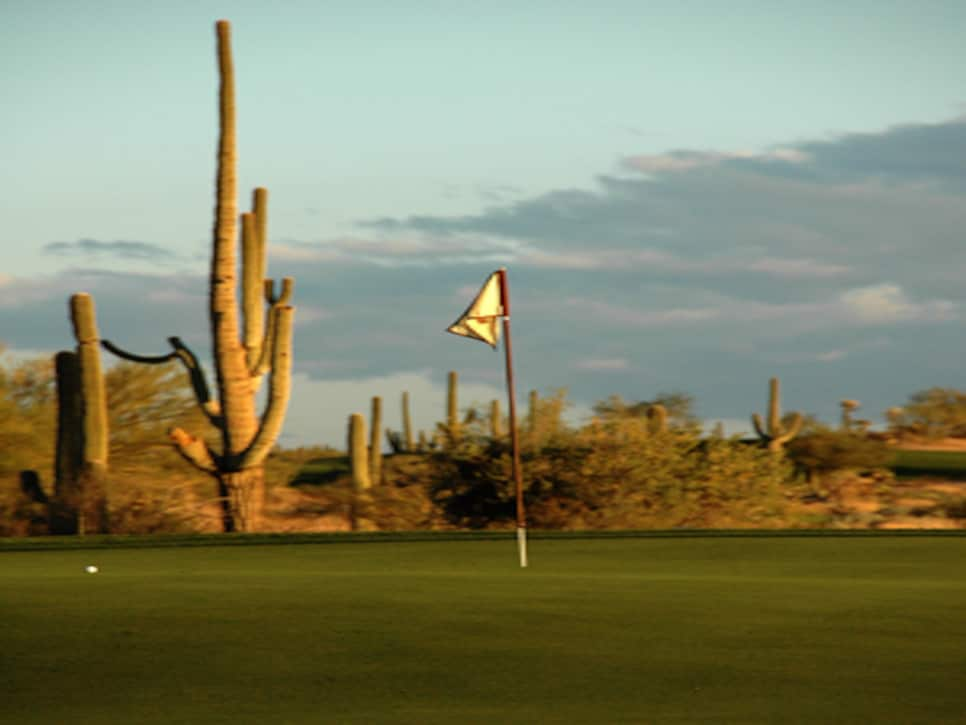 The day gave me a sprawling cactus forest, crazy critters, big cats, wild dogs, a colorful sunset, a full moon and dinner on the classy back patio while watching baseball on a flatscreen, which was hanging over a raging fire -- so far, so outrageously good.
The Saguaro and the Tortolita nines at the Ritz have been used the past two years for the Accenture Match Play in February. I played the Wild Burro and the Saguaro; the Tortolita was closed until Monday for overseeding.
I was pleasantly surprised by the affordability of the golf at a Ritz. It's shoulder season in Arizona right now. Through late November, non-resort guests pay $105; resorts guests pay $95. Twilight rates, after noon, are $75 and $65. The weather was epic yesterday, and it got too dark to hit a shot just before 6:00.
The aesthetics, setting and service at the Ritz were impressive. The course, which is in a turf-transitional period, was in good shape, it wasn't crowded, but it was certainly being played.
I'm never a fan of playing "two distinct" nines, with two different design philosophies. These two nines were different, but only slightly. The biggest difference right now is in the turf: the Wild Burro still has Bermuda grass, Saguaro has already been overseeded. The Wild Burro is tighter off the tee, or felt that way on my first trip around. While reaching for a brand new ball nesting comfortably in native nastiness that is a Jumping Cholla, my hand was attacked. Lesson frickin' learned. No new ball, not even a ProV1, is worth a violation of my bloodflow.
It took me a few holes on Wild Burro before I realized the ball goes farther in Tucson (elevation is just under 3,000 feet), so I ran through a few fairways on the front nine -- a common mistake I make when I play a course for the first time and I'm unfamiliar with distances and the angles off the tee.
Both nines had some small greens with crazy breaks, but they were also a little shaggy and slow, so they were manageable. I would guess they give amateurs fits when they're hard and fast. I bet they give the pros fits when they're hard and fast.
As I see it, you can have small greens, and you can have extreme undulations, but you can't have extreme undulations on small greens.
Anyway, it was quite a day of golf in Tucson. I got in a breakfast burrito, time on the range, 18 holes, more time on the range, and another nine. I went back out on the Saguaro; with the exception of the ninth hole, which I don't get, it's the better nine of the two. One local, who's a good stick, told me the Tortolita is the consensus favorite. I leave on Saturday, so I'll drive that nine, but without actually playing it, I'll never know for sure.
I'll share a few pictures I shot yesterday.