The Loop
Trio turning Women's Am into Spanish fiesta
EUGENE, Ore.--They looked like triplets, decked out in matching red Polo shirts and khaki shorts, each trailed by a caddie carrying a red-and-yellow golf bag embroidered with Espana across the front. Come to think of it,Azahara Munoz,Belen Mozo and Carlota Ciganda might as well be sisters, considering how much time they've spent together on the course over the past few years, representing their country in all sorts of international events, not to mention how close they've become off it.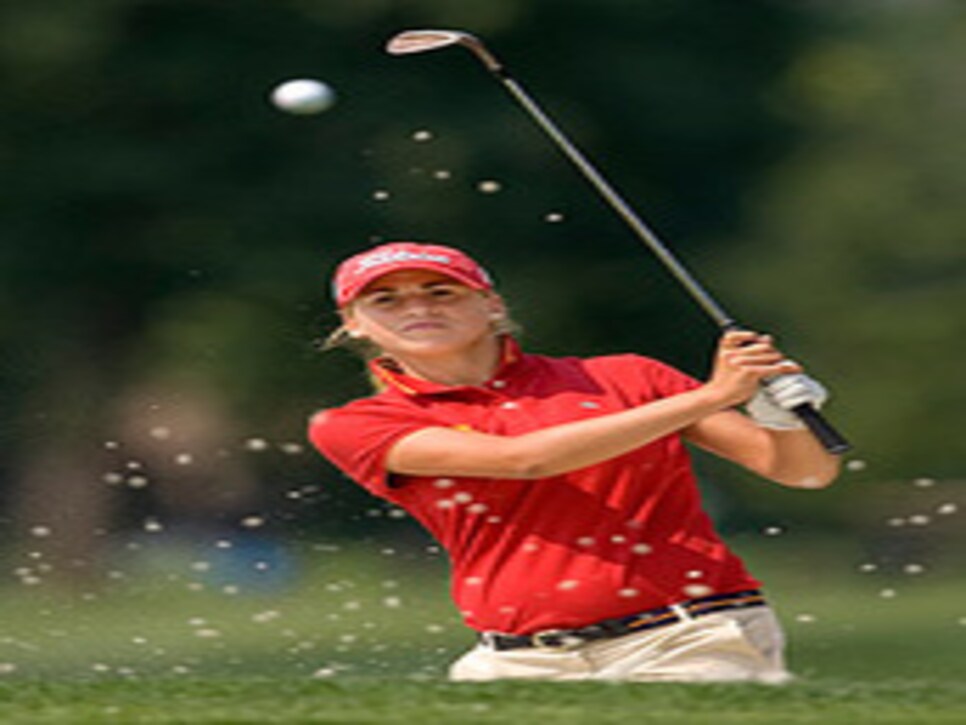 The trio is staying together with a host family this week at the 108th U.S. Women's Amateur, and with each of the three among the eight players still competing at Eugene CC, there's a reasonable chance one of them might be bringing back a trophy come Sunday afternoon.
"They're like two of my best friends," Munoz said. "It's really cool that we're all playing so well."
Suffice it to say, there is no truth to the rumor that the championship has become co-sanctioned by the Spanish Golf Federation.
Each player already has put together an accomplished record: Munoz winning the NCAA championship last May, and Mozo and Ciganda claiming the British Ladies Open Amateur title in 2006 and 2007, respectively.
After representing Spain at the Women's World Team Amateur in 2006 (they finished eighth), the threesome will do so again this October in Australia. The schedule means Munoz, a senior-to-be at Arizona State, and Mozo, a rising junior at Southern California, will be missing a few college events this fall. As for Ciganda, she will hold off enrolling at ASU until January to try and make the transition to college life go more smoothly.
It hasn't been all work here this week for the trio. In the evenings they have been doing anything but talking golf, watching TV and gossiping among themselves. According to Mozo, they gather in Munoz' room because it's the biggest, where Mozo is encouraged to talk, because she has the biggest mouth.
"I just keep telling stories and they laugh and laugh," Mozo said. "Guy stuff mostly."
If all three win Friday, it will set up a Munoz/Mozo semifinal, something no one is wanting to discuss just yet.
Still, it looks like this Spanish armada is going to be hard to stop.
Whitney Neuhauser, a junior-to-be at Virginia, was supposed to be flying home on a red-eye this evening, but with her 1-up victory over__Stephanie Kono__, the 20-year-old from Barboursville, Va., will have to chance her reservation. "I'm just having so much fun," she said. "There's no pressure on me. Nobody knows who I am."
Indeed, her college career this far has been "mediocre," with just one top-10 finish. Yet she's felt confident about her game of late, and a lesson last week from her putting coach helped fix a problem with alignment that's worked wonders.
Aside from needing to change her travel plans, Neuhauser (who faces Mozo in Friday's quarterfinals) also needs to buy a shirt from the pro shop. "We didn't pack to go this far [in the tournament]," she joked. "But I wanted to buy a shirt anyhow."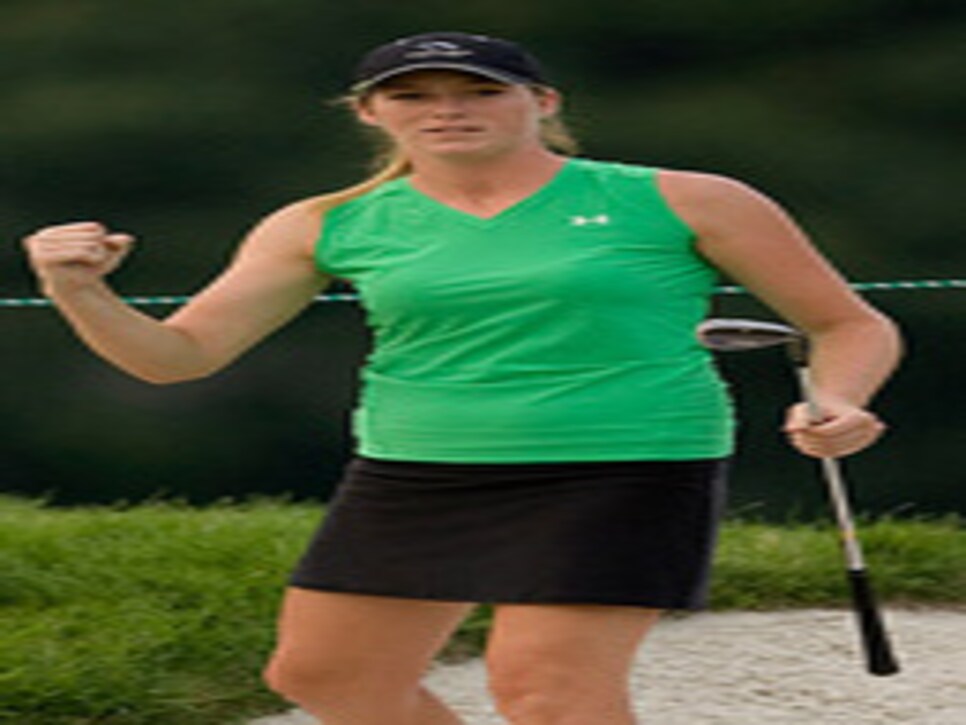 UC Davis sophomore Chelsea Stelzmiller was a five-foot par putt away from being bounced in the second round Thursday morning, only to watch former college All-American and U.S. Curtis Cup team member Alison Walshe some how miss the match-clinching putt on the 18th hole. Walshe then proceeded to hit her tee shot into a fairway bunker on the first extra hole, hit the lip of the bunker with her second shot and hit her third over the green, leading to a Stelzmiller win. Stelzmiller (right) returned to the course in the afternoon and beat Megan McChrystal in the third round, 2 and 1.
So much for a rough first-round match for Duke sensation Amanda Blumenherst. The 21-year-old three-time college player of the year made short work of both her opponents Thursday, beating__Nikki Koeller__, 4 and 3, in the second round and then thumping__Ellen Mueller__, 7 and 6, in the third round. She squares off against Ciganda in the quarterfinals Friday.
There's still a possibility that it will be five straight years with a "junior" golfer claiming the Women's Amateur title, but only a one-in-eight chance as Erynne Lee, a 15-year-old from Silverdale, Wash., is the lone player younger than 18 years old left in the field. To advance to the quarters, Lee has beaten two 22-year-olds and a 21-year-old.
Photos: Steven Gibbons/USGA