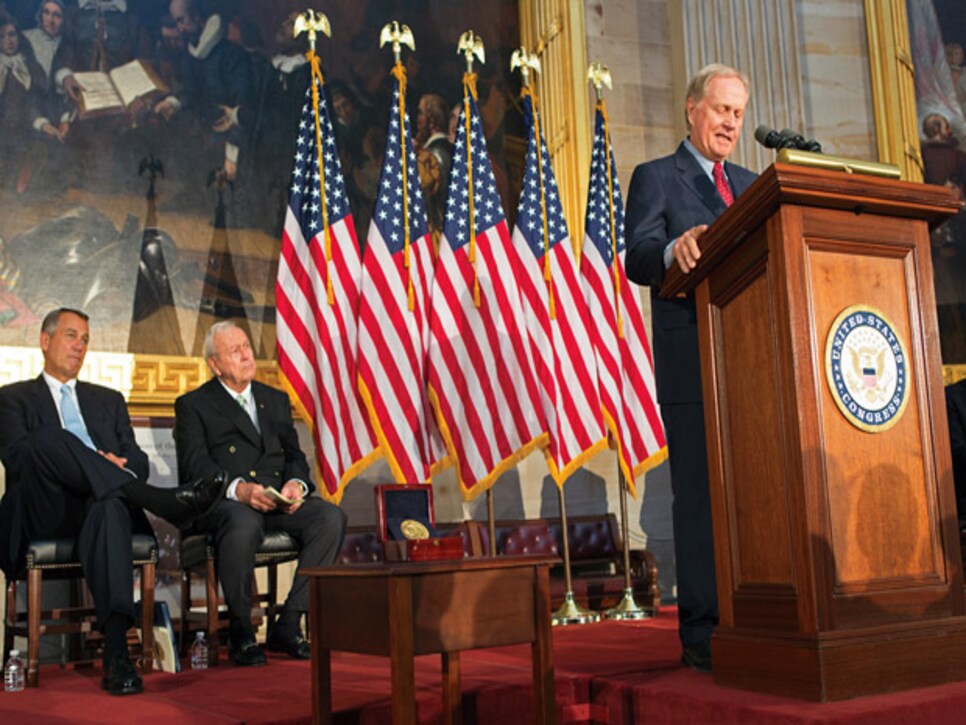 Jack Nicklaus lauds Arnold Palmer, who is flanked by House Speaker John Boehner.
EDITOR'S NOTE: Jack Nicklaus delivered this speech Sept. 12 in Washington to honor Arnold Palmer, 83, as the sixth athlete to earn the Congressional Gold Medal, joining Roberto Clemente, Joe Louis, Byron Nelson, Jesse Owens and Jackie Robinson.
Arnold will tell you that when you get to our age, you meet a lot of people who begin conversations with, "I remember when." It's not uncommon for a new friend to walk up and say, "I remember I saw you at the 1960 U.S. Open--I was standing behind the 11th green with a green shirt, and you waved at me."
The only proper answer is, "How could I forget?"
In the parts of seven decades I've known Arnold Palmer, there have been countless "I remember whens," and, most important, even more moments I'll never forget. Moments that I hope provide you a glimpse into the charismatic golfer, the man of unshakable character--father, grandfather and great-grandfather--you're honoring today. He's a golf icon to the world but simply a good friend to me.
When I first saw Arnold Palmer hit a golf ball, I was just 14 years old. I had just come off the golf course in Sylvania, Ohio, playing a practice round [for the Ohio State Amateur]. It was pouring down rain.
I was the only person on the golf course. As I walked by the practice tee, there was one person there. I stood and watched him. I didn't know who he was...looking at this strong guy with big hands and broad shoulders, hitting these short irons, driving them into the rain. I watched for a while, and I said, Man, is that guy strong. Man, I wonder who he is. I walked into the clubhouse and I said, "Who's the guy out there on the practice range?" and they said, "Oh, that's our defending champion, Arnold Palmer."
That's the Arnold Palmer I'll never forget.
I remember, four years later, I was 18 when I played with Arnold for the first time, Dow Finsterwald Day [Sept. 25, 1958]. They were honoring Dow for winning the PGA Championship. We had a four-man exhibition in Athens, Ohio, that day. Arnold had just a fair day: He made eight birdies and an eagle and shot a course-record 62. It was my first glimpse of what I felt my future might be. That was an Arnold Palmer I'll never forget.
I remember when we played in a PGA Tour event together for the first time. I was a 22-year-old rookie. It was the 1962 Phoenix Open. Arnold won the tournament; he just nipped me by 12 shots there. But we got to the 18th tee, and he knew I had a chance to finish second. He came over and put his arm around my shoulder, and he said,"Hey, relax. This is not a hard par 5. You can birdie it. Just take your time." I birdied the hole, finished second, but here was Arnold, trying to help a young guy while winning the tournament himself.
That's an Arnold Palmer I'll never forget.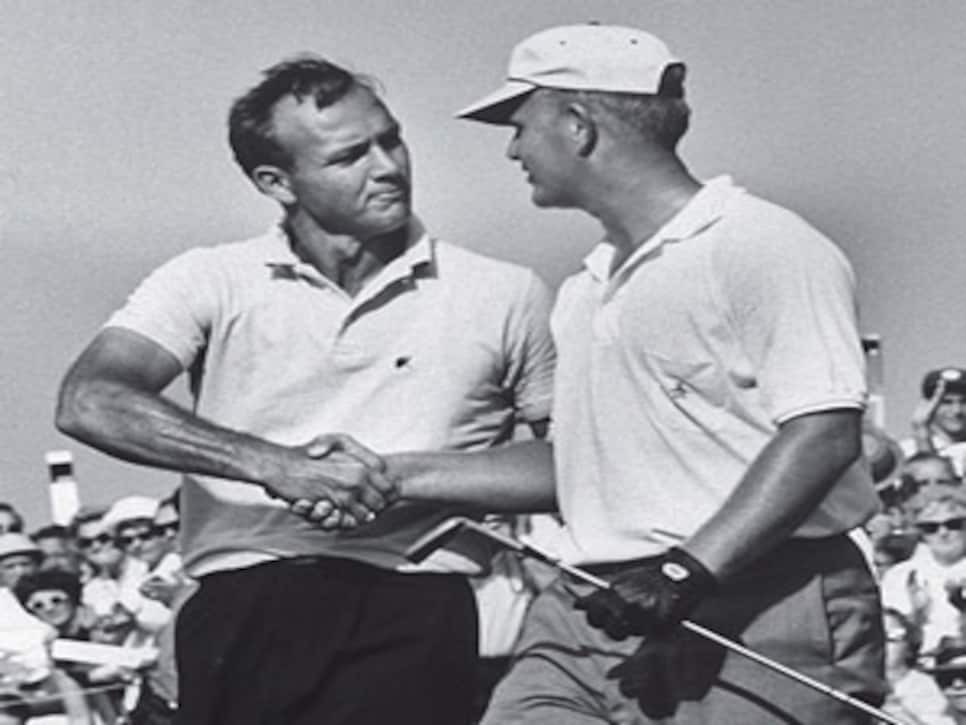 Photo: John Dominis/Getty Images
I remember when I won my first professional tournament and my first major, 50 years ago this summer, the 1962 U.S. Open. Again, I was a 22-year-old with blinders on, in the back yard of the great Arnold Palmer at Oakmont. We tied for the tournament. We got to the practice tee before the playoff--it was customary in those days that the winner of the playoff received the gate--and Arnold came over and put his arm on my shoulder and said, "Would you like to split the gate today?" Here I was, a rookie, and Arnold was thinking of a young guy starting out. And I really appreciated that.
That's an Arnold Palmer I'll never forget.
I'm going to fast-forward here about 50 years. Arnold, Gary Player and I played an event down in Texas in May. It was just a scramble, but maybe the last time that we would ever play competitively together. We got to the last green, chose a ball about 25 feet from the hole, and Arnold putted first. We needed to make this putt to ensure a win. Arnold just rammed it in. You'd have thought he'd won the U.S. Open or the Masters for the fifth time--to the delight of Arnold, to the delight of us, and of course all of Arnie's Army, which went wild.
That's also an Arnold Palmer I'll never forget.
Mark McCormack, the late founder of IMG, managed both Arnold and me, and because of that he put us together in matches and exhibitions all over the world. We played together, we traveled together, we laughed together, and our wives became close friends, as did we.
Whether it was Oakmont or Baltusrol or many of the other times we competed, I may have had to battle Arnie's Army, but I never had to battle Arnold Palmer. Arnold always treated me as a competitor but, more important, as a friend. I am proud and honored to still call him a dear friend 50 years later.
Arnold and I have played together in numerous team events--Ryder Cups, World Cups--all over the world. We've competed in everything from majors on the golf course, to endorsements, to golf-course design. You name it, we've competed. But I'll promise you, if there was ever a problem, I knew Arnold had my back, and he knew I had his.
That's an Arnold Palmer I'll never forget.
Just like the young man I watched that day in 1954--muscles taut, piercing raindrops with every shot--Arnold Palmer was the everyday man's hero. From a modest upbringing, Arnold embodied the hard-working strength of America. He won four green jackets, but he never lost his blue collar.
Arnold was one of the game's all-time greatest competitors, and he came along when golf needed him most. With his shirt hanging out and a hitch of his pants, Arnold played a game we could all appreciate. People loved when he played from the rough like they did,
but they could only dream they could recover like he did. When TV first embraced the game of golf, it had a swashbuckling hero in Arnold as the game's face.
Together, Arnold and I won just over $10 million in our careers. Today, players make that in a year, and we couldn't be happier for them. But they all should thank Arnold Palmer. They need to understand and appreciate what Arnold did to grow the game, popularize it, and the foundation he created.
The game has given so much to Arnold Palmer, but he has given back so much more. For many years, everyone in this room can say, "I remember when Arnold Palmer deservedly received the Congressional Gold Medal." I just hope they'll never forget why.