The Loop
Travel Tips to Pebble . . .
When you send in a Travel Trouble, I try to answer as many as I can by way of a personal e-mail, in the magazine or on this blog. Here's one from from Dan Miller of Ludlow, Ky.:
Matt, my name is Dan and on Jan.16, I will turn 50 years old. My only brother, Garry, turned 52 in May. We are very close and have been golfing together for years. This past summer we attended a cookout. My daughters, for some reason, wanted me and my brother sitting together at the picnic table. To my surprise my wife Shelly and daughters Kamryn, Brittany and Kelsey brought out a cake and card. I opened the card and to my surprise, it was the ultimate golf package to Pebble Beach. Not soon after that, Garry's wife, Susan, and their kids, Katie, Lorie, Christy and Scott brought him out a cake and a card with the same gift. We will be staying at the Lodge and playing Pebble Beach, Spyglass and The Links at Spanish Bay. Neither of us has been to California before, or played on such courses. We have some extra time out there and would like to play some other courses as well. I have thought about Half Moon Bay. Any other suggestions? We want this to be a trip that we will never forget, which I'm sure it will be.
Dear Dan, Wow! Your story almost makes me want to get married, have kids and turn 50 (emphasis on "almost"). That's a very sweet and selfless gift. Bring a camera, a sweater and good rain gear (just in case). Eat at least one lunch at the snack shack at Spyglass. That place gives great burger.
I can't say enough about Pasatiempo in Santa Cruz. Give yourself a little over an hour to get there. I'd suggest 36 holes in one day. (The first round will cost you $200. The replay rate is $100.) Take a caddie (need to reserve 24 hours in advance of your tee time), ask about Alister Mackenzie and get a drink in the Hollins House after the day of golf.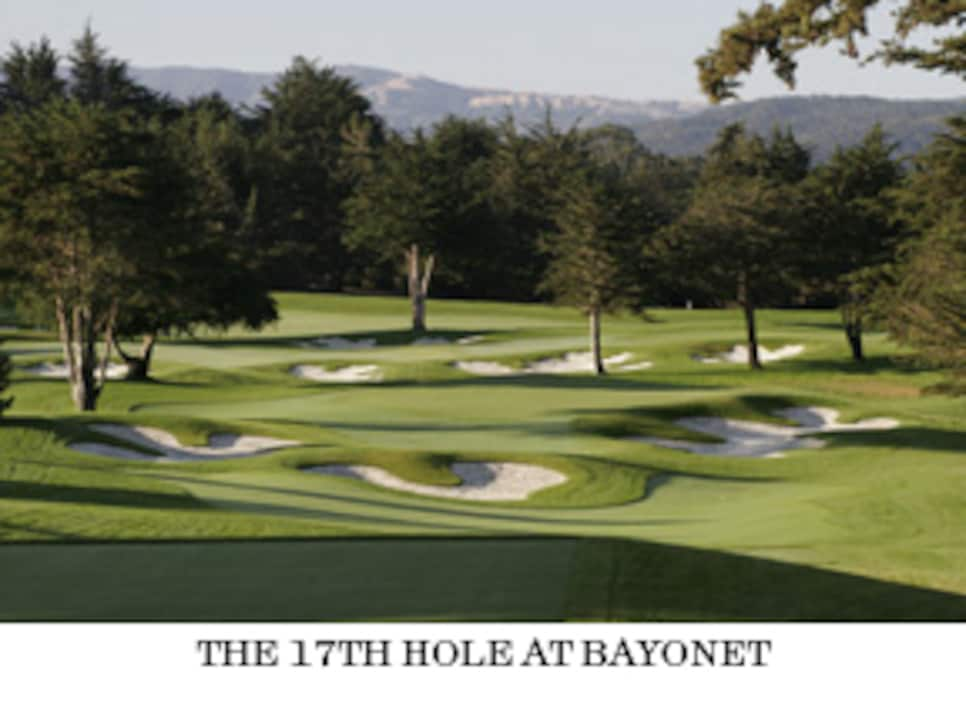 The most recent news out of the Pebble Beach area is the reopening of all 36 holes at Bayonet Black Horse Golf Club in December. Both courses have four-and-a-half star ratings in Digest's Places To Play and both will cost $160 for the peak weekend tee times. ($140 during the week, includes golf cart and a bucket of range balls. Prices go down after 1:00 pm. Juniors, 17 and under, play with an adult for $35, seven days a week. The weekday replay rate is $80 and $90 on the weekends.) Here's a clip from the press release I received from their PR firm:
*About Bayonet Golf Course
Bayonet, named after the Army's 7th Infantry Division, opened in 1954 on the site formerly occupied by Fort Ord. The course was originally designed by General Robert B. McClure, a left-handed golfer with a severe slice, who laid out the course to suit his game. This is best demonstrated by holes 11-15, famously dubbed "Combat Corner," a series of sharp dogleg-lefts wrapped around an uphill, 215-yard par 3. Known for its narrow playing corridors and steep, penal bunkering, the par-72, nearly 7,100-yard Bayonet has long been considered the most difficult test of golf on the Monterey Peninsula.
About Black Horse Golf Course
Black Horse features sweeping vistas of the Pacific and was originally designed by Generals McClure and Edwin Carnes in 1967. Rolling fairways, bunkers with distinctive, serrated edges and slickly-contoured greens highlight the 7,000-yard-plus, par-72, layout. The par-3 15th, created during the recent renovation by award-winning golf course architect Gene Bates, faces the bay and is sure to emerge as one of the great holes on the Peninsula.*
I've never been to Half Moon Bay. Craig Bestrom is the Features Editor at Digest and is from Northern Cal. He tells me it's a haul to get there from Pebble (another 50 miles farther than Pasatiempo). He says the Ritz at Half Moon Bay is spectacular and the Ocean course, which gets four stars, has a good set of finishing holes. He agrees the Old course deserves the half-star higher rating than the Ocean because "the design is more interesting." Both courses will cost you $195.
Pacific Grove is a local legend for some of the views it offers on the back nine, but especially for its location and the value. It's only $45 and is 10 minutes from Pebble Beach. It gets a four-star rating and Bestrom says, "It's a muny, so it's a little rough around the edges, but it's pretty cool."
Del Monte is another four-star course, $110 to play, and is worth a mention.
Pajaro gets only three stars and the $70 rate is now sounding a little high, but if you're still looking to fill out that already dream itinerary, it might be worth considering.
Last and, in this case, the least: A couple of guys with some wedges, a putter and a few cold ones tucked under each arm could have a lot of fun for $25 and all the golf you can play at Peter Hay--the par 3 course across the street from Pebble Beach.
Happy Birthday. When you get back, be sure to send pictures and a report on what you thought of all that good golf.