Course Rankings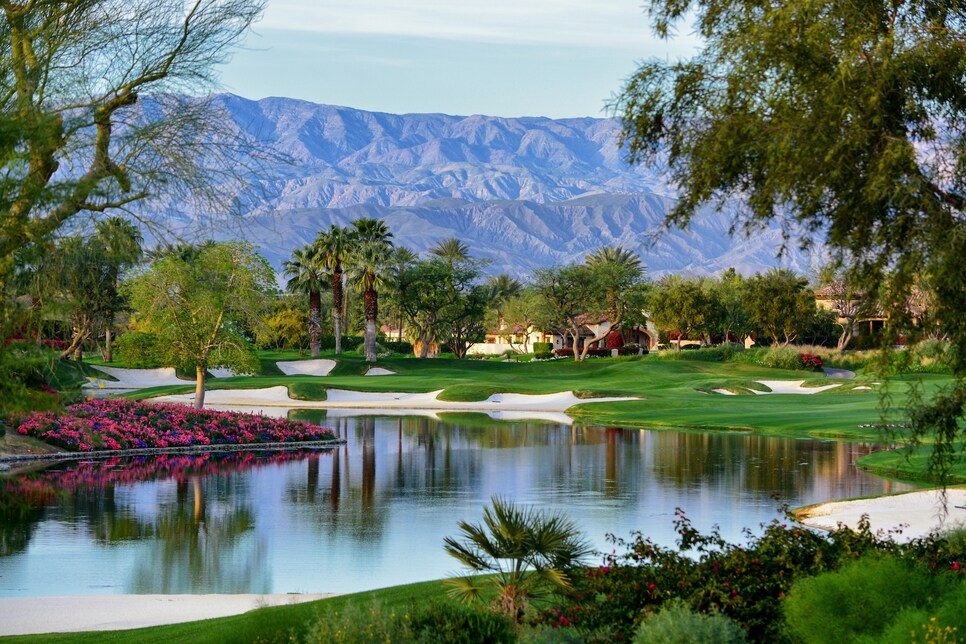 Arnold Palmer, Ed Seay & Harrison Minchew (1998)
Tradition Golf Club was intended to be Palmer Course Design's answer to the most opulent private courses in greater Palm Springs, such as No. 85 The Quarry at La Quinta and No. 196 Vintage Club (Mountain). Built on the old Hacienda del Gato Ranch, the front nine is routed over rolling desert and through a flood-control basin, while most of the back nine is tucked at the base of the rocky slopes of the Santa Rosa Mountains, with three holes (15th through 17th) curving around a 90-degree bend dubbed the "Coyote Canyon." Almost every hole here has a distinguishing feature, from desert wash to serpentine waste bunker to double fairway to boulder landscaping to cascading waterfalls. The common overall theme are fields of wildflowers spread throughout the far roughs. During a 2005 Golf Digest Panelist Summit, Arnold Palmer explained he had those flowers planted to appeal to his first wife, Winnie, who loved flora much more than golf.
100 Greatest/Second 100 Greatest History: Ranked on America's Second 100 Greatest: 2019 to current. Highest ranking: 176 (2019-2020). Previous ranking: No. 176
Panelist comments, Tradition Golf Club:
"The front nine eases you into the round with three par 3s, par 4s and three par 5s. As you move closer to the mountains the course utilizes the elevation changes and challenges you physically and visually with elevated tee boxes requiring well placed tee shots to access the large but demanding greens, some are elevated and partially obscured while others allow a bump and run shot to position your approach putt. Somewhat unique to the valley are the well sloped bent grass greens. Excellent variety of hole designs and more risk/reward will keep you engaged the whole round."
"Loaded with memories of Arnold Palmer, who designed the course and maintained a home here."
"Tradition Golf Club has two unique holes, Nos. 6 and 13, which allow the player to choose two different green options on the tee box. Their razor-cut bunkers with crushed marble sand, which is identical to the sand at Augusta National is a beautiful aspect of this immaculately conditioned course."
"Overall the aesthetics of elevation changes (#17 from the hidden tee stands out) to the overall feel of this being an absolute oasis in the desert was very appealing. Flowers abound throughout the course and the coloring of the place is unlike most any desert course you've seen."
"Embodies exclusivity and quality in the Palm Springs market without being pretentious. The course is great. And so are the members. Funny: There are Bighorn Sheep walking around like pets. The scenery is great and there is free ice cream at the halfway house. What's not to like? Play it once and you will want to play it again. Worthy of praise at the highest level."