Courses
How TPC Louisiana's short par-4 eighth hole stands out on a different type of Pete Dye design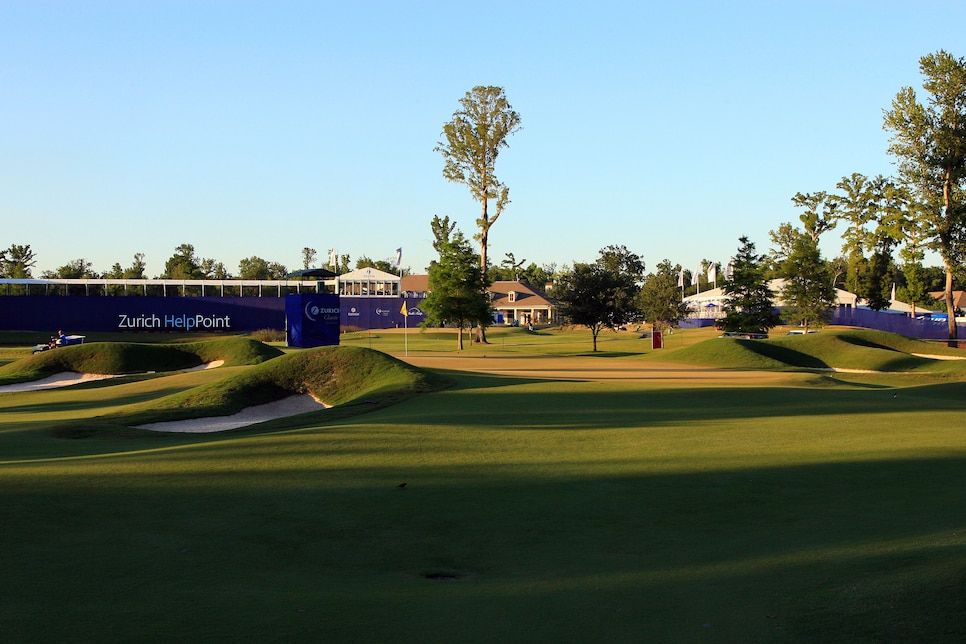 The circumstances surrounding TPC Louisiana near New Orleans would indicate it's a kissing cousin to The Players Stadium Course at TPC Sawgrass. Both Southeastern courses were raised up out of murky swampland and drained, dried and developed by industrial measures. Both were designed with an eye toward tournament golf (The Players Championship for Sawgrass; the Zurich Classic for TPC Louisiana). And most importantly, both were Pete Dye creations. Strong similarities are certain to abound, no?
Actually, no. TPC Sawgrass swirls out in different directions with holes twisting indiscriminately. TPC Louisiana, born of a later period in Dye's artistic career, is confined to a tight, trapezoidal block of land hemmed on by canals. Dye was able to shape significant up-and-down movements in the ground at Ponte Vedra, but at New Orleans the topography remains on grade. And where Sawgrass presents one unique, often ground-breaking hole after another, TPC Louisiana is a steady cadence riffing off the same local chords, a rhythmic Dixieland procession. While lacking landmark holes to study, there are several fun and dynamic turns, the best of them being the short par-4 eighth (above photo).
Any par 4 on tour under 400 yards is considered very short. The eighth at TPC Louisiana falls into the first category, but it's not drivable—yet. Playing from 365 to 378 yards, the hole moves slightly right off the tee with a long fairway bunker edging into the landing zone from the right. Several scab bunkers angling in from the left, followed by another few slashing across the front of the green from the right, give pause to players who want to smash driver. The green, sitting low to the ground, is angled right-to-left away from the line of play. It looks gettable, and can be, if played correctly.
Gone are the days when Pete Dye's shaping, sharp hazards and obscured lines of play struck fear—or at least anger—into the hearts of tour pros. Playing five Dye-designed courses on tour each year, plus a couple of others conceived from his ideas, will do that (not to mention the familiarity of major sites like Whistling Straits and The Ocean Course at Kiawah Island). But holes like the eighth can still pose problems, and the short length works in its favor.
The primary question is what club to hit off the tee? The answer comes in many forms, and the dispersion of driving distances is notable. Some drives at No. 8 are positioned at just around 225 yards while others fly out to 300 yards and beyond. Since we haven't quite reached the day where a 375-yard hole is reachable for a critical mass, nearly everyone is playing for best position, calculating from the green back to an ideal yardage. That's the definition of thoughtfulness. And as Dye was sometimes said to have quipped, "once you get these guys thinking, you've got them." At least that's the G-rated version.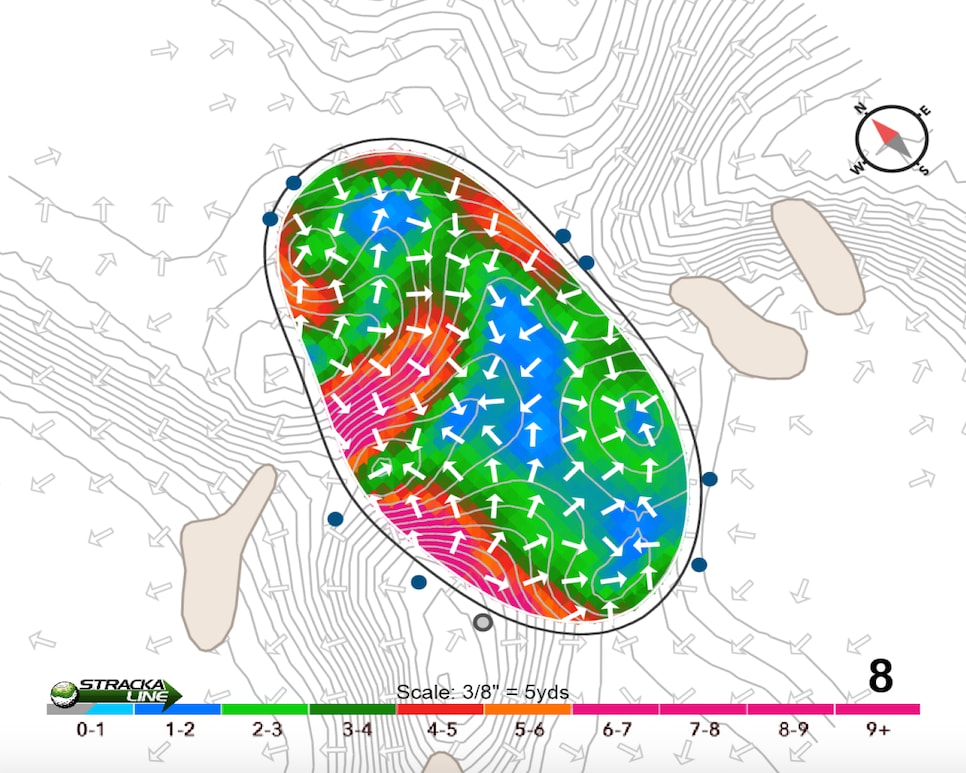 All that calculation is necessary due to the importance of finding the fairway. Controlling spin is essential to hitting the ball close because of the green's micro-movements that make it difficult to hole long putts and the intersecting fall lines coming off the low knobs on three sides of the putting surface. But when played with precision, the eighth will yield birdies—484, to be exact—over the past five tournaments compared to just 94 bogeys. Still the temptation remains for players to tweak those odds even more to their favor by trying to get closer to home with their drives. It's human nature to want to play the shortest-possible next shot. The feeling of frustration walking off No. 8 with a par, or even a bogey, is also an all-too-human emotion.
(Green-reading map: Courtesy of StrackaLine)