New Equipment
A first look at Tour Edge's new 721 series irons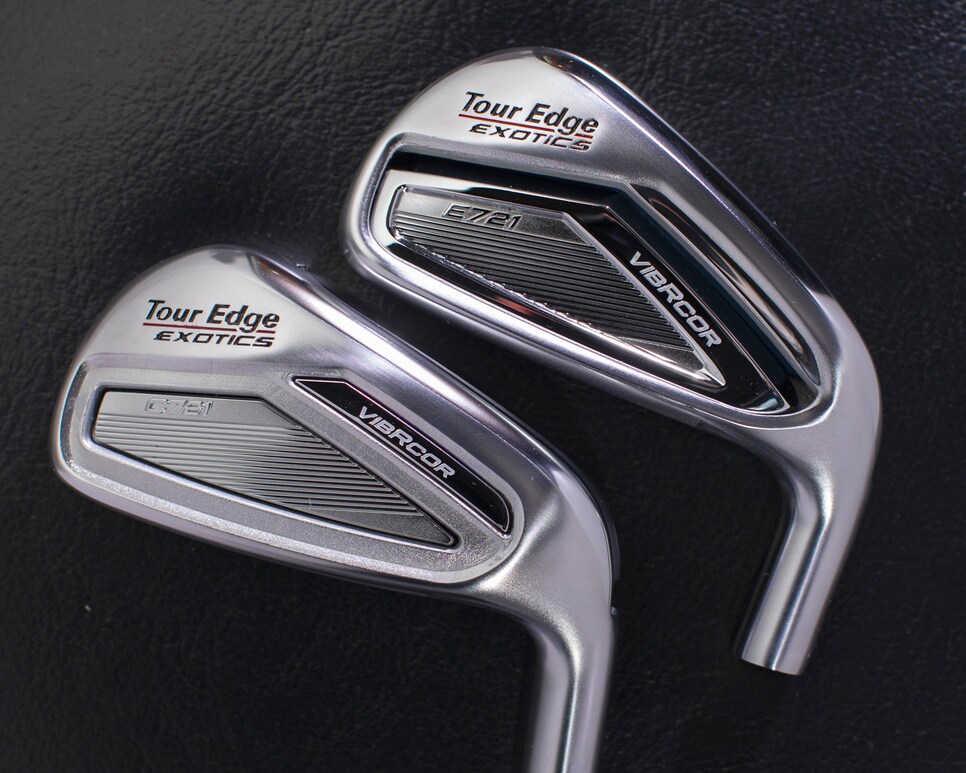 WHAT YOU NEED TO KNOW: The players-distance C721 and game-improvement E721 each employ a face design in which small diamond shapes behind the face create a thin, variable-thickness face to enhance ball speed. A proprietary thermoplastic polyurethane is strategically placed inside the clubhead to enhance feel.
PRICE: The 721 Series irons will be available on March 10 at a cost of $130 per iron (steel) for the C721 and $100 per iron (steel) for the E721.
THE DEEP DIVE: Tour Edge founder and master designer Dave Glod made clear the priority of the company's new C721 and E721 irons. "This is next-level Exotics," said Glod. "It's a brand-new direction for Exotics with a major emphasis on power creation, sound and feel."
The 721 Series irons incorporate elements of construction and multiple materials to achieve distance while also producing a more-than-acceptable feel.
Key to achieving this is a technology the company calls "dual Vibrcor" in which a proprietary thermoplastic polyurethane is strategically placed inside the clubhead to enhance feel.
To boost distance, the company has employed its Diamond Face 2.0 design on both irons. A variable-thickness face design, for the C721 a total of 92 diamond shapes cover the entirety of the back of the face. The diamonds are in three different thicknesses in an interweaving pattern that reduce face thickness by 29 percent. On the E721, 103 diamond shape reduce face thickness by 21 percent. The idea being to foster ball speed on off-center strikes.
"We had previously used this on our metal woods and it worked well," said Glod. "We saw an opportunity to bring it to our irons and this is the result. It's the first time we have had Diamond Face in an iron."
The players-distance C721 features a compact hollow-body design with a maraging steel L-face, where a portion of the face wraps around the sole to, in effect, create a hinge that increases face flex, especially on shots hit low on the face. The military-grade steel used for the face is used in aerospace, with applications including landing gear, helicopter undercarriages, slat tracks and rocket motor cases. Such a strong material allowed Tour Edge to create the thinnest face ever in an Exotics iron.
The E721 is a one-piece high-strength steel body with a 360-degree undercut that helps lower the center of gravity to produce a high ball flight with significant face flex to enhance distance over a wide portion of the face. As a game-improvement iron, the E721 also uses extreme toe weighting, which enhances performance on toe strikes, which is where this player type tends to make impact.
Unlike the C721, which features fairly traditional lofts, the E721 makes no apologies for its pursuit of distance with stronger lofts. As a result of the lower and deeper CG, the E721 5-iron has a loft of just 21.5 degrees and a pitching wedge that checks in at 42 degrees.
A wide array of shafts are available in steel and graphite with recommendations based on swing speed.
Click below to build your own bag with our 2021 Hot List-winning clubs: