Tour Championship
Tour Championship co-leader Viktor Hovland says previously bad short game made him set lowest bar possible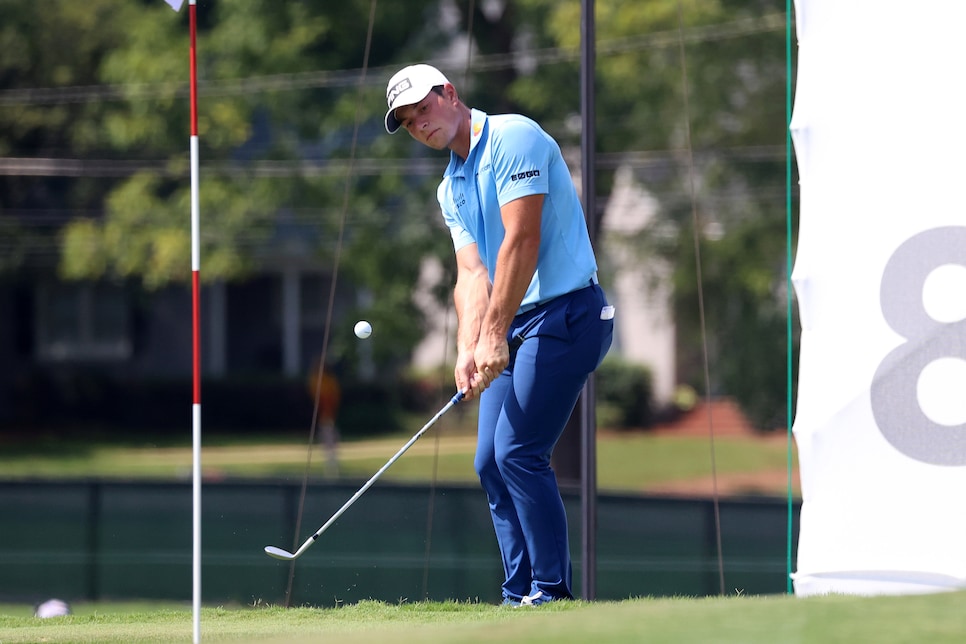 Viktor Hovland chips during the second round of the 2023 Tour Championship.
Icon Sportswire
ATLANTA — When you start an adjusted scoring tournament two shots behind the World No. 1 golfer, you can't afford to waste shots. Especially around the greens. Tour Championship co-leader Viktor Hovland knows that, and with a vastly improved short game, he's saved par seven of the eight times he's missed a green at the East Lake through two steaming hot rounds.
The Norwegian star, who shot a final-round 61 to win the BMW Championship last week, finds himself again at the top of a leaderboard. After a Friday 64, Hovland and Collin Morikawa share the lead at 16 under at the halfway point of the season finale.
Scottie Scheffler, who started the Tour Championship as the FedEx Cup leader and was spotted a starting score of 10 under, shot 65 on Friday to remain in the hunt at 14 under. Keegan Bradley (67) is a shot further back.
Hovland has transformed his short game over the past 12 months under coach Joe Mayo. It he isn't among the elite yet, it at least now complements his world-class driving, iron play and putting. Hovland is ranked 60th for scrambling on the PGA Tour, a year after ranking 99th and three years after being 148th.
The five-time PGA Tour winner sounded like an excited junior golfer when asked Friday about his comfort level around the greens.
"It's been pretty incredible," he said on the Golf Channel. "Before, when I was standing over every single shot, I'm like, 'Ok, don't duff it, don't scull it, don't leave it in the bunker.' Me and a buddy of mine would make up this saying, 'Just land it on the green and keep it on the green.' We set the bar really low when we had a chip. Now it's a lot of fun to be able to open up that face, slap the ground and put some friction on the ball."
That sweet friction. It's almost as satisfying to throw the brakes on a spinny pitch shot as it is to crush a long and straight drive. Hovland has hit plenty of them this week, too. Off the tee, he's gained 2.669 shots on the field so far.
"I think it all starts from just the tee; I'm hitting a lot of fairways, driving it really well," Hovland said after finding 19 of 28 fairways through two rounds. "If you're constantly in the fairway on this golf course, you can really be aggressive with some of the iron shots in there. Just been able to give myself a lot of looks. On the back nine [Friday], I started making some putts."
Add it all up and Hovland and it could be difficult for Morikawa, Scheffler and the other chasers to keep up on the weekend.