Tour Championship 2018 Friday blog: Tiger Woods, Justin Rose tied on top after Day 2 at East Lake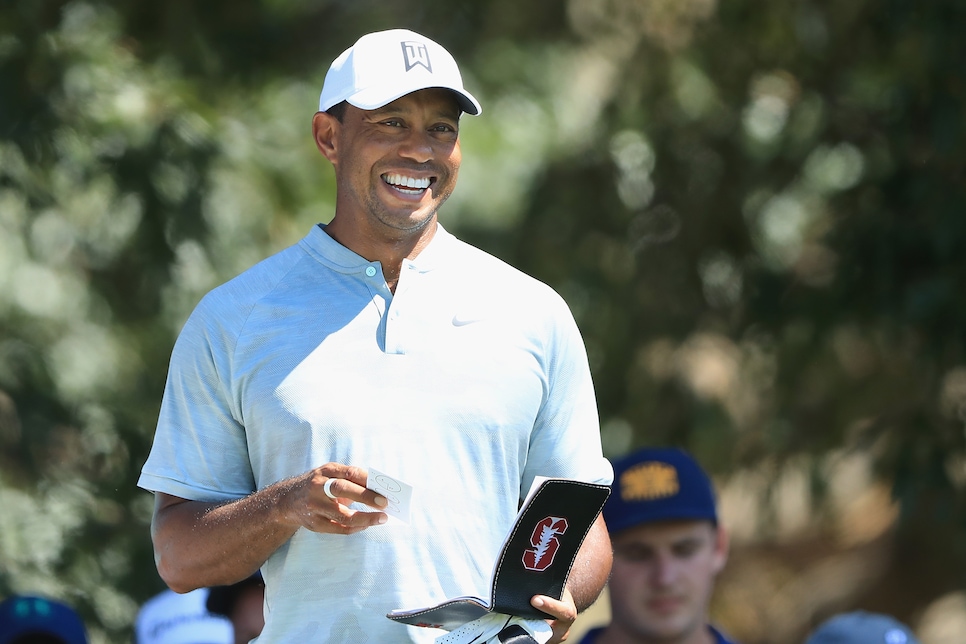 (Photo by Sam Greenwood/Getty Images)
For a second straight PGA Tour event, Tiger Woods shares the opening lead. But can he build on his momentum this time at the Tour Championship? Two weeks after a disappointing Friday at the BMW Championship left Tiger clawing to catch up over the weekend at Aronimink, he'll tee off in the final group with Rickie Fowler at East Lake at 2 p.m. ET. Woods and Fowler shot matching 65s on Day 1 and their Day 2 crowds in Atlanta should be electric. So keep it right here as we provide the latest scores, news, and highlights from the second round. (All times ET)
5:55: 65-68 ... Tiger Woods matches Justin Rose's finishing birdie with one of his own at the 18th hole to move back to 7-under. Tiger and J-Rose will play in the final group of the day as 36-hole co-leaders.
What a weekend this sets up to be: Justin Rose is looking for his first FedEx Cup title—and is in position to do so, with Bryson DeChambeau shooting a second-round 75 to be one shot out of dead last. DeChambeau was No. 1 in the FedEx Cup coming in the week. J-Rose was No. 2 ... and sitting in a tie for first, he will be the favorite to capture the FedEx Cup heading into the weekend.
He'll have a stressful pairing on Saturday, though, paired with Tiger Woods, who, as you most certainly know, is looking for his first PGA Tour victory since 2013. And he has put himself in great position to do so.
Here are the scores after Day 2:
T-1. Tiger Woods (-7)
T-1. Justin Rose (-7) 3. Rory McIlroy (-5) T-4. Justin Thomas (-4) T-4. Billy Horschel (-4) T-4. Patrick Cantlay (-4) T-4. Jon Rahm (-4) T-8. Kyle Stanley (-3) T-8. Rickie Fowler (-3)
5:53: Tiger Woods' try for a second-straight closing eagle in consecutive days jussssst misses to the left of the hole. He'll have about 2 feet for a finishing birdie to join Justin Rose at 7-under.
5:48: It's a pure second shot at the 18th hole for the 14-time major champion. He'll have a nice chance for an eagle at the finishing hole for a second straight day ... he hits his approach from 228 yards out to 31 feet.
5:44: Justin Rose plays a great chip from just in front of the green for a routine-looking birdie ... very stellar to finish the day at 7-under (second-round 67). He'll take sole possession of the lead with Tiger Woods in the fairway at the 18th hole after a 336-yard drive. He has 228 yards for his second.
5:40: Justin Rose, well positioned after his 344-yard drive at the 18th hole right in front of the water, comes up well short of the green with his second shot. It's a pretty straightforward up-and-down upcoming for a potential closing birdie ... but not a great shot given where he sat in the fairway.
T-1. Tiger Woods (-6)
T-1. Justin Rose (-6) 3. Rory McIlroy (-5) T-4. Justin Thomas (-3) T-4. Billy Horschel (-4, shot a 65 today) T-4. Patrick Cantlay (-4, also shot a 65 today) T-4. Jon Rahm (-4, in with a 68) T-8. Kyle Stanley (-3, shot a 68) T-8. Rickie Fowler (-3)
The other Justin, in the group ahead, Justin Thomas, birdied the closing hole to move to 4-under. Rory McIlroy failed to get up and down for a closing birdie, so he finished up at 5-under.
5:36: Tiger misses the opportunity for a fourth birdie on the back nine, missing his birdie bid at 17. He'll head to 18 still tied for the lead with Justin Rose, who has a great chance at 18 to reach the green with a mid-iron.
5:32: Tiger hits a stellar approach to about 13 feet at 17, where he'll have a chance to retake the lead by himself again. His putter has been on today: We wouldn't be surprised if he buried this one.
Justin Rose just hit a BOMB of a drive at the par-5 finishing hole. He hit it 344 ... which farther than both Rory McIlroy and Justin Thomas hit their tee shots, and they were in great position. J-Rose will have a look to get on this green in two and finish up one shot better than the 6-under he's currently at.
5:28: Tiger hits a fairway wood into the middle of the fairway on the 430-yard 17th hole, so he'll have a good look here for his second shot. Meanwhile, Justin Rose NEARLY holes his bunker shot ... coming four inches shy. What a shot! He'll head to the 18th hole tied with Tiger for the lead at 6-under.
5:25: Tiger Woods fails to hit the 12-footer bogey-saver ... so he drops two strokes at the 16th hole. We're back to a tie for the lead with Justin Rose, who is in the greenside bunker in front of the 17th hole.
Just a couple of minutes ago, Tiger had a four-shot lead over everyone else not named Justin Rose. Now Rory McIlroy finds himself one back ... and the group at 4-under is just two back of the co-lead.
T-1. Tiger Woods (-6)
T-1. Justin Rose (-6) 3. Rory McIlroy (-5) T-4. Rickie Fowler (-4)
T-4. Billy Horschel (-4, shot a 65 today) T-4. Patrick Cantlay (-4, also shot a 65 today) T-4. Jon Rahm (-4, in with a 68) T-8. Justin Thomas (-3) T-8. Kyle Stanley (-3, shot a 68)
5:20: Tiger's ball was buried in the cross bunker, so he had to chop it out sideways here on 16. He played his fourth shot to 12 feet ... he'll need to make that for a bogey to retain sole possession of the lead.
5:15: Justin Rose has bogeyed the 16th hole, missing a six-footer for par to drop to 6-under. Tiger Woods' lead is now two ... but he will do well to make par at the 16th hole ... he has found the cross bunker way short of the green. This will be a really difficult up and down.
5:11: Perhaps some extra momentum there from Tiger Woods on the tee at the 16th hole. Following a bunch of smooth driver swings, Tiger pulls one left into the trees, but he got a favorable kick left back toward the fairway—but he's still in the rough. It'll be a tough second shot coming up ...
5:08: WOW! Tiger Woods is your solo leader once again at East Lake. He walks in a 23-footer for birdie at the difficult par-3 15th. That's his third birdie in four holes, to pick up a one-shot advantage over Justin Rose. And the pack tied for third is now four back (Rickie Fowler, Rory McIlroy, Billy Horschel and Patrick Cantlay)
What a putt ... Tiger has gained some momentum here on the inward nine to take the lead. He looks to be in control of his game at the moment.
Meanwhile, Justin Rose is just off the green playing his third shot at the 16th hole.
4:57: Tiger matches Justin Rose's make at the 14th hole! It's turning into a two horse race (for the moment, at least ... lot of golf left), with Tiger and J-Rose three ahead of the rest of the pack at 7-under.
Tiger converted his 17-footer for birdie ... rolling perfectly end over end. Tiger's looked really good on the greens all week, and he walked that one in early with a fist pump. Big tee shot coming up here at the long par-3 15th, where Rose is just off the green.
4:51: Terrific shot from Tiger Woods at the ultra difficult 520-yard 14th hole—he sticks his approach to 17 feet to give himself a shot at another birdie to tie Justin Rose atop the lead.
Rickie Fowler, with his tee shot in the rough, hits a poor second shot with a wood, and will have his work cut out to save par.
4:47: We have a new leader at the top: World No. 1 Justin Rose. J-Rose buries a 27-footer for birdie at the 14th hole to grab sole possession of the lead (-7).
Rose, of course, controls his own destiny ... if he wins the Tour Championship, he's guaranteed to win the FedEx Cup. The Englishman has done enough so far ... and leads Tiger by one.
4:43: Tiger Woods, after a poor bunker shot on the 13th hole, does really well to save par here. He curls in a 10-footer to remain tied with Justin Rose for the lead. Tiger's now 4 for 4 on sand saves for the week—and a really impressive 9 for 10 scrambling. The short game has kept Tiger in the lead, particularly today.
4:29: Tiger hit his third fairway of the day on the 12th hole—and he has capitalized. A sensational approach from 129 out to about four feet, and Tiger capitalizes for his birdie.
Tiger Woods, with Rickie Fowler's bogey at 12, is now a solo leader once again at East Lake.
But that sole possession of the lead lasted all of about 20 seconds. Justin Rose birdies the 13th hole to join Tiger at -6. That's two at the top!
T-1. Tiger Woods (-6)
T-1. Justin Rose (-6) 3. Rickie Fowler (-5)
T-4. Billy Horschel (-4, shot a 65 today) T-4. Patrick Cantlay (-4, also shot a 65 today) T-4. Rory McIlroy (-4) T-7. Jon Rahm (-3 -- just double-bogeyed the 15th hole) T-7. Tony Finau (-3) T-7. Gary Woodland (-3)
4:20: Another poor tee shot from Tiger Woods, but once again, the 14-time major champ scrambled like a champ. He pars the par-3 11th hole to stay one back of Rickie through 11.
4:09: Despite another missed fairway, Tiger scrambles for another par ... this one a tap-in. He nipped a great flop shot to a foot or so. His playing competitor, however, couldn't scramble for par. Rickie couldn't advance his second shot out of the rough, and missed a 16-footer for par. Rickie falls back to 6-under overall, so Tiger is back to one back of Rickie's lead.
3:57: Tiger missed the four-foot comebacker for par, so he drops his first shot of the day. He turns in an even-par 35 ... not too bad considering he's only hit 2 of 7 fairways on a course where ... you need to hit fairways.
3:53 Woods' tee shot on the par-3 9th comes up short, leaving him with a 77-foot putt, but he coaxes it to about four feet. Woods should make that for par and a 1-under-34, which is what he shot on the front nine on Thursday also.
3:46 Tiger makes a par that has to feel like a birdie on the eighth hole. After slicing his drive way right, he got a bounce off a cart path and a drop because of a TV tower. Still, his approach found a front bunker and after splashing out and having his ball funnel to about five feet, Woods made the par save to stay at six under and extend his bogey-free streak to 25 holes. Playing partner Rickie Fowler missed a makable birdie to remain the leader at seven under.
3:30 Tiger isn't driving it nearly as well as he did in the first round, but so far, he's gotten away with it. After having to punch out on No. 7, Woods gets up-and-down from about 30 yards to remain bogey-free on the day and at six under par. Fowler escapes trouble off the tee as well to make a par to stay at seven under. Up ahead, Rahm makes bogey to drop back to six under. At four under on the day, he still has the best round going of anyone.
3:15 Woods fails to take advantage of the first of East Lake's two par 5s. After a great drive, Woods misses the green with a 5-wood and fails to get up and down from a tough spot. Meanwhile, Rickie Fowler two-putts for birdie and up ahead, John Rahm birdies the ninth to make the turn in 30. Both Fowler and Rahm now share the lead at seven under with Woods one back.
2:58 Woods gets away with his wild drive on No. 5, finding the front of the green with his approach from the rough and two-putting for par. Rickie Fowler birdies the hole to get to six under with Woods and Jon Rahm.
2:45 After a majestic approach to a tucked pin on No. 4, Woods' delicate birdie attempt from 12 feet never has a chance. Still, par is a good score there — as it will be on No. 5 after a driver into the trees left. Meanwhile, Jon Rahm rolls in another birdie, his fifth in seven holes, to join Woods at six under.
2:33 Tiger misses the fairway on the par-4 third with an iron, but finds the front of the green and two-putts from about 50 feet for par. He remains one shot clear of Rickie Fowler, Justin Rose, and Jon Rahm.
2:20 BANG! Tiger coaxes in the slick downhill birdie putt to move to six under.
Playing partner Rickie Fowler makes a longer effort to regain the stroke he dropped at the first. That opening three-putt on Thursday seems like weeks ago with the way Woods has been rolling it since.
2:12 Tiger Woods hits a safe approach on the difficult opening hole and makes a solid two-putt par to start. Meanwhile, some craziness at the top of the leader board as two players (Justin Rose and Rory McIlroy) move to five under while two others (Rickie Fowler and Jon Rahm) drop out of a tie for the lead in a matter of moments. Woods will have a good chance to break out of the pack after hitting a bullet draw to about 15 feet on the par-3 second.
2:01 Overnight co-leaders Tiger Woods and Rickie Fowler begin Friday's second round by finding the short stuff with their opening tee shots. Woods striped one at No. 1 yesterday, but wound up three-putting from 25 feet for his lone bogey of the day.
1:57 Jon Rahm becomes the latest to play his way to the top of the leader board in Atlanta. Rahm opens his second round with three consecutive birdies to get to five under and match Tiger Woods and Rickie Fowler, who are minutes away from teeing off. Rahm also happens to be Golf Digest's newest cover boy. Just saying.
1:40 Rory McIlroy and Justin Thomas arrive at East Lake's first tee after opening with 67s on Thursday. And if anyone in particular can say their first round could have been lower, it's McIlroy, who lipped out four putts in a three-hole stretch. Check it:
Good luck doing that again.
1:30 We are just 30 minutes from that final tee time of Tiger Woods and Rickie Fowler. Here's a look at how the top of the leader board looks:
1t. Tiger Woods (-5)
1t. Rickie Fowler (-5)
3t. Justin Rose (-4)
3t. Gary Woodland (-4)
5t. Rory McIlroy (-3)
5t. Justin Thomas (-3)
5t. Tony Finau (-3)
All of those players are yet to tee off on Friday. For full scores, click here.
12:50 The dynamic (gym) duo of Dustin Johnson and Brooks Koepka are off at East Lake in their second round. Johnson, who has three wins on the season, led the FedEx Cup standings entering the playoffs, but has cooled off a bit of late. Koepka only has two wins in 2018, but of course, both were at majors because that's what Brooks does. And according to his peers like Tiger Woods and Justin Thomas, he's already wrapped up PGA Tour Player of the Year. We certainly wouldn't want to be the person to inform him he didn't win the award.
12:15 Bryson DeChambeau is one of those with a surprising early start on Friday. The FedEx Cup leader won the first two playoff events, but opened with 71. But Bryson rallied after two double bogeys on his first eight holes by shooting three under on the back nine. DeChambeau is one of five players (Justin Rose, Tony Finau, Dustin Johnson and Justin Thomas) who would automatically win the FedEx Cup with a victory this week. That would certainly make things easier to follow on Sunday.
11:42 Phil Mickelson and Keegan Bradley are off in the first group of the day. Being first off today isn't a good thing since the tournament re-paired based on the leader board after the first round in which Mickelson and Bradley both shot three-over-par 73s. At least, this will be a comfortable pairing for the two. Remember them high-fiving and butt-slapping each other all around Medinah at the 2012 Ryder Cup? Good times.
11:30 We're still two-and-a-half hours away from Tiger's second-round tee time, but here's what our man on the ground in Atlanta, Joel Beall, wrote about Tiger's exciting first round. And here's a look back at that eagle he made to cap his first round:
Even Larry Fitzgerald had to pause a scrum with reporters to watch. And the NFL star was pretty fired up when the 30-footer dropped to tie for the early lead:
You are using an unsupported version of Internet Explorer. Please upgrade to Internet Explorer 11 or use a different web browser.