The Loop
Top storylines at the women's NCAAs
ALBUQUERQUE--It's my sixth year covering the NCAA Women's Championship and, at the risk of seeming too dramatic, I can't remember any of the previous tournaments having as many intriguing storylines entering the event. I spent most of this morning camped out between the sixth and seventh holes at The Championship Course at the University of New Mexico, talking to coaches and players as they came by. Let's just say there is a genuine excitement level about what might come to pass the next four days--particularly if the wind picks up.
Here, then, are five storylines in particular to mull over as we tee things up tomorrow morning at 8 a.m. Mountain Daylight Time.
5.) Red numbers or red faces__
Interestingly, though, the consensus among coaches and players I've spoken to here is this golf course is set up quite fair â¿¿ with some hinting it might even be a little too easy. "It's nice to be on a course where you can have fun again," said one coach. "The rough isn't up and the greens are almost running slow."
The folks at UNM are guarding against strong winds that are predicted to hit the area later in the week. If the projected 25-plus mph gusts do come, the greens will certainly get faster and make the course as challenging as you'd like. If the course was set up too hard at the start of the week and we get this weather, we'd have see enough six-hour rounds and 78s to fill up one of those spaceships they've got locked up in Roswell.
To make sure there aren't too many low numbers, the course has been tweaked some since the Margaret Branch NCAA Preview here in September. The first hole will play as a par 4 rather than a par 5, reducing the course's overall par to 72. The four remaining par 5s have been lengthened, making them much more difficult to reach in two. The course will play to 6,424 yards overall.
Bottom line: This course is there to be had, but it will require a player to be on their game to do it.
4.) Florida without Whitney Myers
The senior from East Berlin, Pa., didn't join the team on the trip to Albuquerque, just like she didn't travel to regionals. Coach Jill Briles-Hinton wouldn't say why Myers, the team's leading scorer with a 73.66 average, has been pulled from the lineup other than to say that "she didn't meet the expectations of the University of Florida" although it's believed that her academic eligibility is in question.
Missing Myers didn't keep the Gators from beating Duke at the East Regional, but her replacement, redshirt freshman Nicole Schachner, didn't have her score count in any round as she finished 19 over in a tie for 68th. I'm not sure if Florida will have that same luxury of relying on just four players if they hope to win an NCAA team title. Schachner is capable of stepping up and needs to do just that.
Still, Briles-Hinton says the team is upbeat and optimistic, having lost their previous top player, Sandra Gal, during the winter break and actually playing better without her in the spring.
The dynamic duo will be playing for not just a national title this week but national player-of-the-year honors as well. The race is definitely too close to call at this point, with either player having the chance to separate themselves with a big week in the Land of Enchantment.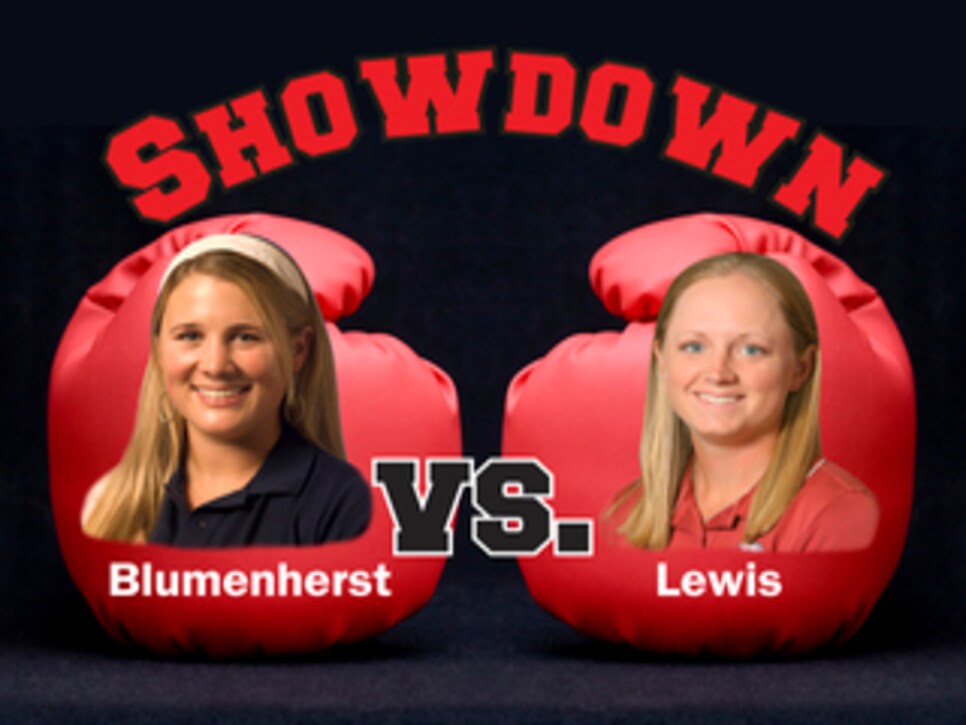 Lewis' Arkansas teammates were joking with her today how in four days she'll be leaving them, as the fifth-year senior is playing her final college event. I'm not sure how the emotions of this being the end of the line for Lewis will play into the equation, or whether the fact that she's trying to become the first player to repeat as the individual champ will be a help or a hindrance.
In my mind, Blumenherst's length off the tee and her familiarity with the hot, dry environs of the southwest (she lives in Scottsdale) give her a slight edge this week, but I emphasize slight. What will really separate these two is which one has the putter working better as they've both been hitting the ball well in practice this week.
2.) Duke and the four-peat
For the Blue Devils to become the first women's program to capture four straight NCAA titles, they're going to have to earn it seeing that several teams in the field--most notably Southern California, UCLA, Florida and Purdue--have realistic aspirations of knocking off the Dukies.
In years past if everyone on Dan Brooks' squad had their "A" game--which wasn't the case at the East Regional—you could have handed them the trophy on day 1 (and saved me from having to spend that week in Columbus, Ohio, in 2005). This year, however, they could all be on their game and still lose; the quality of the rest of the field has caught up with the folks in Durham, N.C.
There are three intangibles to consider when trying to figure out Duke's chances of a four-peat:
1.) Blumenherst. If she plays lights out and posts two or three 65s, the super-low scores could be a huge difference in the ultimate outcome.
2.) Course conditions. If the wind picks up and helps toughen the course, that works to Duke's advantage.
3.) Experience. If you're a Duke fan or not, you have to respect how this team has stepped up at nationals in past three years. With four of five starters having won a NCAA team title, you've got to like the fact they have positive memories to fall back on in the clutch.
__1.) If not Duke, then who?   __
I'm flattered a few coaches upon seeing me were actually curious to know who I thought might win this week, particularly if it's not Duke. Southern California's three straight wins entering nationals--by a 17.3-stroke average margin of victory to boot--make them the popular alternative choice, and perhaps the true favorite here this week. Having ruled out Florida and getting a sense that Purdue would be better served if the course played tougher than it appears it will, there are two other viable non-Duke picks in my mind: UCLA and Arizona State.
The Sun Devils come into the tournament very much under the radar, particularly compared to last year when they were a co-favorite to take the title only to finish a disappointing 13th. Melissa Luellen told me she thinks she learned a lot from last year's experience in how to handle expectations surrounding championship week and likes how the climate mirrors what her team playing in back home in Tempe. Ultimately, though, the Sun Devils' lack of a reliable No. 5 player they can count on to relief pressure from the rest of the roster scares me in the same way it does with Florida.
UCLA, on the other hand, intrigues me. The Bruins have three players I know can go low in Tiffany Joh, Sydnee Michaels and Maria Jose Uribe. Glory Yang is a reliable scorer and Maiya Tanaka has stepped up with her best career performances at Pac-10s and the Central Regional. They've a very good ball-striking team that, if they're putting well, can be very scary.
OK, I know what you're thinking ... get on with it already and make your (lame) pick.
I think Duke's run ends at three in a row (although they'll play better than they did at the East Regional) and I'm going with UCLA to beat crosstown rival USC by two strokes and the Blue Devils by four. Individually, Blumenherst takes medalist honors (nine-under 279) with Lewis finishing T-3 with USC's Dewi Claire Schreefel as UCLA's Uribe finished second.
There you have it ... now you know who not to pick.