The Loop
Too much Tiger? No, and it's not hard to understand why
The coverage of Tiger Woods the last two days might have seemed excessive to some, but the rows of people lining the first fairway when he went out to play nine holes in a PGA Championship practice round at Valhalla on Wednesday ought to have been the only explanation required to understand it.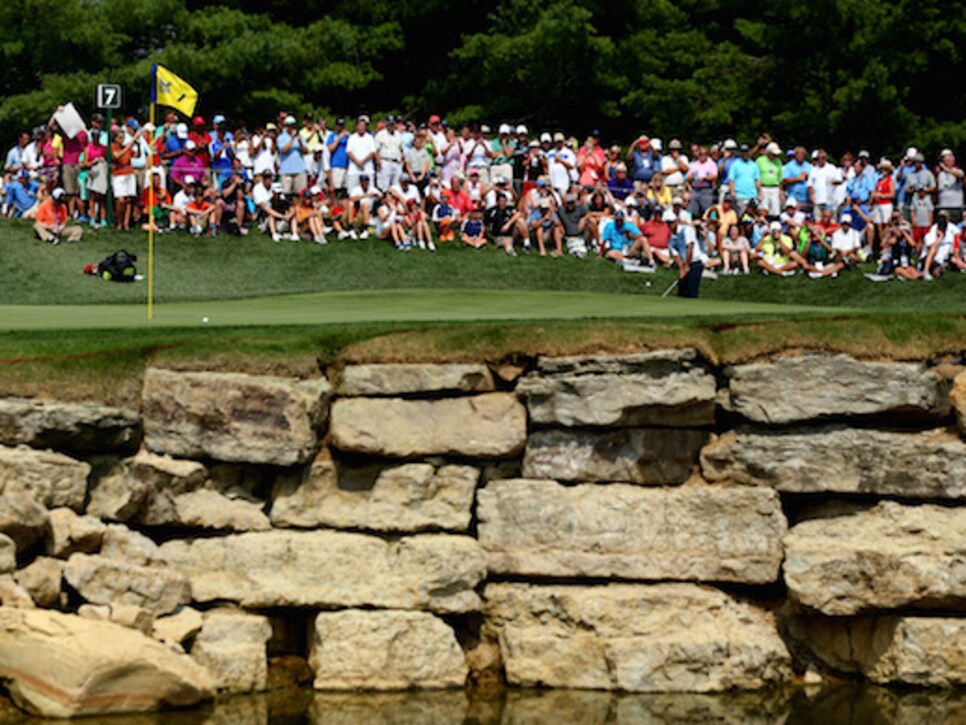 Tiger Woods playing a practice round on Wednesday (Getty Images photo)
"Are they ever gonna let Tiger be Tiger? #LeaveHimAlone #GolfChannelNotTMZ," the LPGA's Belen Mozo wrote on Twitter.
"Funny how Rory is n1 in the world but we have a Tiger show right now," she wrote in another tweet.
Woods is a star who transcends his sport unlike anyone else in this generation and probably those to come, and even through his trials of late he remains among the most compelling stories in the game.
"It really was like a beehive being hit by a stick the second he announced that he was going to enter this championship," Golf Channel's Brandel Chamblee said. "The whole sports world is going to be spellbound with every single shot. This went from being a major championship and a major golf story to a major sports story."
As far as concern for Rory McIlroy, more attention on Woods means less attention on McIlroy, a good thing, Golf Channel's Arron Oberholser noted Wednesday, allowing him to sneak under the radar to a degree in his quest to win a second major championship in a row.
Golf Channel's Steve Flesch found the middle ground Thursday morning, noting those filling the competitive void left by Woods in recent months, while also acknowledging what Woods and to a lesser degree Phil Mickelson have meant to the game.
"My concern is that we've relied on them sparking the enthusiasm of the game for so long we're hoping that they can continue to carry it on," he said of Woods and Mickelson, who are paired together in the first two rounds. "We have to realize that when we get pairings like this we need to relish them and enjoy the fact that we're able to watch these two great warriors go to battle together. Tiger's almost 40, Phil's in his 40s.
"But we need to embrace the fact that guys like Rory McIlroy, Adam Scott, Justin Rose, they are kind of the new face of the game right now."