PGA Tour
Tony Finau takes a big lead into Sunday with two very different Englishmen chasing him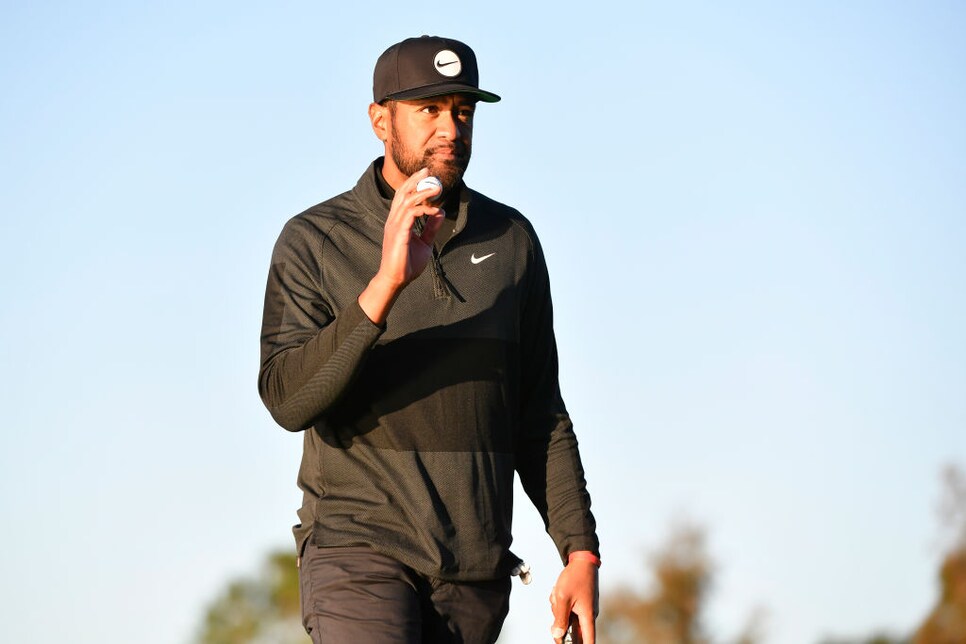 Tony Finau reacts to his putt on the 17th green during the third round of the Cadence Bank Houston Open.
Logan Riely
Tony Finau's birdie fest did not continue Saturday at the Cadence Bank Houston Open. The good news for the four-time PGA Tour winner is that while he wasn't deep in red numbers like during his second-round 62, he also didn't card a single bogey.
Finau's third-round two-under-par 68 is enough to give him a four-shot cushion over journeyman Ben Taylor, who is back on the PGA Tour after a year on the Korn Ferry Tour.
It wasn't an exciting day for Finau. The 33-year-old made his hay much in the same way he always does: with a long, controlled game off the tee. He was fourth in driving distance and third in strokes gained/off the tee Saturday, hitting every fairway.
"I hit the driver as good as I've ever hit it," Finau said. "Today, I hit all 13 fairways, which is something I don't think I've ever done on my career on the PGA Tour—hit every fairway. So that was super important, and I was able to knock a couple birdies in because of that.
"That was a really good round. I think the score doesn't say that, but I think I played better than yesterday. You know, yesterday I shot 62, but today that 68 I thought was pretty impressive for the conditions."
Finau was otherwise unspectacular on the day, putting up only slightly better than average numbers in strokes gained: putting and around the green. Outside of his two made birdie putts, from 21 and 18 feet, respectively, he didn't hole anything longer than five feet.
A win Sunday would be Finau's first of the 2022-23 PGA Tour season and the fifth of his career. And it would be the the third since he went back-to-back last July.
"Winning breeds confidence, but I think also you have to make it happen and I was able to make it happen a couple weeks in a row last year with the lead, and I'm sitting on another lead, sleeping on another lead tonight," Finau said. "I'm looking forward to the challenge. It's going to be a challenge; it's not easy to win on the PGA Tour. As easy as some guys make it look, it's just not easy."
Finau might not have gone low on moving day, but two of his closest competitors took full advantage. Englishmen Justin Rose and the aforementioned Taylor posted 66 and 65, respectively, to get within shouting distance of the lead. A seasoned veteran like Rose knows, though, that it'll take some good fortune—from the perspective of the field—for anyone other than Finau to be hoisting the trophy Sunday evening.
"Listen, it's all in Tony's hands," Rose said. "You can see everybody stacking up behind him—nine under, eight under, seven under, six under. If Tony doesn't have a great day tomorrow, there's 20 guys that can win the tournament. If Tony goes ahead and plays well tomorrow, there's one or two guys that can go out and probably have a great round of golf to sort of ask the question and put some pressure on him."
For Taylor, though, the math is a bit different. At 30 years old, with only one Korn Ferry Tour win to his name, a victory would be life-changing. Yet, with roughly $1.5 million and a multi-year PGA Tour exemption on the line, Taylor is going about his business like any other tournament.
"I've certainly had a much more level head on my shoulders this past season," Taylor said. "I did two years on the PGA Tour, back to the Korn Ferry and had a very consistent year. I kind of swallowed a bit of humble pie and realized I had to go back to the Korn Ferry Tour, and I think my game and my well being is in a much better place having gone through that. To me, tomorrow's not going to be any different. I'm still very grateful to be here, I'm playing good golf, I know I deserve to be here. We'll go out tomorrow and have some fun."
With similar weather forecast for Sunday, the temperature isn't expected to climb above 60 degrees, though an east-northeast wind should help it feel slightly warmer, as opposed to Saturday's north wind. A score may be out there. But as Rose said, the fate of the tournament rests almost squarely in Finau's hands.