Behind The Scenes
Tom Watson reflects on his latest Masters moment, and the career that led to it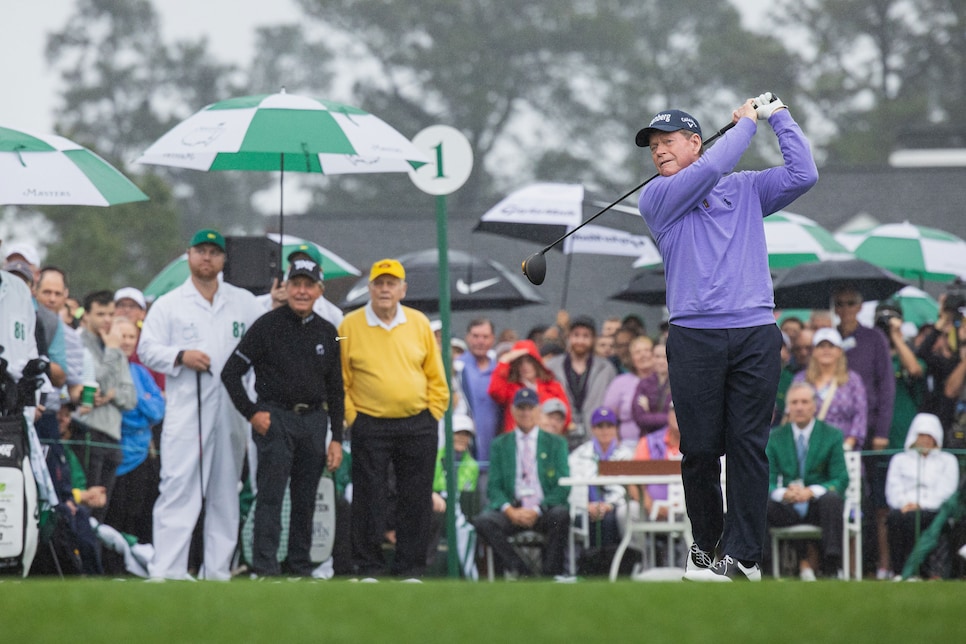 AUGUSTA, Ga.—The short video clip will live forever. Tom Watson's first of time will tell how many honorary opening drives to kick off the Masters.
If you were there, you waited in the morning mist until the guards gave the signal it was OK to rush to gather around the first tee. If you were lucky, you got on the rope line next to those who were permitted early seating. A cluster of lavender shirts and hats. When Watson arrives, the terminus of the grand procession from the clubhouse through the gallery, he's also in lavender and you can actually see his genuine surprise. He didn't know his family and friends would do this. Lavender is the color of pancreatic cancer, to which his second-wife Hillary succumbed not quite three years ago.
Later in the the press conference, Watson will tell the story of how Augusta National Chairman Fred Ridley called his office with the invitation, and despite Watson's concern he was under-qualified (eight majors, two green jackets) to join Jack Nicklaus and Gary Player, Ridley insisted. He also added Watson was welcome to keep coming back as honorary starter as long as he wants. It's odd to think of weighty matters being handled with such simplicity and grace, but there you have it.
The fog is so dense it creates a different sense of space. The usual vista from this highest point of the golf course is reduced to the small objects immediately in front. Water drops from an umbrella, a sodden towel draped over the starter's box of pencils and tees, snaking coils of wires of audiovisual equipment at your feet. In this heavy air devoid of distant sound you swear you can hear the light drag of fabric when Watson pulls the headcover. As the trio hits in succession into the oblivion of the first hole, the varying solidity of each wet impact tells the carry yardages.
A courtly press conference. Then lunch with Barbara and Jack Nicklaus and Sue and Andy North. Then home for a nap. When Watson arrives late afternoon to the Rolex house, a stately white Georgian home directly across the street from Augusta Country Club, the 72-year-old appears as sunny as the now brilliant weather, the green blazer traded for navy blue. As elegant table settings for 50 and an outdoor stage for a band are being set, Watson will chat with five journalists from around the globe before the party starts.
"People asked me if I was nervous this morning," Watson says. "To be honest, I wasn't really. We went out early and had a little warm up." As always, he started with 4-iron. Too portentous to start with a wedge and risk struggling with the theoretically easiest club. "I want to get my whole body working. If I hit a good long iron, I know I'm in for a good day."
There have been many good days, and from these he shares superlatives.
The best shot he ever hit at the Masters set up a mere par in the final round of his 1977 win. "The key shot for me was at No. 16. The flag was back left, and the pressure levels were high being tied with Jack. We'd both birdied the par fives. I had a choice between a 5- and a 6-iron. I hit a three-quarter five iron and cut it right off the bunker. When I hit that shot the pressure levels just drained out of my system." He slumps in his chair to indicate the relief.
The most important win of his career was the 1977 Open at Turnberry. "Because Jack came up to me and said that he gave me his best shot, but it wasn't good enough."
Despite being 59 at the time, he doesn't rank his runner-up at 2009 at the same course ahead of any of his majors. "I didn't win and I felt like I could win the tournament that week." End of story. Next question.
Watson learned to win because he hated to lose, but he won more after Byron Nelson taught him to slow his walking and breathing one beat. "That slows down your rhythm and that translates to the rhythm of your golf swing. Charging going just as fast as you can, your swing is going to go as fast as you can."
The primary reason he made 21 cuts in a row at the Masters was putting. "I was a great putter, especially in the 70s and early 80s. Being a great putter makes up for mistakes. They used to kid me that I'd make a 'Watson par' and that's when you hit it in the right trees, chip out, knock it on to 40 feet and then hole it."
There are no more golf trophies to be won, but Watson lights up at the mention of horse-cutting, which is essentially separating and tracking a calf from the herd without using the reins. He takes out his phone to show a demonstrative video of "the art." Watson wants to win more buckles, especially a Futurity buckle like Hillary did, who was the superior rider who got him into the sport.
Sunset, a garden, the clink of glasses. This is what Watson's Masters is and will be from now on, a dignitary who talks golf at functions. "It's fun and nice to share stories with people about my life and times on the tour . . . I would be lying if I said I don't miss [competing], but the reality is I can't because I don't have the length. That's why I retired from playing the Masters back in 2016."
But he's not totally retired. He's a pro. He's wearing his Daytona Rolex, but explains he also has an older Presidential with a stainless steel and gold bracelet, and he interchanges wearing them. "In 1978 I surpassed a million dollars in earnings and my wife gave me it with the inscription on the back that said: "To my million dollar baby."
More Masters 2022 stories from Golf Digest