The Loop
Tom Watson keeps grinding, as only he can
OMAHA -- Tom Watson's bright green shirt looked like Scotland 1977, but his legs felt like Nebraska 2013.
"These hills are getting my legs, I have to admit," he said. "The legs aren't firing, they're a little weak."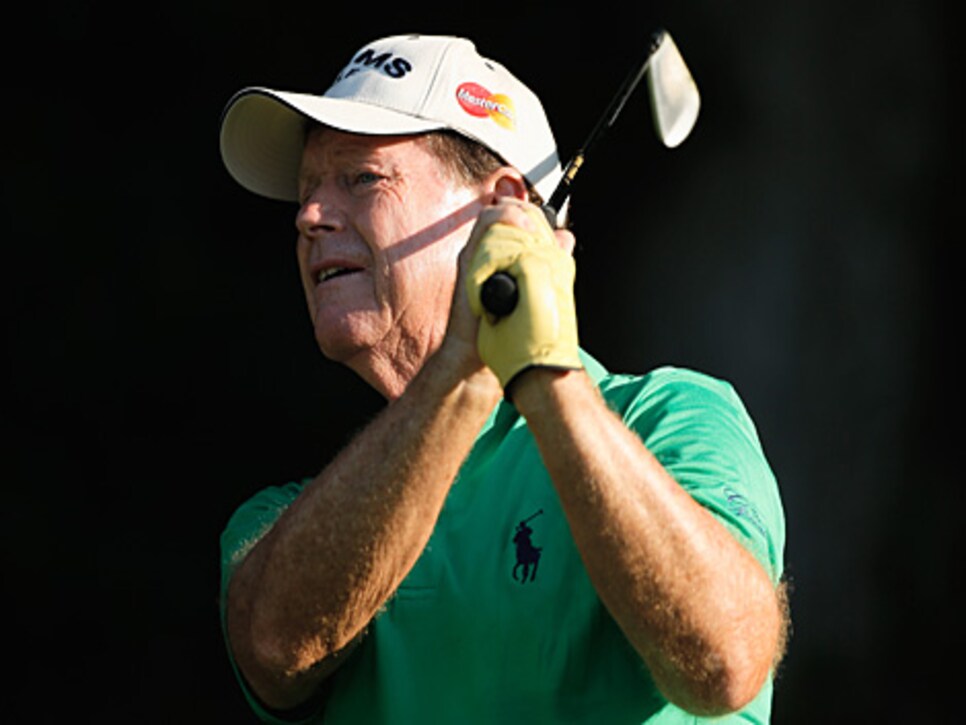 Walking the steep slopes of Omaha CC Thursday in the first round of the U.S. Senior Open clad in nearly the color he wore when he outdueled Jack Nicklaus in the final round at Turnberry in that epic British Open, Watson didn't need to be reminded he will turn 64 in less than two months.
He didn't strike his irons crisply, didn't make much happen with the putter. But if you think he was a hopeless, aging legend taking up space, think again. Watson shot an even-par 70, just three strokes behind the best scores (Jay Don Blake and Jeff Sluman) shot Thursday morning.
Watson remains struck by how much his astounding near-victory at Turnberry in the 2009 British Open when he was 59 meant to people of a certain age, when he told them possibility doesn't have to wrinkle. To watch him now is to still be inspired.
"He's grinding," Watson's caddie, Neil Oxman, had said along the eighth fairway as he waited for the five-time British Open champion to drive on the 469-yard par 4. "He always grinds."
Give your best on a shot. Get ready for the next one. Accept the good breaks and bad breaks in the same spirit. Repeat, until the round is done. Then do it again the next day.
That is what Watson has done on the job for 40 years. That is what keeps him doing his job today. That, and the rare tenacity of a champion.
For a putting stroke that has been sick off and on for a quarter of a century -- ugly-yippy even at times -- Watson's cure has been to keep on keeping on. A more forgiving putterhead design than that with which he ran the tables in the 1970s and early-1980s has been his only concession. He hasn't clawed, hasn't cross-handed, hasn't bellied or broomsticked.
He was in a first-round grouping with Colin Montgomerie (oversize grip) and Bernhard Langer (long anchored putter). Watson, as ever, putted conventionally.
"You got it right. Stubborn. Exactly right," Watson said. "I just keep on trying to do what I used to know how to do. I try to remember and try to do the things I used to be able to do. And it's a struggle sometimes. With the putter particularly, it's been a struggle for a long time."
When Watson plays with a Champions Tour rookie like Montgomerie, who just turned 50, it's a mental post-it note of the clock to go with the putting nerves and the muscles aches.
"I start thinking about 13 years difference, yeah. The rookies out here now are quite a bit younger than I am," Watson said. "They've got the power . That's something I'm going to find I'm going to lose more and more of. Every now and then I can crack it out there. But the consistency is not there now. That's what I'm looking for is that consistency."
To the 50-year-old who was not enjoying Omaha CC's hills either, despite bettering Watson's score by a shot, it was still pretty impressive. "Amazing," Mongomerie said. "Fantastic effort. Good home support for him. I think he's quite close [to home]. I think Kansas is the next state down. Flatter, I believe, in Kansas. So we should have played there. Good golf for Tom. Sixteen pars for nearly 64 years old."
Watson will go from Nebraska to Scotland, for another British Open at Muirfield. "He has every chance to do well again, as he did at Turnberry in 2009," Montgomerie said.
"He's just being nice," said Watson, who had more immediate concerns.
He was off the practice range, a place he has known as intimately as any golfer ever has.
"I'll go the practice range and see," Watson said. "The swing's not very easy right now. I don't know whether I'm moving my head or not making a very good turn. I've got a couple of ideas. If they don't work, I'll go home, take a nap, I'll think about it, come back tomorrow, practice before I play, try something else and see if that works. That's the way I've always worked."
To his golf mind, it is closer to 1977 than 2013.