Equipment
Titleist's Cameron & Crown line of smaller putters gets bigger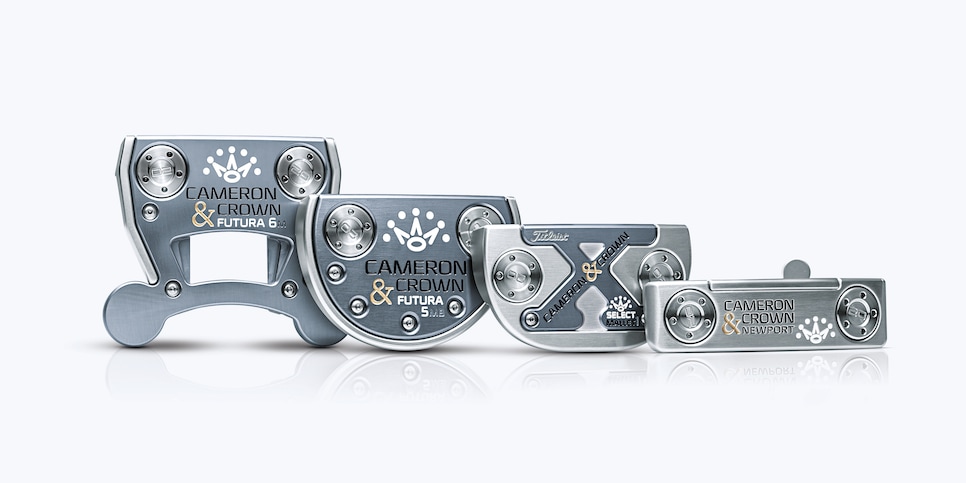 If you thought the Cameron & Crown putters—a 33-inch only model built to a custom weight and a thinner diameter grip—was an idle one-off experiment, think again.
Master putter designer Scotty Cameron announced that he will double the number of models in Titleist's specialty line of shorter-length putters, adding four new versions to the four already in the line, which was first introduced last August. While the 33-inch length isn't for every player, the increasing popularity of the shorter lengths only serves to further emphasize that getting fit for a putter is no less valuable than getting fit for any other club in the bag. Of course, the argument can be made that it's even more vital to get fit for the putter, given its used well more than all other clubs.
"Our initial Cameron & Crown release was very well-received, and we continue to hear great feedback from golfers who are benefitting from the 33-inch setup," Cameron said. "I've always said that the length sets the eyes, and the eyes set the path. For those men, women and juniors who need a shorter putter, it gets their eyes in the right position to make a proper stroke while maintaining good posture and balance."
Not merely a shorter length, the Cameron & Crown putters utilize 20-gram weight ports in the heel and toe to achieve Cameron's specified head weight (360 grams) for the 33-inch length.
All of the models feature the wraparound face with vibration dampening internal layer membrane seen in the previous Cameron & Crown models, as well as the Cameron Select putters.
The new head styles include the popular Newport heel-toe weighted blade milled from 303 stainless steel with a 303 stainless steel face inlay; the Mallet 1, which includes a 6061 aluminum face-sole piece inside a 303 stainless steel frame; the Futura 5MB, a traditional rounded mallet shape with a 6061 aluminum face-sole piece inside a 303 stainless steel frame; and the Adam Scott-inspired Futura 6M, the oversized, high moment-of-inertia mallet that features a 6061 aluminum face-sole piece inside a 303 stainless steel frame with extended heel and toe weights.
The four new Cameron & Crown models will be available June 16 ($380).