The Loop
Titleist/FootJoy parent Acushnet Holdings expects to raise $435 million in this week's IPO
Acushnet Holdings, the newly formed public company that is parent to the Titleist and FootJoy brands, announced it will be offering 19.3 million shares in an initial public offering this coming week on the New York Stock Exchange under the ticker symbol GOLF.
In its filing, the company announced that it expects to offer shares at between $21 and $24, generating an estimated $435 million. That's a larger figure than an original estimate of $300 million by Renaissance Capital when the Acushnet IPO was first announced in June.
The shares are only being sold by existing stockholders in the company. That primary owner is Fila Korea Ltd., which purchased Acushnet for $1.23 billion in 2011.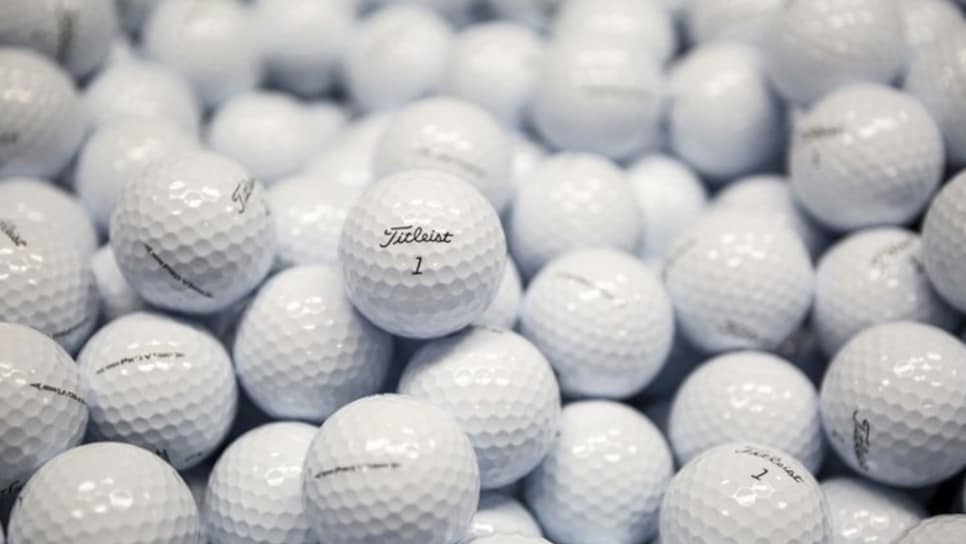 The Acushnet IPO is scheduled to happen on Friday, Oct. 28, during a year that so far has been off and on for global initial public offerings. A report from Ernst & Young showed that the first quarter of 2016 was the weakest for IPOs since 2009. For the first six months, global IPO activity showed 437 IPOs that generated some $43 billion, a 61-percent decline compared to 2015. So far this year, according to Renaissance Capital, there have been 88 IPOs in the U.S., the fewest since 2009.
Those financial trends are mixed in with a tough year for the golf industry. So far in 2016, Nike has dropped out of the golf equipment business and Adidas is seeking a buyer for its TaylorMade, Adams and Ashworth brands. Last Friday, a Reuters report indicated that Dick's Sporting Goods had bought up Golfsmith at a bankruptcy auction, and the report indicated that while Dick's likely would keep 30 Golfsmith stores open, it also could shutter the remainder of its 109 stores in the U.S.
Additionally, golf-equipment sales generally have trended down in 2016. The most recent reports from industry tracker Golf Datatech have shown sales of both woods and irons off by 15-20 percent the last couple of months, while ball sales have been flat.
Still, amid all that, there is a positive trend in people playing golf. The most recent rounds-played report from Golf Datatech show declines in August compared to the year before, but overall rounds-played numbers for the year are slightly up versus 2015, a year which saw the first rise in rounds played numbers since 2012.
That's especially good news for Acushnet's ball and glove businesses, which hold dominant positions in their respective categories, most notably led by the Pro V1 family of golf balls and FootJoy StaSof gloves.
Another positive for Acushnet's IPO, perhaps, is the success of Callaway in 2016. The only other golf-equipment company being publicly traded, Callaway saw its second-quarter earnings jumped 140 percent from 2015. It expects earnings per share for 2016 to be between 40 and 50 cents per share. It was just 17 cents a share in 2015. Callaway is currently trading at $10.60, near its one-year high and more than double what it was five years ago.
Acushnet's IPO prospectus revealed sales of $1.5 billion, which would make it the leader among all golf companies currently. A Boston Globe story estimates the upcoming IPO "will peg the market value of Acushnet at around $1.7 billion." One of the main functions of the IPO will be for its primary shareholder, Fila Korea, to raise capital to control a majority of Acushnet's common stock. Under the initial structure of the IPO, Fila owns about a third of the common stock, while financial investors (Mirae Funds, predominantly) own about two-thirds.
The chances of an average individual investor getting in on the action during Friday's IPO appears slim but not impossible. There are 13 investment banks already signed on as underwriters, everyone from J.P. Morgan, Morgan Stanley, Wells Fargo, Credit Suisse and UBS Investment Bank, and they will get the majority of the public shares, or more than a quarter of Acushnet's common stock. Buying shares of Acushnet Stock is not going to be like picking up Tom Brady in DraftKings. As this article from the Motley Fool investment website explains about IPOs in general.
"If the bankers think a stock will soar, they earmark much of the shares for their favorite institutional clients. … When brokers aren't so confident about the company's prospects, they will try to sell the stock to less-favored institutional clients. Clearly, the rich get richer, while the average investor gets left out.
"If you're able to get your hands on some shares, it probably means that nobody else wants them, and you shouldn't either."