Instruction
Tips From the Best Young Teachers In America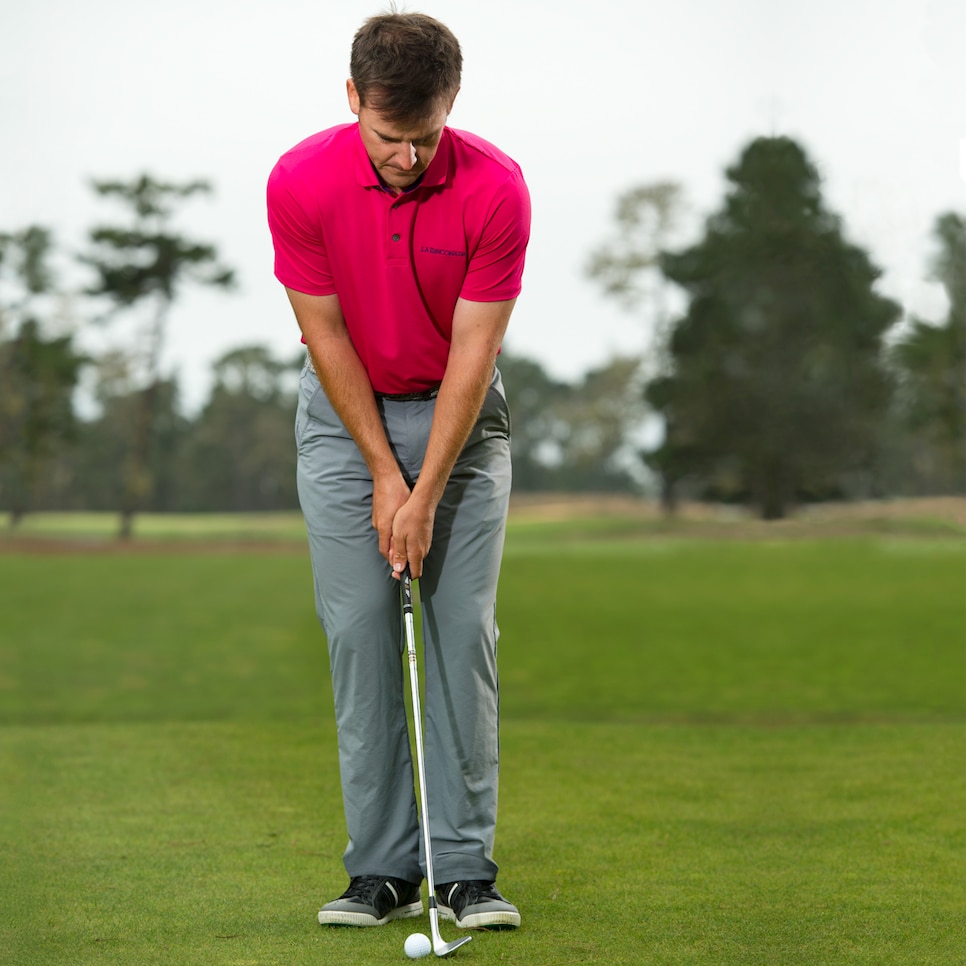 PICTURE HOME PLATE TO CHIP IT GREAT
MATT WILSON / 31
La Rinconada C.C., Los Gatos, Calif.
On short greenside shots, many golfers keep their arms straight, hands forward and wrists locked in an attempt to make good contact. Unfortunately, those things cause tension, which kills touch. Instead, soften your setup. Form a pentagon shape with your shoulders and arms, like the shape of home plate in baseball. Grip lightly, feel the upper part of your lead arm against your side, and put a little bend in your elbows. Can you see the home-plate shape in my arms (above)? To swing, hinge the club and turn your chest back and through. That connection of your lead arm to your side should stay intact, and your shirt buttons should face the target at the finish.
TAKE A STEP INTO BALL-STRIKING GREATNESS
SHAUN WEBB / 38
David Toms 265 Academy, Shreveport, La.
Using the ground and shifting pressure are big topics in golf instruction right now, and they've popularized cool things like the step drill, where you lift your lead foot off the ground to exaggerate the feeling of a good weight shift. It's a great exercise, but if you do it wrong you can actually make your swing worse! Set up in your regular stance, and angle your back leg slightly inward, toward the ball, which will help you turn your hips. This will also prevent you from making a big body shift to the right—the biggest mistake most golfers make. On the backswing, lift your foot and plant it again right away, before you start the downswing (above). If you plant it too late, after the transition, you'll wreck the sequence.
—Webb uses a swing robot and 3-D analysis in his high-tech lessons.
FOR PURE IRONS, KEEP THE BACK FOOT DOWN
JORGE PARADA / 32
Jorge Parada Golf, Jacksonville
If you want to improve accuracy and consistency with your iron shots, take a closer look at the footwork of PGA Tour player Bryson DeChambeau. One thing he does that leads to laser-straight irons is keep his right foot stable during the downswing. I'm demonstrating here the kind of foot action he uses (below). You can't see it, but the right foot, while staying grounded longer, has rolled a little toward the target. This lateral motion allows the right knee to shift slightly in the same direction and helps the hips tilt and slide properly. The correct lower-body sequence creates consistent contact, a more stable clubface at impact and optimal trajectory on iron shots. —Parada works with several tour pros, including four Olympians.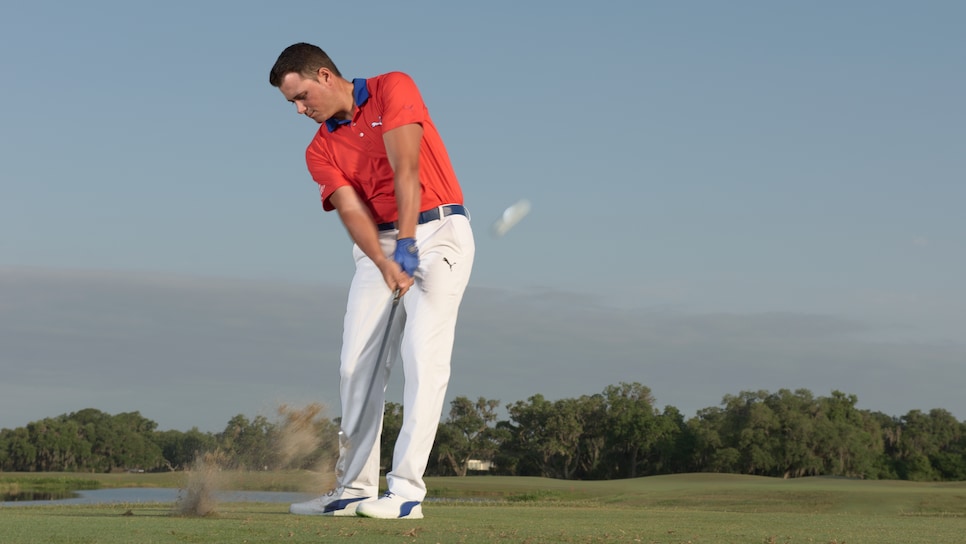 TILT UP TO POUR ON THE POWER
CARLOS BROWN / 36
Carlos Brown Golf Academy at Waterview G.C., Rowlett, Texas
To hit longer drives, try to launch the ball higher and with less spin. The best way to do that is to swing into impact with your shoulders angled upward, your front shoulder higher (below). This helps you hit up on the ball to maximize carry and reduce spin­. (Backspin is good, but too much robs you of distance and cause slices and hooks.) Most golfers hit down with their drivers because they make a violent upper-body move from the top. That gets the right shoulder high on the downswing. A better move is to let the body unwind from the ground up. Shift your legs toward the target, and feel like someone is holding your right shoulder back and in. You'll hit up on the ball and release some serious power.
—Brown operates a golf academy in Rowlett, Texas.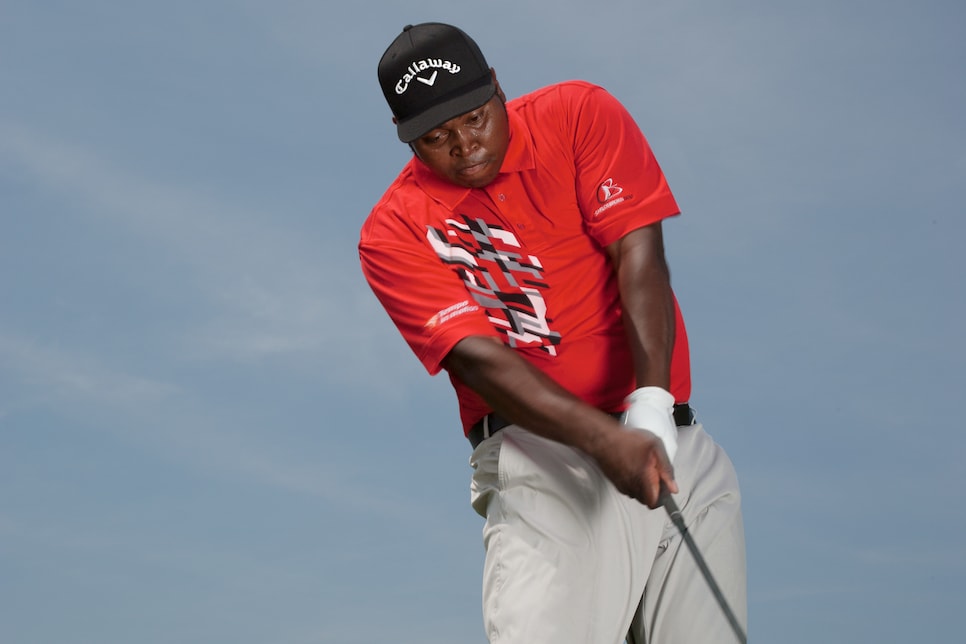 HOW TO GRADE YOUR FOLLOW-THROUGH
TRILLIUM ROSE / 38
Woodmont C.C., Rockville, Md.
Think of your follow-through as insurance that you've done all the right things at impact. Practicing how the club exits the impact zone will help you hit solid, straight shots. Look at my follow-through here: My torso is leaning toward the point of impact, and my right shoulder is noticeably lower than the left, which means I've maintained my spine angle (below). That's the key to catching the ball flush. Next, notice my arms. While remaining fully extended, my right arm has rotated over my left. The extension means there was no collapse of the arms through impact—a sure sign of poor contact—and the rotation means the club was squaring to my target at impact for a straight shot or a draw.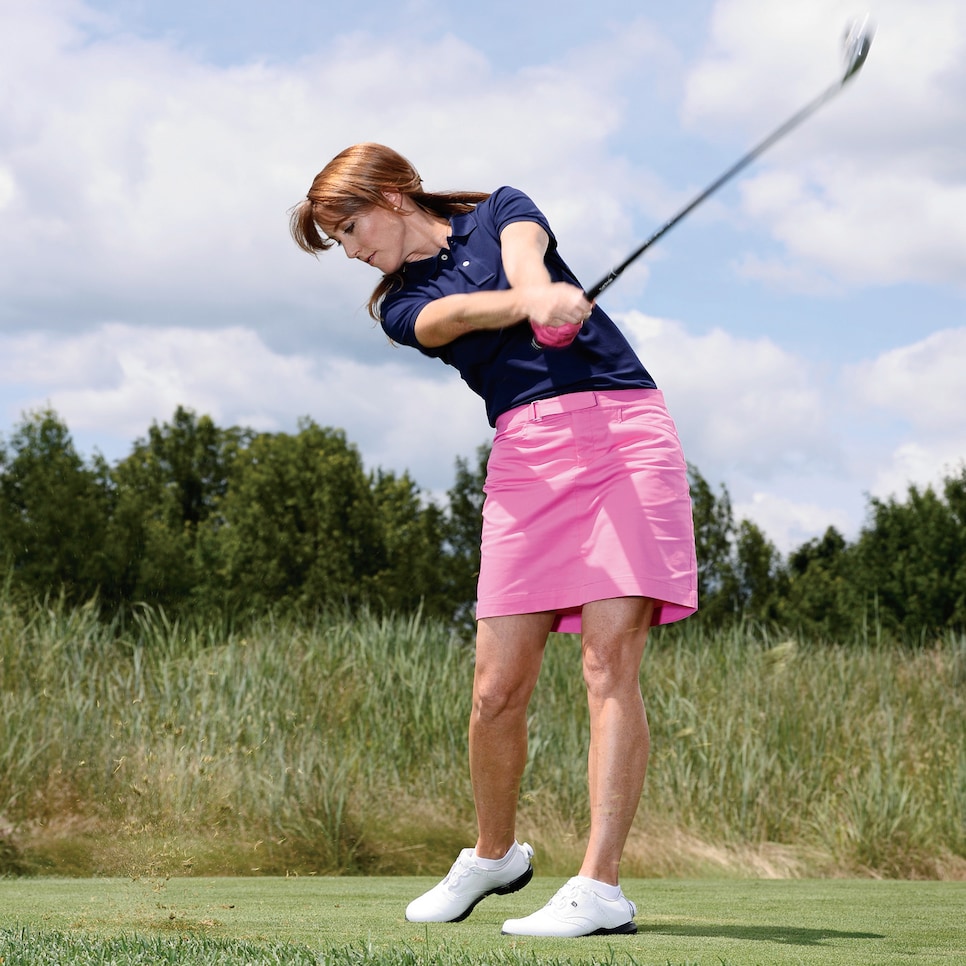 —Rose has a Master's in motor learning and control from Columbia.
STAY AGGRESSIVE ON A HALF-WEDGE
BRANDON STOOKSBURY / 36
Idle Hour C.C., Macon, Ga.
When you have to hit a wedge less than its full distance, don't try to finesse it. If you swing easier or use hand action to try to take some power off, you turn it into a guessing game. You'll be more consistent if you stay aggressive and swing the club at normal speed. Notice I'm not holding anything back (below). I've fully shifted my weight forward, rotated my hips, and allowed my arms to extend. To regulate distance, the only adjustment I make is to shorten the radius of my swing (the distance between the clubhead and my chest) in the follow-through. I simply let my arms fold after impact instead of remaining extended. The ball won't fly as far even though I'm swinging at the same speed.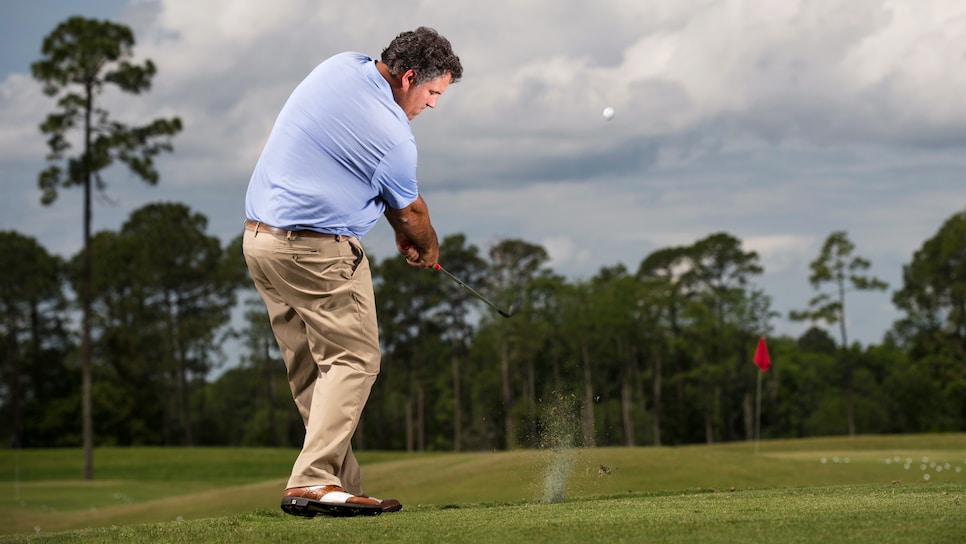 —Stooksbury published The Wedge Book on Amazon last year.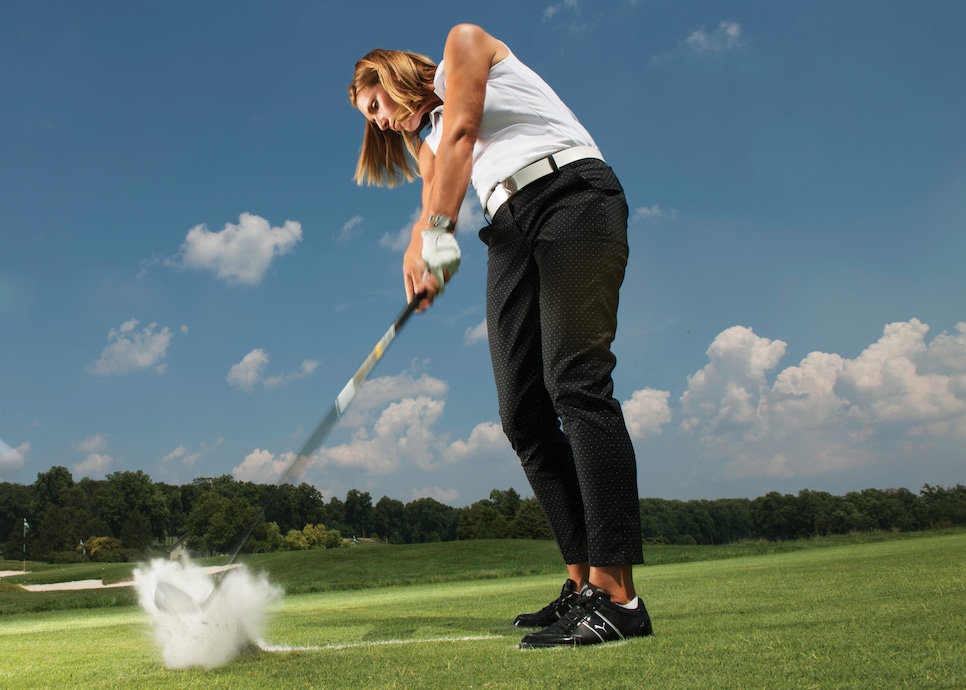 HOW TO POWDER YOUR APPROACH SHOTS
ERIKA LARKIN / 35
The Club at Creighton Farms, Aldie, Va.
Ben Hogan found the secret in the dirt. He might have gotten it faster if he had used baby powder! Hogan knew that great ball-striking comes from hitting the ball, then the ground. But how can you confirm that's happening? Baby powder is easy to use—and easy to see. Pour a small mound of powder just in front of a ball, then grab a short iron. Center the ball in your stance, and hit shots so that you hit the ball and then explode the powder (above). If you're hitting the ground first, you won't see that puff of white. You can use a stripe of powder without the ball and take practice swings making sure to get the low point of your swing in the same point time after time.
—Larkin is No. 1 on Golf Digest's Best teachers In Virginia.
MAKING THE BALL CHECK UP
CHRIS COMO / 39
Gleneagles C.C., Plano, Texas
Alot of average golfers don't understand what makes a pitch shot or a short iron spin when it hits the green. Smashing down on the ball and making a big divot or "trapping it" by pushing your hands way forward through impact isn't what imparts backspin on the ball. Both spin and the ability to regulate distance come by controlling the bottom of your swing arc and making clean contact with the ball. Monitor how you're doing by using your shirt buttons as guides. Keep them (and your chest) centered over the ball while turning your body back and through. With a consistent low point and solid, ball-first contact, you'll produce all the backspin you need. You'll also probably see that the trajectory of the shot is a better way to control distance.
—Como works with Tiger Woods and several other tour players.
WIND UP LIKE A TOUR PRO
NICK CLEARWATER / 38
GolfTEC Enterprises, Centennial, Colo.
The more that golfers turn their hips and shoulders in the backswing, the lower their handicaps. That statement comes from a study of 20,000 swings we did at GolfTEC. PGA Tour pros turn their shoulders an average of 53 degrees by the time the club is parallel to the ground in the backswing. Most amateurs have made very little turn at that point, which often leads to an out-to-in swing—and a slice. To get more turn, take your setup, but before you swing, close your hips and shoulders to the target without moving your feet. On the backswing, straighten your back leg, which makes it easier to turn. Now watch your handicap drop.
—Clearwater is responsible for teaching the teachers at GolfTEC.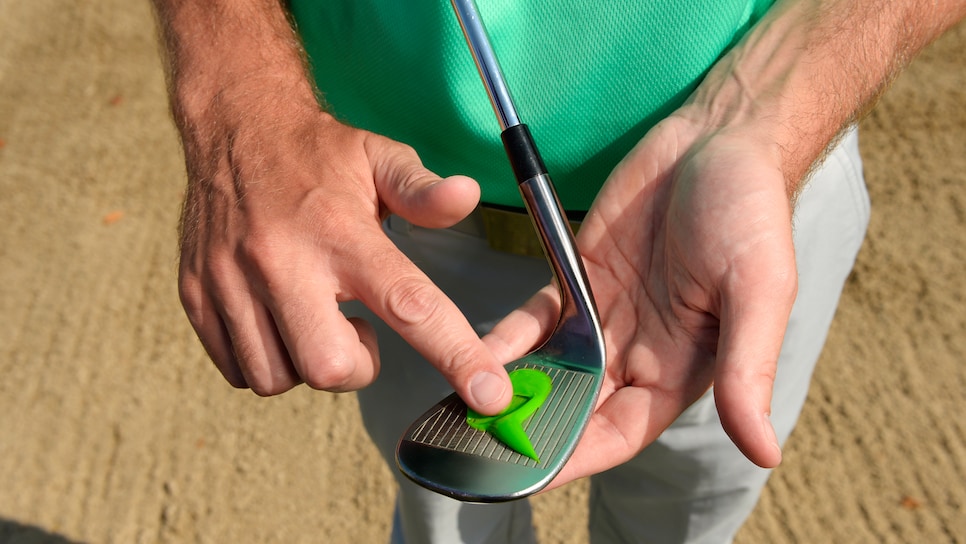 FACING UP TO BUNKER SHOTS
JAMES KINNEY / 38
GolfTEC Omaha
Knowing the mechanics of a bunker swing is important, but it's even more important to know how the club works through the sand. If you understand what the bounce on the bottom of the wedge should do, you'll intuitively make swings that skim more and dig less. There's a simple connection between the bounce and the face: When you can see the face, the bounce is doing what it should do. My favorite way to reinforce this is to smear washable finger paint on the face of a wedge (above). Set up with your hands slightly back at address and the face open—so you can see the paint—and make swings so that you can still see the paint at the finish. If you're digging too deep, the paint will get wiped off.
—Kinney is No. 2 on Golf Digest's Best Teachers In Nebraska.
WE ASKED THE BEST YOUNG TEACHERS ...
Q: What one club would you pick to help the average golfer improve, and why? A: Sand wedge. It's the easiest club for teaching swing concepts, like how ball position affects clubface loft, that translate to the rest of the game. —Alana Swain
A: Driver. Stats prove it's the most important club. —Jason Birnbaum
A: Putter. Most average players don't know why a putt doesn't go in. Was it a misread? Bad speed? —Brenndan Cooper
A: 8-iron. It's versatile, easy to hit half-shots as well as chips and pitches, and it's ideal for making swing changes. —Matt McLean
A: Hybrid. The one club with uses from tee to green. —Renee Trudeau
Q: What's the most common strategy mistake average golfers make?
A: Using only one club for all greenside shots. —Nick Helwig
A: Making an aggressive club choice, then a conservative swing. They need to do the opposite. —Tim Yelverton
A: Tee-box alignment. Not aiming away from trouble. —Brian Schorsten
A: Choosing the hero shot way too often. —Corey Lundberg
A: Not playing par 5s and par 3s correctly. They should attack the par 5s and just play for the middle of the green on the 3s. —Ben Pellicani
A: Thinking there's a quick fix. Golf is a development sport. A quick fix is a Band-Aid—eventually it will fall off. —Eujone Kim