Tim Finchem's Exit Interview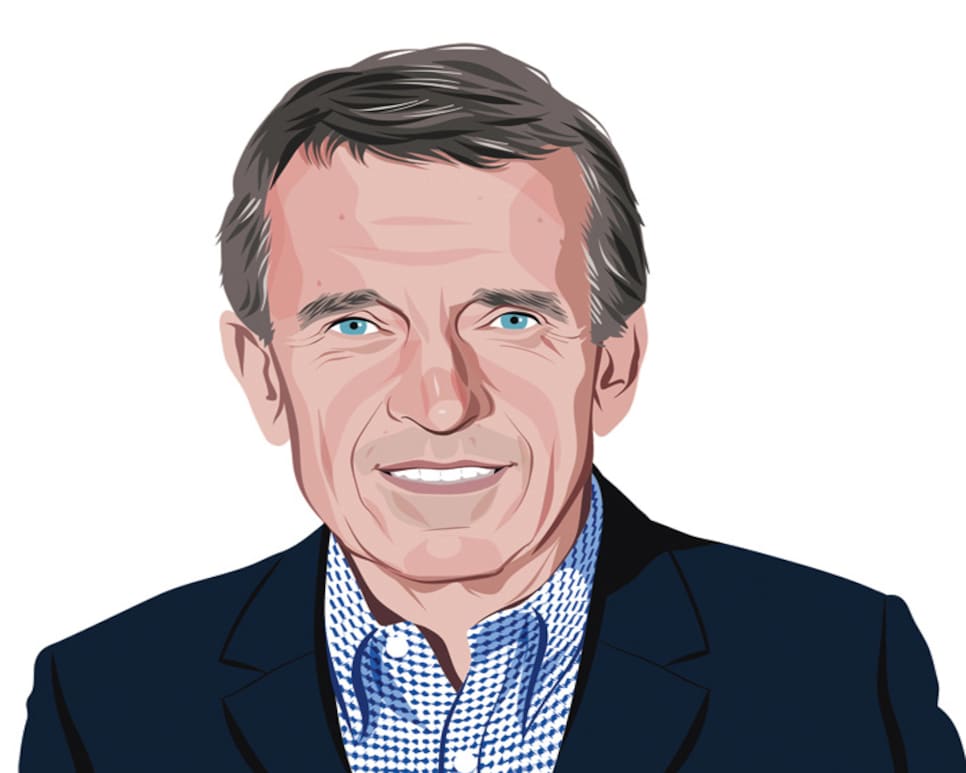 Illustration by Ben Kirchner
As editor I've been fortunate to work with the three commissioners who ran the PGA Tour since its founding. I edited a rules column written by Joseph C. Dey Jr. after his tenure (1969-'74); he had the imperious bearing of a medieval archbishop. It was once said in our pages, Dey kept a copy of the New Testament in his right breast pocket and The Rules of Golf in his left—"he helped write one of them."
I then enjoyed a tumultuous relationship covering Deane Beman, the tour's greatest commissioner but an intense dictator (1974-'94). The commissioner I've come to admire best is Tim Finchem, 69, whose 22-year reign as the most powerful man in golf will end when Jay Monahan takes over in January.
My first recollection of Finchem was when we published Part One of a series on the tour's business operations that was scorchingly critical. Beman dispatched his then-deputy commissioner to fly to our offices in Connecticut and pound on the table with his shoe, which I recall Finchem doing with perfervid outrage. We were so chastened that we quickly published the next two installments. When Beman retired, Finchem ascended.
A master politician who once worked in Jimmy Carter's White House, Tim acted like the shoe episode never happened. His dry humor and business skills gained him increasing respect. We played many rounds of golf together. I remember him making 2s in successive rounds at Pine Valley's infamous fifth hole.
I never thought anyone could sustain the tour's trajectory of prize money, but Finchem out-Bemaned Beman. Finchem's greatest achievement came in 2007 and 2008, at the depth of the financial crisis, when he never blinked, slyly tapping into his reserve funds and keeping the purses growing until the economy kicked in and the tour roared back.
Known for his long-winded answers, he's a formidable subject in a Q&A. So I brought a chess clock and set the ground rules for our interview on Nov. 1, a week before the policy board's vote to confirm Monahan. Finchem had only one minute to answer each question. Again, he never blinked.
What would surprise the average golfer about the job as commissioner?
You don't play golf very much. We always counsel people that we hire: Do not expect your handicap to go down when you work for us. We all travel a great deal, and you really can't take the clubs because if you add an extra half-day to play, it becomes untenable.
What do you think was your No. 1 accomplishment in the job?
Developing a solid working relationship between our executive staff and the players. And making good choices [in hiring] people. When you get bright, creative people who come up with good ideas, and good managers who can execute them, you're going to be successful.
Your compensation has been a matter of public record and comment. [The tour's 2015 tax return as a nonprofit shows Finchem's total compensation as $5,655,352.] Were you underpaid or overpaid? Pick one.
[Laughs.] I think I've been fairly paid.
That's not one of the choices. If you were to compare me with other sports commissioners, you'd say it's low. I think as a company you should try to get the best talent you can, spending as little as you can to do it. And I think our board has kept my position and our other senior-management positions in a 50-60 percent of total cash comp compared to the marketplace. So I think that's reasonable.
"It's so much fun doing this job with these people that you just want to work all the time."
One of the things I admire most about you is your thick skin. In Hebrew they say gam zeh ya'avor—this too shall pass. But you're Irish?
As the years go by, you sort of take the longer view. I love Ty Votaw when he comes in with some story that's sticking the needle to us. I say, "Ty, A, not many people are reading that garbage, and, B, if they do, they're going to forget about it in 24 hours. So don't let it bother you."
American president you most admire? You've known a few.
Probably George Bush, No. 41. He was great to play golf with, and be around. He's an absolutely true gentleman, and very funny. Two good qualities, I think, in any leader.
What qualities in Jay made you endorse him as your successor?
It's kind of a long list. His skill set, his background, his knowledge of sports from the bottom up, is much superior to what I enjoyed when Deane made me deputy commissioner. Jay's tough, but in a very nice way. And he's a good manager because he always keeps everybody looking down the road. I think he gives off a sense of confidence to people, which is important. I think he's 10 percent more Irish than I am, but substantially more likable. If you talk about public speaking, I have a bit of an advantage over him because I've been doing it longer. But he has a huge advantage over me because he really connects with people. He has this ability to say things that draw you in, in a meaningful way. If I tell a story, I give the overview. If he tells a story, he takes you there into the minutiae of what happens, and you really live through the moments of the story. He has no ego whatsoever. None. So if you add it all up, he's pretty strong.
What's the biggest difference between the job you inherited from Deane Beman and the one you're passing on to Monahan?
More resources, which allows you to have a bigger and higher quality staff. Not that Deane had a bad one; it's just that his resources were limited.
How would you rate yourself as a negotiator?
Fair, I'd say. I have one significant flaw. In big negotiations, I have a tendency to drive it from my perspective. As opposed to, as I normally do in other areas, push toward sort of a consensus. You don't need to control it. You need to help grow it and reach out for more input. I think that held me back from being better than I was.
As a teen, you once got into a fight during a basketball game. Ever been tempted since?
No. I shouldn't have gotten into that one. I don't look for fisticuffs. That's not my thing. Probably because growing up, I was usually the smallest kid in the classroom, so fighting was not a smart thing to do given my physique.
Describe your golf game. GHIN.com says you're a 6.5 at Pablo Creek in Jacksonville and Cypress Point.
My game is inconsistent. Every three or four years I have a couple of really good rounds for me that keep my enthusiasm going. I really like to practice these days. I was at Burning Tree last week for about four hours, just chipping and putting and hitting balls. I don't know what else you can do better than that to clear your head. I probably played 20 rounds this year, all in.
So what's your day going to be like when you retire?
I'm going to try to take two half-days a week to do intensive work on my game by myself, really practice. And play at least three rounds a week. Get into an actual rhythm. [Finchem later said he will remain active as chairman of The First Tee and launch a capital campaign in 2018 for the effort he co-founded to introduce golf to young people and teach the game's core values.]
We know you're a fan of the Rolling Stones. Ever play their music, or anyone else's, during a round of golf?
No, but I've hit balls indoors listening to piano music. And I kind of like that. I might try that with ear buds.
As a newspaper carrier, you once delivered your route during a hurricane. What's the worst weather you've ever played golf in?
St. Andrews, about five years ago, on the Old Course. When we got way at the back, on the 12th or 13th holes, a lightning storm came up. I didn't know they had lightning in Scotland. It was so bad that we huddled down, got in those little hollows, and curled up and prayed. That's how bad it was.
We know you have a great—some might say, long-suffering—wife in Holly, but we don't know much about your four kids. What about them are you proudest of?
That they seemed to buy into my travel schedule from an early age. [Laughs.] I'm just proud of them. Three daughters, one son. They've matured and are coming along. They're just loving kids.
You mentioned at Arnold's memorial service that you hit 18 balls in his honor. What about Arnie moved you?
When I was a kid, just watching him play Augusta, the way he moved around the course, the way he handled himself. But the first time I went to Latrobe stands out in my mind. He invited me up there to play golf 17 or 18 years ago. I mean, I'm at Latrobe, this is Arnold Palmer, and he's making [a big deal] over me. It just didn't feel right. And such a down-to-earth good guy. But the other side of it is, in my tenure, he became sort of a confidant. Somebody I could bounce things off of.
He wouldn't be a guy who would, you know, write the book for you, but he had great instincts. So I came to love that about him, and he was very helpful to me. And then his sense of humor was amazing.
Among current players, who best personifies what we admired so much in Arnie?
If you had to write down Arnold's qualities, a fair number of players you could argue have everything on the list. Not as famous maybe, not as successful, but technically have a lot of those qualities. The younger players coming up today really pay attention to those things, more than 10, 15 years ago. People say, "I love Jordan Spieth." And there are other players like that. But Arnold had this other thing going on. I don't know how you articulate what it was. And I don't know if anybody will ever have that thing again.
Favorite tour wife not your own? And you can't pick Barbara Nicklaus.
I get along with tour wives really well. Lisa Cink would have to be right up there. Amy Mickelson is a delight.
Which single event during your tenure had the most impact on the tour's level of exposure?
Tiger Woods becoming a dominant player. For me, as a fan, when he lapped the field at Pebble Beach [in the 2000 U.S. Open] by 15 shots or whatever, he had cemented the fact that he was in the best two or three players of all time. I actually walked with him on the final round. If you go back and watch it, he might have hit one shot that day that wasn't pretty much exactly where he wanted to hit it. Every shot was underneath the hole, eight, 10 feet away. So I thought that was the exclamation point: OK, this guy's great, and that's going to last a long time.
Who's the greatest golfer of all time—Nicklaus or Tiger?
To me, I give Tiger the edge a little bit because of the strength of the competition today. I think it's so much greater, then you add to that his margins of victory, and 79 wins is 79 wins.
Yeah, but he never had Trevino and Watson and Palmer to beat. I mean the strength, maybe in numbers, but not in the individuals he competed against.
That's true. And Jack's consistency always blew me away with the times he was first, second or third in the majors—it was incredible. His consistency and ease with which he played the game was totally different than Tiger's. I actually think Jack is one of the best television commentators ever. I mean, if you close your eyes and hear that voice talking—he's terrific.
What would be the harm of fines/suspensions being made public? Why is your organization different from the NFL the NBA and MLB?
You have to consider two things. One is the level of the action or violation. And the other is to your point, what's the harm? If a player broke out into a fistfight with somebody or if a player had a significant domestic-abuse situation, or a player is in a bar with a gun, the public has a right to know our reaction. But if a player says a bad word in front of 30 kids, we don't like that, but we don't think we need to tell everybody, because we want people to view our players as role models. Thankfully we don't have much of the former. But if we started to get some of it, and we've had our issues, then we've got to step up and tell the story. We like our policy the way it is.
Favorite course to play every day for the rest of your life?
Pablo Creek, Burning Tree, Cypress Point.
Tell us something we still don't know about Tim Finchem.
I voted Republican twice for president.
What rule of golf would you like to see changed?
Out-of-bounds is a little goofy. People don't follow that rule anyway. If there's a lake on the right side of the fairway, and I hit in the lake, I can drop it with a one-stroke penalty. If it's a fence that marks out-of-bounds, I have to go back to the tee, which is essentially a two-stroke penalty. What's the logic in that? And then the other, from the tour's perspective: When the ball is on the green, there shouldn't be a penalty if it moves, period. You just replace it and you putt it. Unless you intentionally moved it.
You're standing on the last tee of the Masters, last pairing, with a two-shot lead. Walk me through the finish.
I hit my drive on the left side. It creeps into the rough short of the bunker because I can't reach the bunker. And then I look at it and think hard. There's no wind. I take a rescue club and try to get it 75 yards short of the green. And I succeed. And then I get a little nervous.
Don't tell me you chunk the wedge?
No, I hit a good wedge, but I overcook it a little—blade it a touch—take it to the back of the green. It's a Sunday pin, so now I've got to two-putt. I run it about 10 feet past. I miss the putt coming back, but the good news is, I'm in a playoff.
If you left a letter on your desk for the next commissioner, what would it say?
It would be a struggle to determine whether I should give just general encouragement or give directives on how to do the job. The latter would be inappropriate, and the former is probably unnecessary. I would tell Jay that he's got all the tools; he's gonna do great. But keep in balance everything from a time standpoint, because it's so much fun doing this job with these people that you just want to work all the time. Jay is more balanced than I was. He works really hard on his family stuff, so he doesn't need me to tell him that.
Besides free private aviation, what will you miss the most?
Working with these people here. Going to the meetings. Dreaming stuff up. Trying to make it happen. Setting a vision for the next year or two. Driving it. You know, I'll miss the players. The players have been great. Yeah, I will miss it.