The Loop
Tiger's version of coming up big is making another cut
DUBLIN, Ohio - Tiger Woods said it best, which, given his recalcitrant reticence throughout his storied career, is rather significant news itself. For the second straight event, Woods converted a clutch putt on the 36th hole on Friday to make the cut on the number. This time, it was a 6-footer for par at the difficult par-4 18th at Muirfield Village GC, which allowed him to run his unblemished streak to 15 weekend appearances in the Memorial Tournament. And now the money quote:
"I just need to put myself in position where those putts are to win tournaments, not make cuts," a noticeably exhausted Woods said after the workmanlike, scrambling par capped a 2-under-par 70.
Five-time winner of the Memorial and the career scoring leader at Muirfield Village, Woods bogeyed two of his last three holes, but his par save at the last salvaged a 1-under 143, 11 strokes behind leader David Lingmerth.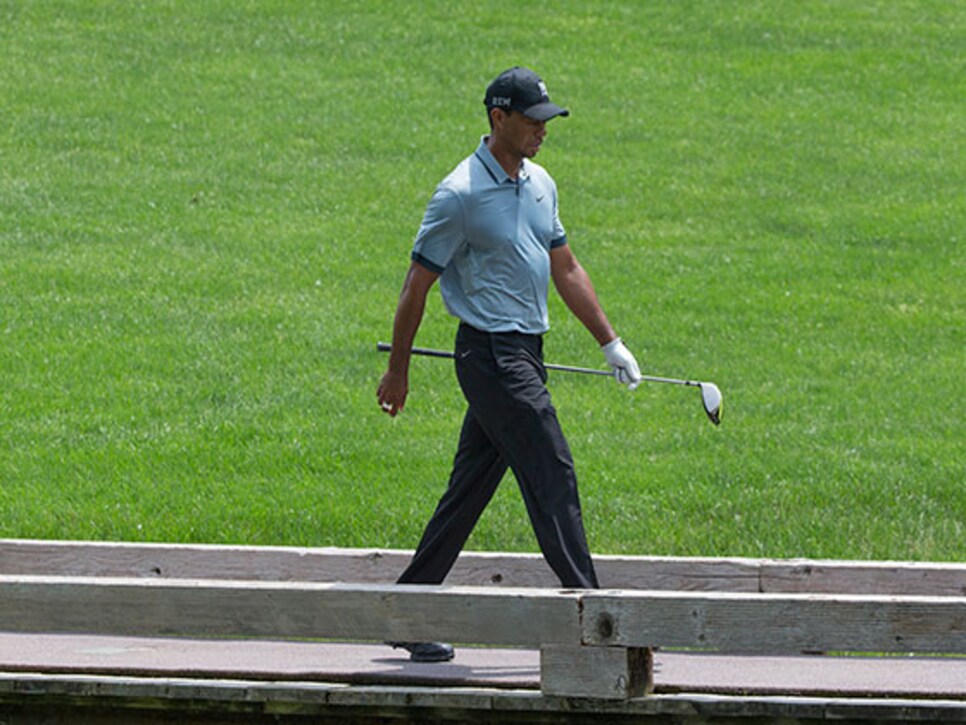 In his previous start at the Players, Woods converted a birdie putt of 9 feet to make the cut on the number. He delivered an emotional fist pump after that stroke found the cup. This time, tired and tense after another day of poor driving, he simply picked the ball out of the hole and sighed slightly. He improved off the tee Friday by finding five fairways, one more than the previous day, but his driving is still a significant liability, and it nearly sent him home early in his fifth start of the year. The poor tee placements limited his scoring opportunities; he hit just eight greens in regulation (17 total for two days). Woods ranks last in both fairways hit and greens hit among those making the cut. Twenty-four putts bailed him out. He's taken 51 official whacks with the flatstick through two rounds. "For some reason, I feel like I'm releasing the club and my sand wedge and my putter, and everything is starting to release the same way. So it's a familiar feeling," Woods said with a tired smile. "I'm getting over it and feeling pretty good about it." Contrarily, his strokes off the tee might soon give him one. He worked assiduously on his driver Thursday afternoon following a frustrating 73, and he left the range satisfied that progress was made. It was a false hope. "I was very happy, and had a great warm-up this morning," he said of his practice sessions. "Basically, I hit my irons good all day. I just didn't drive it very good. Something I need to work on. "We're making progress," he insisted. "Progress, however slow, is still progress, and I'm creeping up on it. But I need to put a few more pieces together to really, really get going." Woods begins his third round at 8:28 a.m. Saturday with Zac Blair. Chances are, more harrowing golf is in order because he's intent on taking more steps backwards if it means jumping ahead eventually. "That's the pattern. I can revert back and do what I used to do, no problem, and get it in play. But the problem is then it brings in the old pattern, so what's the point of going forward?" he said. "That's the whole idea of going forward, you've got to be able to do it on the golf course, even if it's bad. Get it out there, feel it, see what it feels like and then we make the adjustments and then we go forward from there."