The Loop
Tiger's tweet creates more buzz than press conference
How do you know it's a slow news day in golf? When the sport's biggest star holds a press conference and the biggest buzz is generated by something he said nearly an hour before it started.
At 10:25 a.m. EDT, Tiger Woods tweeted from his Twitter handle (@TigerWoods): "Almost press conference time. I'll donate $1M to @TWFoundation if no one asks me about the leg."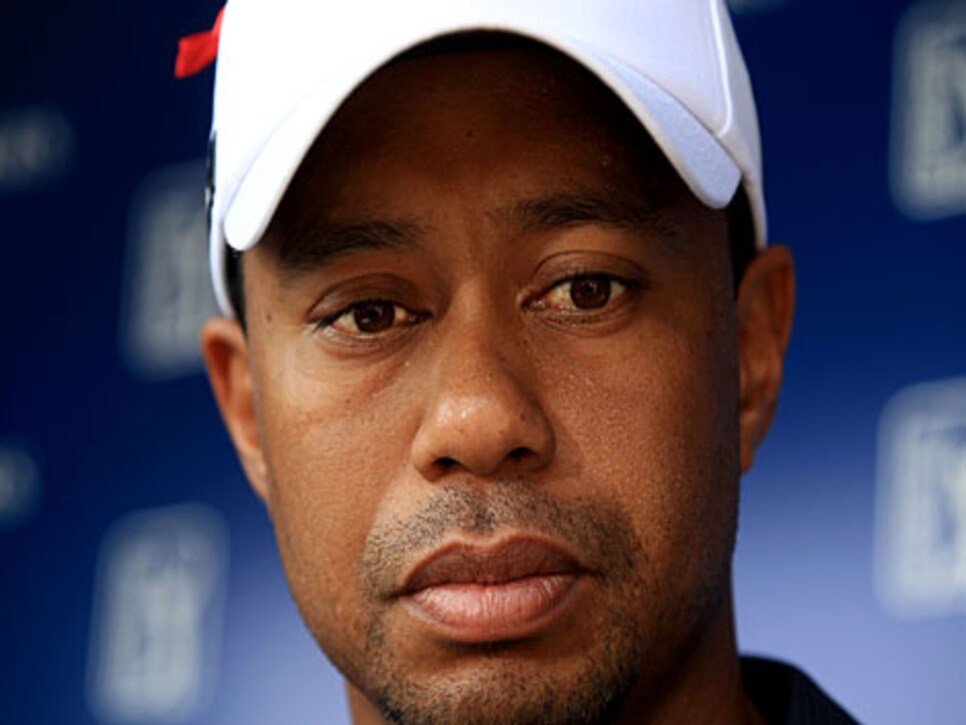 If the 14-time major champion was trying to bribe the assembled journalists at Aronimink Golf Club on media day for the upcoming AT&T National, it didn't work. The first question was a vague one about Woods' health and a flurry of more specific knee-related inquiries soon followed.
So what did we learn from the Q-and-A session?
Well, not much. Woods' left knee is still an issue, as is his Achilles tendon and calf on the same leg. He said doctors haven't mentioned surgery and that he has been resting and wearing a protective boot to try to get ready for next month's U.S. Open. He had previously indicated on Twitter that he expected to play at Congressional.
"I've had four surgeries on it," Woods said about his knee. "Obviously, it's not what it was when I was little."
Questions about Woods' health have been swirling since he took time off following a T-4 at the Masters and then returned at the Players only to have to withdraw after an ugly nine holes. It doesn't appear he'll play in next week's Memorial, a tournament he's won four times, though he didn't officially rule it out. Woods has until Friday at 5 p.m. to make the decision and said he will call tournament host Jack Nicklaus to tell him of his plans either way.
"I feel that in the next week or so, I can start getting back toward that and start practicing pain free," he said. "That's where I'm at."
As for the tweet that stirred up so much interest, Woods addressed it on Twitter shortly after he left the podium: "Bet was over after first question but of course I'm going to give the money to the @TWFoundation."
What are your thoughts on Tiger's health, his U.S. Open prospects and his tweets from today? Not much may have happened in the way of news, but at least the Tiger Woods Foundation had a productive day.*
Follow on Twitter: [@AlexMyers3
](http://twitter.com/AlexMyers3)
(Photo: Streeter Lecka/Getty Images)