The Loop
Tiger's summer schedule will remain the same after disastrous U.S. Open
UNIVERSITY PLACE, Wash. -- A 80-76 train wreck on Thursday and Friday at Chambers Bay has relegated Tiger Woods to another missed cut. It's the latest in a series of poor results strung out over what has been his worst season to date -- in 16 competitive rounds starting at the Waste Management Open in Phoenix, he has broken 70 just twice, while posting three rounds of 80 or worse. He managed a single top 20 (at Augusta National), but has otherwise limped along, either missing the cut or blowing up on the weekend. His future has never been more uncertain, and as the weeks go on and his game deteriorates, speculation grows about his place in the current game.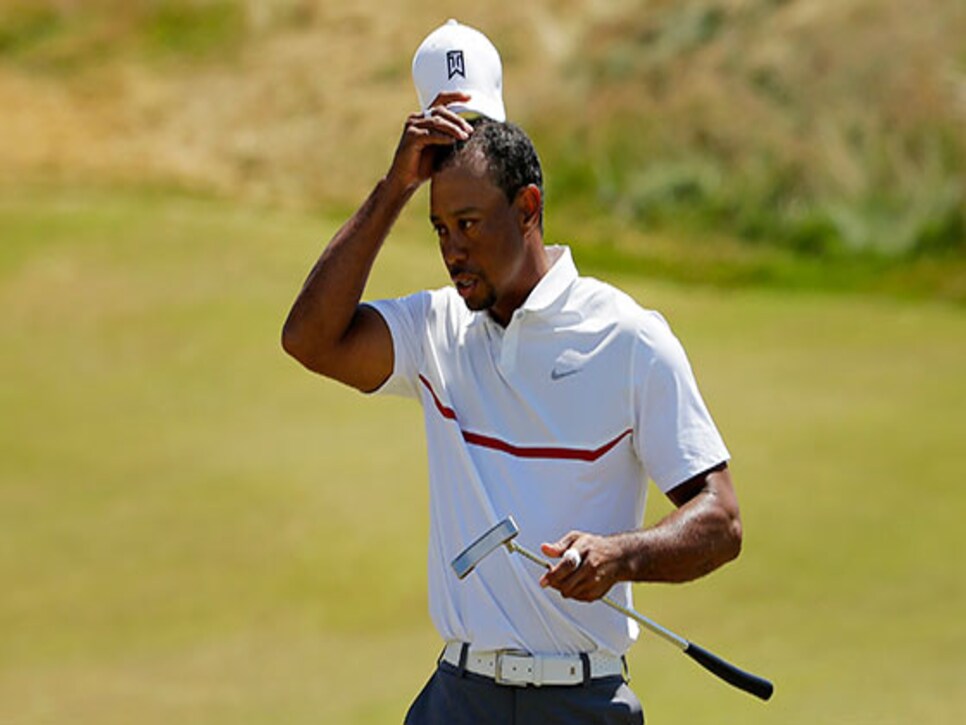 That speculation about his summer, at least, can stop for a while. Following his round, Woods told reporters that his schedule would remain the same despite his poor play at Chambers Bay. He'll still be in the field at the Greenbrier, the British Open and the Quicken Loans National (the tournament that Tiger hosts). It's a schedule that puts him on the course every other week through August, at which point he'll likely be focused on the PGA Championship, since he's far below the threshold for gaining entry to the WGC-Bridgestone and well outside the top 125 on the FedEx Cup points list to get into the season ending playoffs..
In the moments after his 76, Woods looked surprisingly relaxed. If he held on to any frustration from his second straight high round at Chambers, he didn't let it show. In a strange way, it almost looks like the poor results don't bother him in the same manner they would have in his competitive heyday. And while this is probably good for his mental health, you have to wonder if he's become at least a little complacent as his game diminishes.
"On a golf course like this, you get exposed," Woods said. "You have to be precise and dialed in. And obviously I didn't have that. Obviously I need to get a little better for the British Open."
Aside from those bland statements, Woods didn't offer much to reporters who wondered about his future. In certain questions with long-term implications, he would only refer to a generic need for improvement:
"Just continue practicing, continue working on it. And hopefully it will be a little bit better."
It was a half-hearted deflection, and anyone listening -- including Tiger himself -- understood that his problems go far deeper than a mere lack of practice. The greatest player of a generation is reeling, and it looks very much like he's lost all ability to stop the spiral.