The Loop
Tiger's Return, Our Coverage
I was telling someone the other day that Tiger's return reminded me of the line from P.G. Wodehouse: "It was morning all nature shouted Fore!" But it was also a morning, based on our coverage and the networks' that a whole bunch of you shouted, "Foul!"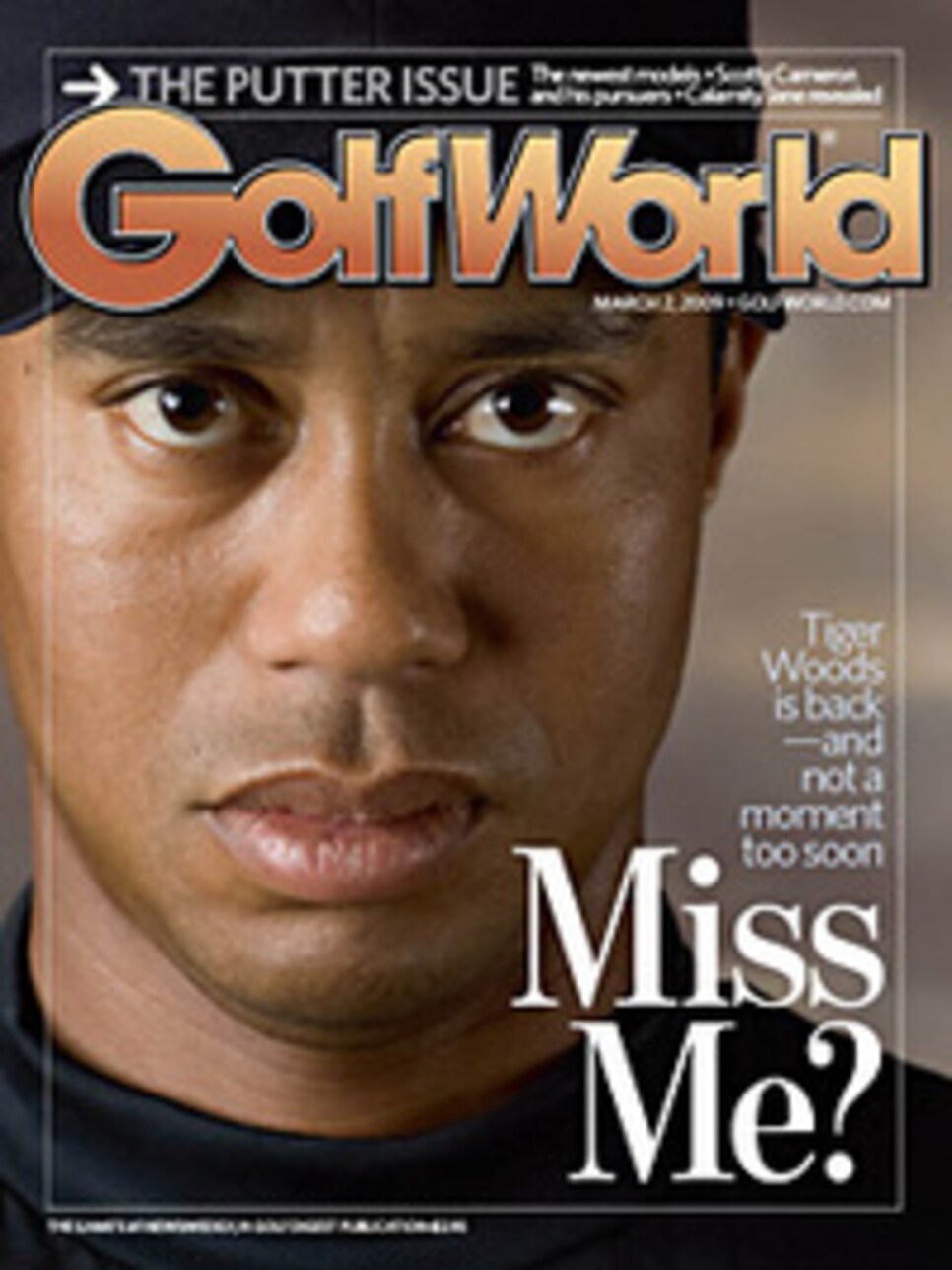 I'll bet that if the major TV networks, including and especially Golf Channel, discovered film of the 1956 match, Ben Hogan and Byron Nelson against Ken Venturi and Harvie Ward at Cypress Point, which forms the basis of Mark Frost's terrific book, "The Match", they would find a way to include footage of Tiger Woods. I enjoy watching Tiger play in tournaments, but when he's not playing for whatever reason,  the networks should focus on those who are, in fact, competing. Remember:  "(All of) these guys are good!" When Tiger's game and his playing schedule get up to full speed, we'll see a lot of him, for sure.  >
We all know that Tiger is the best golfer in the world; he has been for some time and probably will be for some time now that he has returned. Furthermore, we know that he is arguably one of best ever along with Mr. Jones, Mr. Palmer and Mr. Nickalus.>
However, what I don't understand is why Golf World has a picture of Tiger on the cover of their March 2, 2009 issue, an issue covering a week in which he did not compete? Phil is the third-ranked golfer in world who just won a tournament (Northern Trust Open) after struggling in the previous two tournaments. Did Phil play well all week?  No.  Did he gut out a win? Yes. When Tiger "guts" out a win, we have Johnny Miller, Golf World and the rest of the media telling us that Tiger's heart is bigger than any other modern player and this is one of the reasons that he is the greatest ever. Yet, when other tour players win in the same manner, the media makes it seem as though they just got lucky. As if Tiger is the only player on Tour who has worked hard and has any heart.  If you make your living play on tour you have worked hard, given-up many family and personal opportunities whether you are Tiger Woods or the lower world ranked players.>
I write this because this not the first time Golf World has done this. I remember a number of years back Brian Gay won his first tournament and, you guessed it, Golf World had Tiger on the cover. Again, the previous week Tiger did not compete. Please be fair and equitable in your cover photos; all the guys who win deserve it.>
What a joy it was to watch golf when Tiger was away. Yes, he is great, but the media and golf announcers' adoration of him is getting really OLD! I guess now we will have to again watch Tiger play instead of the PGA players play. Surprise, there are a LOT of other guys out there.__
Thank you all for your comments. Rest assured you represent many readers who long for new story lines. On the other hand, based on ratings, network news coverage of Tiger's return and NBC's use of Tiger highlights even after he was eliminated, they know this simple arithmetic: If sjclark85 is tired of that coverage, sjclarks 1-84 are just fine with it, thanks.