The Loop
Tiger's 68 hints at better days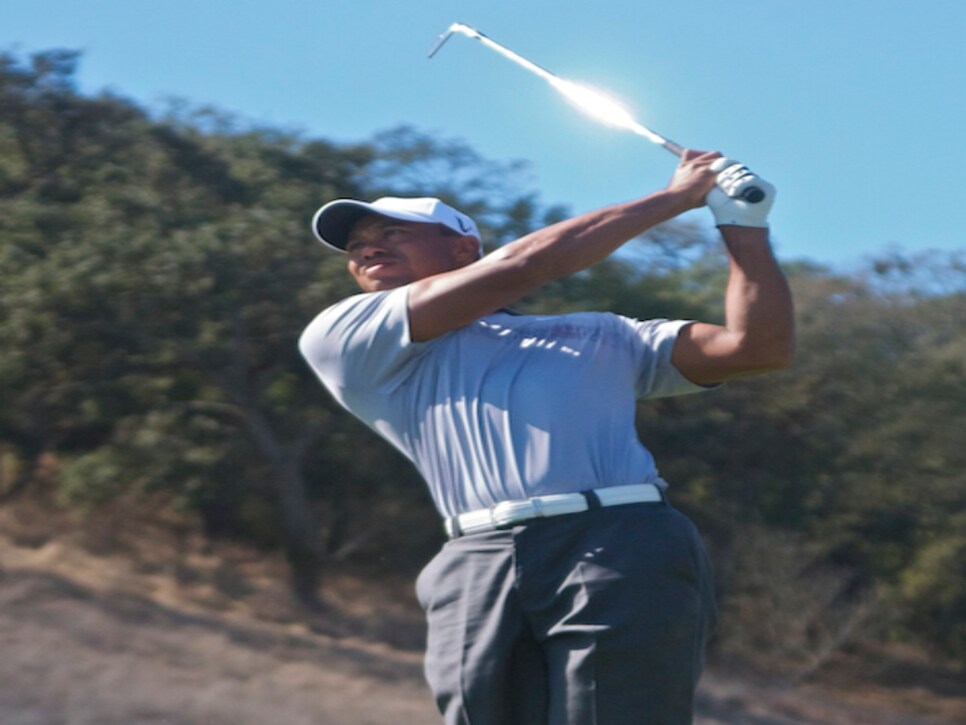 (Photo by Geoff Shackelford)
SAN MARTIN, Calif. -- There were a few hopeful signs for Tiger Woods during Thursday's opening round, and by the time the fog lifted above the Frys.com Open's second day, he appeared a step closer to finding a semblance of his old self.
Teeing off at CordeValle more than two hours later than planned, Woods posted an erratic 68 that included just six fairways hit but an encouraging 14 greens in regulation -- five more than Thursday -- yet he credited improved putting for moving him out of the cut line territory and into the land of respectability.
-- Woods hit six more greens, but more importantly, he hit most of those iron shots crisply and close to the hole, averaging 37 feet from the cup in round one, 30'11 in round two.
-- He said after the round that he "putted better" in part by adding two pieces of lead tape to his putter and finishing with 29 putts. Only one putt got away from him speed-wise (at the par-3 7th, his 16th hole, where he made the comebacker). Woods said his line was excellent all day, only starting one putt offline. He credited a fix in his putting posture to the improved work on the greens.â¿¿
-- Woods said he "battled today" and there was a sense the round could have gotten away from him following back-to-back bogeys at the 18th (his ninth) and first holes.
-- He said his "feels are coming back." What that actually means, only Tiger and linguists know, but it sounds positive.
-- All his missed tee shots went left. There were no ballooned drivers right, just a consistently low left shot that was not hooking. Woods said this was a product of his "old posture" coming back into this setup and is easily fixed.
-- Crowd support. A robust Friday gallery included plenty of awestruck kids getting a jump on the holiday weekend, many Stanford logo clads and consistently supportive fans applauding even the mediocre shots.
-- After a left tee shot at the first hole (his tenth), Woods unleashed his driver in a full tomahawk chop in front of a sizeable crowd. Not his finest moment.
-- For all the consistency of his misses left, many came with a 3-wood he turned to for more tee shots Friday. And worse for his confidence, he averaged just 268.1 yards off the tee and appears a long way from regaining his power advantage.
Most telling about how far Woods has fallen, this was his first made cut since the Masters six months ago. The dreaded "reps" he referred to really may just be the trick now that his misses are getting less ugly and his short game has steadied. Maybe not the stuff of 2000, but oh so much better than the Tiger of the last two years.