The Loop
Tiger Woods Watch: Live updates from Day 2 at the Hero World Challenge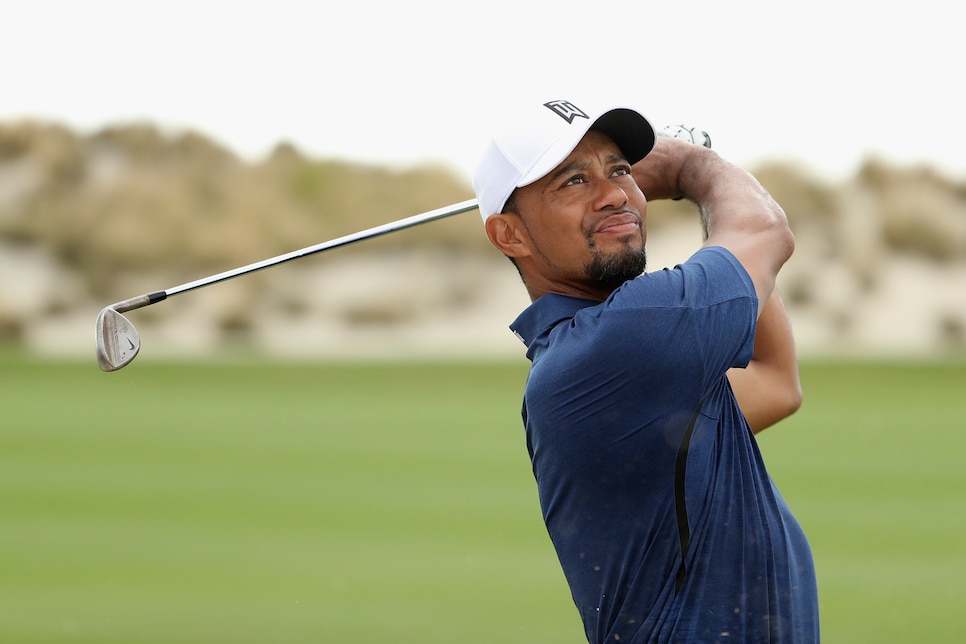 Tiger Woods' opening round of his latest comeback was a reminder of his brilliance (four birdies in his first eight holes!) and his rust (a back-nine 40. . .). Add it all up and a 73 was still a decent outcome for a man who hadn't played a real round of golf in 15 months, and who is testing out new equipment and a slightly altered swing in the wake of two back surgeries. So now that the 14-time major champ has gotten that first round out of the way, we move on to Day 2 at the Hero World Challenge. Woods has an 11:12 a.m. tee time with Justin Rose, the only golfer in the 18-man field who shot a worse first-round score, and he'll be intent on improving from his start -- especially a few of those tee shots that strayed too far left. Once again, we're here to cover his every move with a collection of updates, highlights, and color from our man in the Bahamas, Brian Wacker. Here's the latest from Friday at Albany Golf Club:
Forget about that Woods-Rose pairing. About two hours before the day's first tee time, news broke that the Olympic gold medalist had withdrawn due to. . . a bad back.
Now in addition to all the scrutiny over what Woods shoots, everyone is going to be keeping track of how long it takes him to play a solo round. Talk about pressure.
For a second straight day, Woods shows up on the practice green about 45 minutes before his tee time. And this time. . . WHITE BELT ALERT!
Here was the scene on the first tee:
If Woods was bothered by the unusual situation, he didn't seem to mind on his opening tee shot:
Woods then hit a wedge to five feet and made the putt for an opening birdie. Decent start. You can watch his entire first hole, courtesy of PGA Tour on Facebook Live:
Woods parred his next four holes, including a nifty up-and-down on No. 4. After coming up short with his approach from a funky lie, Woods played a running chip shot (Yes, it was intentional) to three feet and made the putt to stay one under on his round and even for the tournament. And for those of you keeping track, he played the first five holes in a tidy 44 minutes.
On the par-5 sixth, Woods made his second birdie of the day, getting up and down from a waste bunker after a tugged approach with a fairway wood. Woods rolled in a 15-footer to get to two under.
After a par on seven, Woods hit an awful tee shot on 8, the hole he nearly aced on Thursday. But Woods hit a flop shot out of a waste bunker and fed his ball off a slope to about six feet and then made the putt for a fantastic par save. So fantastic that fans turned some of that sand into a collector's item.
More confirmation that this actually happened:
Woods capped his front nine with a birdie on the par-5 ninth, a hole he bogeyed on Thursday. This time, with the hole playing into the wind, Woods hit 3-wood off the tee, laid up, and then stuck his third shot to near kick-in range.
His outgoing 33 matches what he shot in his opening round. Now he'll try to improve on that 40. . .
On No. 10, Woods had a brutal lipout on a 30-footer for birdie. On the par-5 11th, Woods came up just short of the green in two and two-putted for his fourth birdie of the day.
And then on No. 12, Woods nearly aced the 202-yard par 3, hitting his tee shot to within a foot of the hole. Watch:
1:21 p.m.: Is this the year 2000? After his near-ace on No. 12, Woods nearly drives the green on 13 and then gets up and down for another birdie to move to six under on the round. Let's just say, he's feeling it.
Another two-putt birdie on No. 15 took Woods to seven under. Then, on No. 16, it appeared like he would give back at least a shot when his drive took an awful bounce off the edge of the rough and into a bushy waste area. Woods advanced his ball about 50 yards and then did well just to find the putting surface with his third. He couldn't possibly knock in a 25-footer for par, though, could he...?
And now we've seen the first BIG fist pump from Big Cat in this latest comeback.
Woods finished off his bogey-free round with a pair of pars on 17 and 18. That's a 65, folks. Not too shabby.
Here's Woods assessing his round and running through some highlights with Golf Channel after: