The Loop
Tiger Woods tells Stephen Colbert he spent EIGHT hours a day playing video games, and that it took over three months to grow his beard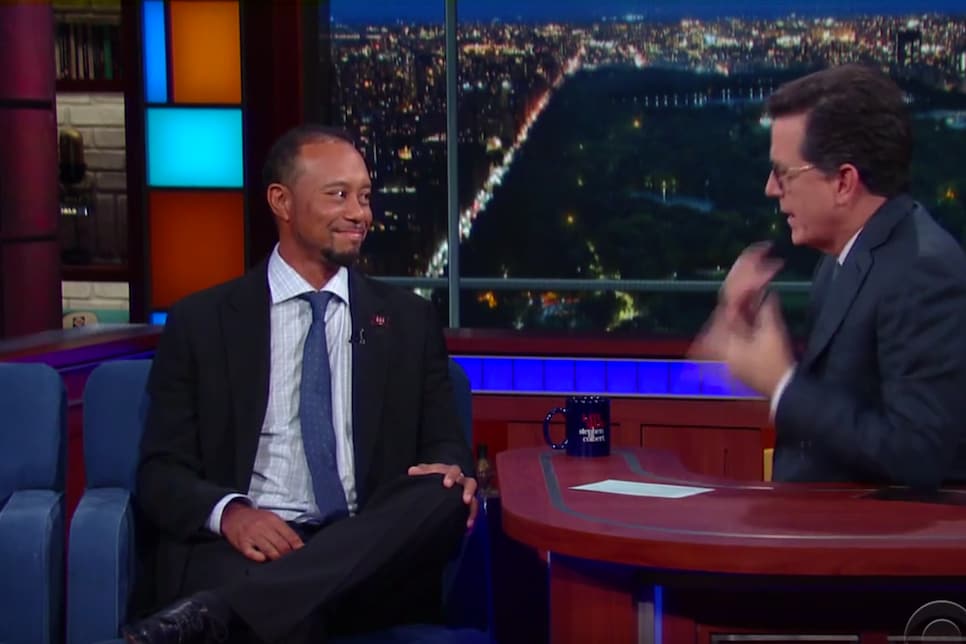 Continuing his mini media tour through New York City to promote the 20th anniversary of his foundation, Tiger Woods appeared on The Late Show with Stephen Colbert on Thursday night. And among the highlights of the interview was Woods admitting he'd been humbled over the past year. At video games.
"I applied my same intensity and my craft, my focus, to Call of Duty," Woods said. "Don't laugh!"
"I would spend eight hours a day, I took a 30-minute lunch break," Woods continued. "I thought I was getting good and then I went online. When 7-year-olds from around the world are beating you. . . humbling."
Check out the clip in which the house band plays "Eye of the Tiger" (nice touch), and Woods also admits it took three-and-a-half months to grow his facial hair:
Colbert said Woods looks "like the evil twin of Tiger Woods." He also asked the 14-time major champ if ex-wife Elin Nordegren is really one of his best friends. When Woods confirmed that's the case, Colbert said, "That's more impressive than being 11-time PGA Tour Player of the Year!"
And of course, they didn't just talk about Woods playing video games. Colbert asked Woods if he'll make his comeback at the Hero World Challenge in December.
"I'll be there playing," Woods said four times.
Sounds great, Tiger, but we're not going to get too excited just yet. We've learned our lesson.