The Loop
Tiger Woods says he won't catch Jack Nicklaus' 18 majors (sort of)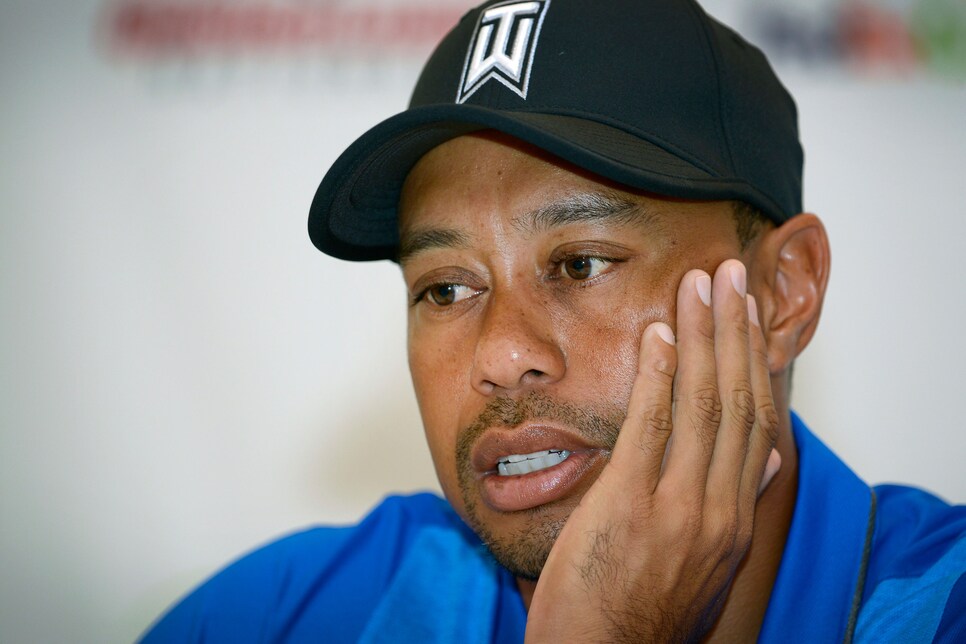 Tiger Woods taped an interview with Charlie Rose on Wednesday that will air on Thursday. If you watch the program, be prepared for a stunning admission from the 14-time major champ: Tiger Woods no longer believes he'll catch Jack Nicklaus' record of 18 majors. Well, sort of. Woods was asked if he'll get 18 majors and he said "No." But then followed up by indicating he believes he'll win more than 18. Of course, technically, you have to get to 18. . . but anyway, it seems Woods hasn't given up chasing this lifetime pursuit.
Rose: Do you believe you'll get 18 majors?
Woods: To be honest with you, no.
Rose: You've accepted that?
Woods: I've accepted I'm going to get more.
Hmm. According to ESPN, Woods was later asked if that meant he'd break Nicklaus' mark, and Woods responded, "Correct."
Woods won the last of his 14 majors at the 2008 U.S. Open. He's battled a series of injuries and a big scandal since, although he was the PGA Tour Player of the Year in 2013. Woods was scheduled to begin his latest comeback from two back surgeries at last week's Safeway Open, but he withdrew three days before it started. Woods announced the launch of a new corporate brand, TGR: Tiger Woods Ventures, on Monday and called it the next step in "Chapter 2."
Woods' answers regarding his major championship pursuit will certainly get the most play from this candid Q&A, but also interesting is when he discusses the regrets in his life, or rather, the regret.
Rose: Some have said to be Tiger Woods was both a gift and a burden. How was it a burden?
Woods: Well, it's a burden in the sense that it -- the amount of obligations that I have at a tournament. The anonymity that was lost that, you know, one -- the -- you know, if you look back, the only regret I have in life is not spending another year at Stanford, and I wish I would've had one more year.
Rose: That's the only regret?
Woods: That's the only regret, I wish I had.
Rose: Of all the things that's happened to you?
Woods: All the things and that's all --
Woods: All the things I've been through are tough, yes. They've been tough, but they've been great for me, but I wish I would've gone one more year at Stanford.
Woods certainly didn't seem to regret the interview with Rose. On Wednesday, he posted this photo of the two interacting on Instagram:
You can watch the full interview on PBS Thursday night when Woods is also scheduled to appear on "The Late Show With Stephen Colbert."