The Loop
Tiger Woods still fools us into expecting more than he can offer
LOUISVILLE, Ky. -- At his sixth hole of the day, after chipping from 50 feet, Tiger Woods watched the ball roll, and as it rolled truly and nicely, he raised high the wedge in his left hand, and as the ball fell into the cup for a birdie, he held the club aloft another beat or three in signal of triumph, the way Michael Jordan used to hold a pose, his right hand/arm extended on nights when everything went in.
The way Jordan used to do it? Tiger did that conqueror's thing just as often, chasing down putts that were headed for the hole, finger-pointing at them as if to say, yes, you just keep on rolling because I have commanded you to go in, it is my will, and my will, by damn, will be done, it will be done on that slow slow slow turn that causes the Nike swoosh to disappear into the hole.
And there it was Thursday, Tiger triumphant.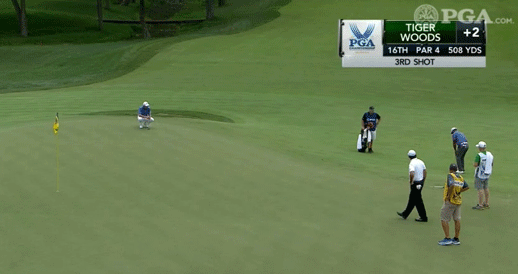 And even that one time, the move seemed to be done more from habit than from any real celebration. It was a pale reminder of the brilliance that once was Tiger. He shot 74, three over par and nine shots behind the leaders. Worse, if there can be anything much worse for Tiger than to be nine shots down to someone named Kevin Chappell, there was nothing about the 74 that suggested he would get better Friday.
He once hit successive tee shots into hazards way left, the second one unplayable in a creek.
Later, he flew a tee shot way right that bounced off a cart path and came to rest in a parking lot behind a Ford Explorer panel van with Nevada plates. He hit eight fairways, reached only 10 greens in regulation and used 30 putts.
And yet, behind the eighth tee, a par 3 playing 174 yards, as Tiger's shot rose into the air, someone shouted, "Get in the hole!"
They still think Tiger can do it. At 6:45 a.m., when he walked onto the practice range, hundreds of people scurried near his end of the line to see him warm up. All day long, thousands of get-in-the-holers did the mountain climbing necessary at Valhalla Golf Club to follow Tiger's every move. Yes, yes, Phil Mickelson was in the group and he drew his share of notice. But as good as Mickelson is -- he has won five majors -- he is not now, nor has he ever been, the irresistible figure Woods is.
Woods is Arnold Palmer in the '60s.
He is Muhammad Ali in the '70s.
Palmer last won a major in 1964 but no one gave up on him until, say, 1980. Those who believed, believed he could do it again, in the U.S. Open maybe, in a PGA at last, surely again at the Masters. When Ali was 38 -- Tiger's age -- those who believed, believed. Any minute Ali would be the Ali we saw before. Any minute he would put a whupping on Larry Holmes, this despite the sad truth that through four rounds, five, seven rounds, eight, nine, he hadn't even touched Larry Holmes. Any minute now, Ali would do it. Only he couldn't and he didn't and there came a time with Palmer and with Ali when we said it's over and wasn't it great all those years?
We're not there with Tiger yet. He can win again and win big again. He just won't ever again be that Tiger, the once-in-forever phenomenon who caused us to believe -- to hope? to imagine? -- that he would always be that Tiger.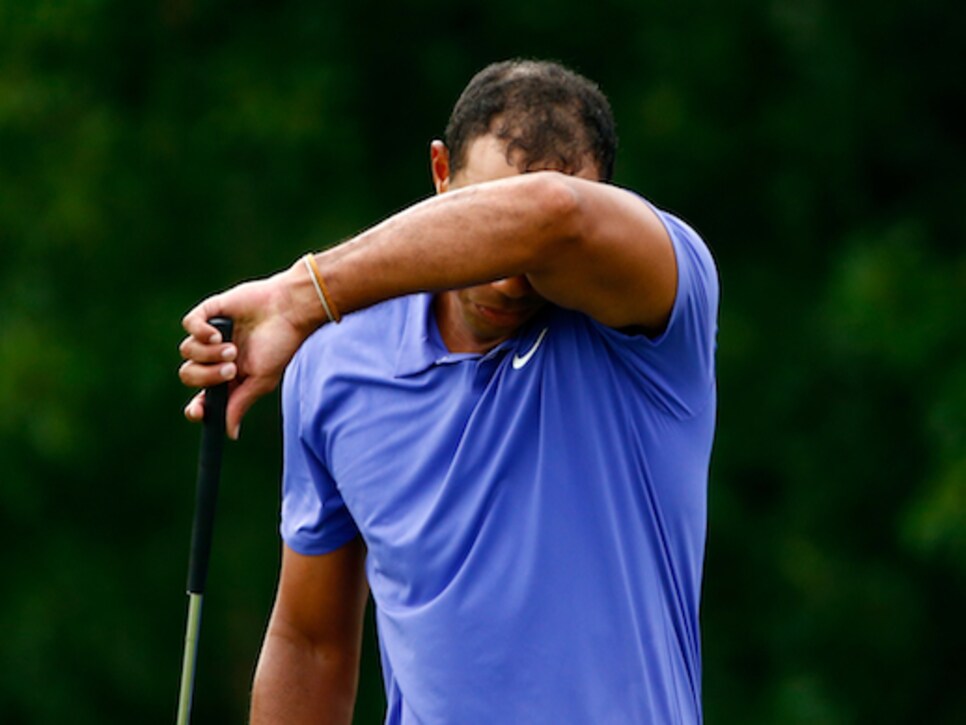 "That putt was on top of the right edge," he said, "and it just didn't move. It just lipped it out on the high side."
Never happened that way when Tiger was Tiger.
When Woods stood before the media after his round, someone said, "You look disappointed."
"It wasn't very good," he said. "A lot of bad shots, and I never got a putt to the hole."
It may have been the best this Tiger could do. Not that he would say, no more than Palmer would have said so, no more than Ali would have said so.
Instead, Woods could see a way that he'd be back in contention.
"If I get to two under par for two rounds," he said, "that will be right in the ball game."
To get to two under, he needs a 66 Friday.
You may wonder when he last did 66 in a major.
It was in the second round of the Masters three years ago.