News
Tiger Woods' start this week is not about the Honda Classic, it's about April in Augusta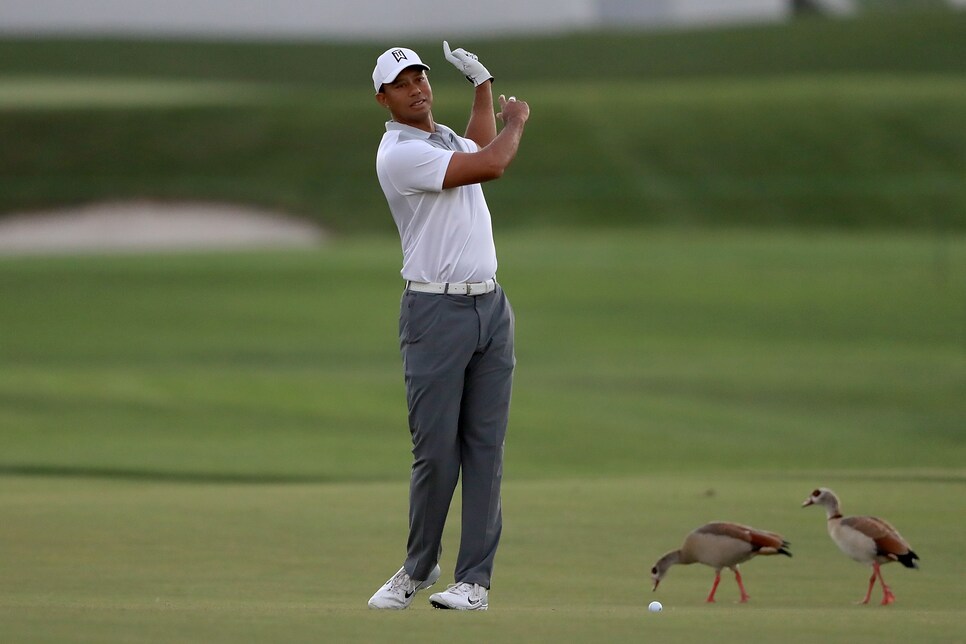 PALM BEACH GARDENS, Fla. — As Tiger Woods embarks on his first back-to-back starts since February 2017, when he missed the cut at Torrey Pines, flew to Dubai and withdrew before the start of the second round because of back spasms that eventually led to his fourth career back surgery, every swing and step is sure to be dissected this week at PGA National. One Golf Channel analyst during Wednesday's pro-am said from afar that he thought Woods looked stiff and like his back was bothering him.
Whatever happens this week—Woods' health looked just fine, by the way, especially on his tee shot on the third hole, which he piped down the middle—it isn't about the Honda Classic. His next start, presumably at Bay Hill, won't be about that event, either, even if he has won there eight times.
For Woods it's all about the first week in April and building toward that. After all, at this point in his career, what else really matters?
"I just miss the rush of competing for a green jacket," Woods said. "I've been doing it since I was 19 years old."
Injuries, however, have taken their toll in recent years. The 42-year-old 14-time major winner hasn't played a major since the 2015 PGA Championship at Whistling Straits, where he missed the cut. He also failed to advance at the Open Championship St. Andrews and the U.S. Open at Chambers Bay that year.
The last time Woods made the cut in a major was at the 2015 Masters, where he tied for 17th after bookending rounds of 68-69 with a couple of 73s. He hasn't played again at Augusta National, where he has won four times, the last coming in 2005, since.
"Having to sit out on the sidelines, not fun," Woods said. "It really isn't, especially since I know how to play the golf course and wished I could play but I was unfortunately physically debilitated.
"This year, it's different."
A year ago, Woods was barely able to walk much less practice. Now, despite remaining noncommittal about his upcoming schedule and where he'll play next, he said he's "looking forward" to this year's Masters.
The same can be said about playing, period. "I'm not in pain," Woods said. "Yeah, I am a lot happier. I've been struggling for quite some time, probably just near five years now. So it was a long period of time where I was really struggling."
In short, there's still plenty of rust to flake off. That much has been evident in his first two starts.
"I think the hardest thing is to give him enough time," said Adam Scott, who spent Wednesday playing a couple of groups behind Woods and is making just his third start of the year as well. "I feel like I've had a really light four or five months coming back out here at Pebble and it has taken me a couple weeks just to get in some kind of competitive rhythm to trust myself to feel like I can hit a shot. And that's a few months. He's hardly played a full season for five years. So to be fair and give him some time to find his feet, even though he is the great Tiger, is the hardest thing for us all to do."
Except for Woods. He knows he has to be patient.
After missing the cut at Riviera, Woods flew home, took a couple of days off to recover and started hitting balls again on Monday. He had another session away from PGA National on Tuesday. Then came Wednesday's pro-am, during which he hit seven of 14 fairways, a dozen greens and took 31 putts. He made just one birdie and shot about two over.
Those kinds of numbers won't do much good at PGA National, but it doesn't really matter. This week isn't about this week.
"I'm starting to get that feeling again of playing tournament golf, where you know, each and every shot counts," Woods said. "I'm looking at where I need to putt the golf ball. I'm looking at forecasts. Before, you're at home, who cares where the wind is coming from. Who cares what the forecast is the next couple days. But now playing tournament golf, I'm starting to get into that flow again. I missed it, and it's becoming familiar again."
Another PGA Tour win—or four to break Sam Snead's record of 82—would be nice. But, as Woods likes to say, it really is about the process.
"I would like to play well," he said. "I would like to win golf tournaments leading into [the Masters]."
Just playing, though, is what matters most. The Masters is less than 50 days away and for the first time in a few years for Woods, all roads lead to Augusta.